Toyota Yaris XP210 (2020-2023) Owner's Manual
Toyota Yaris XP210 (2020-2023) Owner's Manual
Owners Manual for fourth generation Toyota Yaris. We want to help you get the most driving pleasure from your vehicle. Your owner's manual, when read from cover to cover, can do that in many ways. Illustrations complement the words of the manual to best explain how to enjoy your Toyota. By reading your manual, you can find out about the features, important safety information, and driving under various road conditions. This manual addresses configurations, systems and options available among all the variations of the vehicle. Therefore, this manual may cover and depict things that are not on your vehicle.

Other information:
REASSEMBLY CAUTION / NOTICE / HINT CAUTION: Wear protective gloves. Sharp areas on the parts may injure your hands. HINT: Use the same procedure for the driver side and front passenger side. The procedure listed below is for the driver side. Use the same procedure for sports seat type and sporty seat type...
C..
Categories
The fuel gauge shows approximately how much fuel is remaining in the tank when the ignition is switched ON. We recommend keeping the tank over 1/4 full.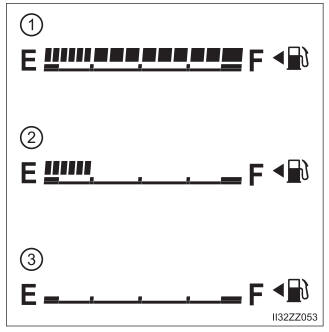 Full 1/4 Full Empty