Toyota Yaris XP210 (2020-2022) Owner's Manual
Toyota Yaris XP210 (2020-2022) Owner's Manual
Owners Manual for fourth generation Toyota Yaris. We want to help you get the most driving pleasure from your vehicle. Your owner's manual, when read from cover to cover, can do that in many ways. Illustrations complement the words of the manual to best explain how to enjoy your Toyota. By reading your manual, you can find out about the features, important safety information, and driving under various road conditions. This manual addresses configurations, systems and options available among all the variations of the vehicle. Therefore, this manual may cover and depict things that are not on your vehicle.

Other information:
DESCRIPTION Operating the VSC OFF switch (combination switch assembly) makes it possible for TRC and/or VSC operation to be prohibited. Pressing the VSC OFF switch (combination switch assembly) changes to TRC OFF mode, and turns off TRC operation. In addition, a TRC cancel message is displayed on the multi-information display in the combination meter assembly...
DESCRIPTION If the entry unlock function does not operate for the front passenger door only, but the entry lock function operates, the request code is being transmitted properly from the front passenger door. In this case, there may be a problem related to the unlock sensor (connection between the certification ECU (smart key ECU assembly) and front door outside handle assembly RH)...
Categories
The fuel gauge shows approximately how much fuel is remaining in the tank when the ignition is switched ON. We recommend keeping the tank over 1/4 full.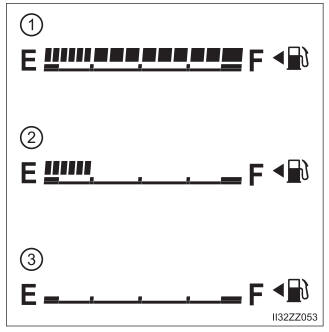 Full 1/4 Full Empty