Toyota Yaris: Customer Information and Reporting Safety Defects / Cell Phones
WARNING
Please comply with the legal regulations concerning the use of communication equipment in vehicles in your country
Use of any electrical devices such as cell phones, computers, portable radios, vehicle navigation or other devices by the driver while the vehicle is moving is dangerous. Dialing a number on a cell phone while driving also ties-up the driver's hands. Use of these devices will cause the driver to be distracted and could lead to a serious accident. If a passenger is unable to use the device, pull off the right-of-way to a safe area before use.
If use of a cell phone is necessary despite this warning, use a hands-free system to at least leave the hands free to drive the vehicle. Never use a cell phone or other electrical devices while the vehicle is moving and, instead, concentrate on the full-time job of driving.
Non-genuine parts and accessories for Toyota vehicles can be found in stores. These may fit your vehicle, but they are not approved by Toyota for use with Toyota vehicles...
This vehicle is equipped with an event data recorder (EDR). The main purpose of an EDR is to record, in certain crash or near crash-like situations, such as an air bag deployment or hitting a road obstacle, data that will assist in understanding how a vehicle's systems performed...
Other information:
DESCRIPTION Refer to DTC P011011. Click here HINT: When DTC P011015 is stored, the ECM enters fail-safe mode. During fail-safe mode, the intake air temperature is estimated to be 20°C (68°F) by the ECM. Fail-safe mode continues until a pass condition is detected, and the ignition switch is then turned off...
D..
Categories
The fuel gauge shows approximately how much fuel is remaining in the tank when the ignition is switched ON. We recommend keeping the tank over 1/4 full.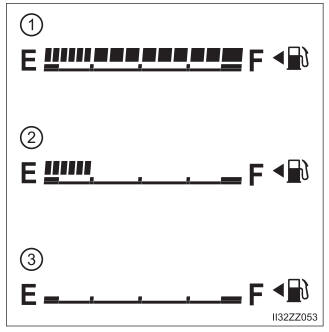 Full 1/4 Full Empty