Toyota Yaris: Pictorial Index
Interior Equipment (View A)
Door-lock knob
Turn and lane-change signal
Lighting control
Wiper and washer lever
DSC OFF switch
Tire pressure monitoring system set switch
Low Speed Pre-Collision System OFF switch
Outside mirror switch
Door-lock switch
Power window lock switch
Power window switches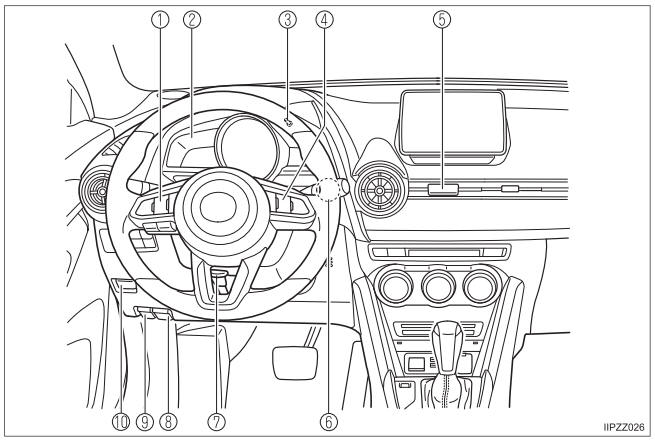 Audio control switches
Combination meter
Dashboard illumination knob
Cruise control switches
Hazard warning flasher switch
Push button start
Lock release lever
Hood release handle
Remote fuel-filler lid release
Trunk release button
Interior Equipment (View B)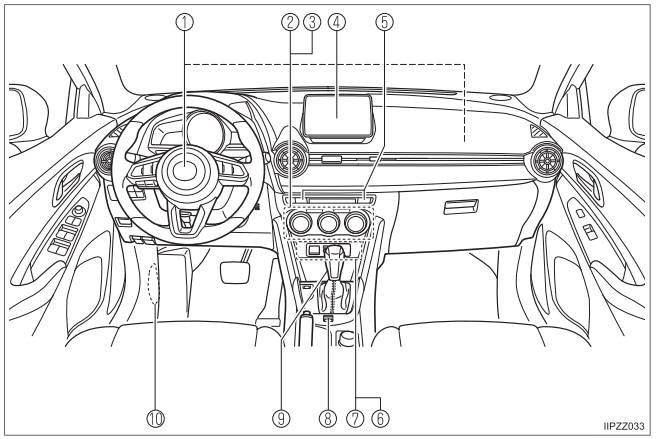 SRS air bags
Climate control system
Rear window defogger switch
Audio system
Seat warmer switches
Accessory socket
External input terminal
Drive selection switch
Shift lever/Selector lever
Fuse block (Left side)
Interior Equipment (View C)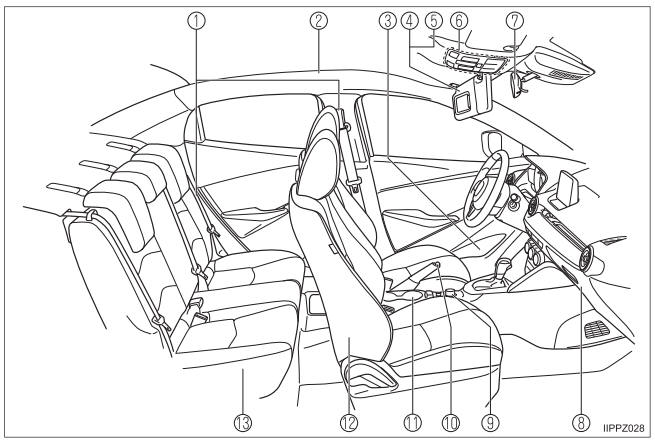 Seat belts
SRS air bag
Bottle holder
Sunvisor
Vanity mirror
Overhead lights
Rearview mirror
Glove compartment
Commander switch
Parking brake
Cup holders
Front seat
Rear seat
Exterior Overview
4-Door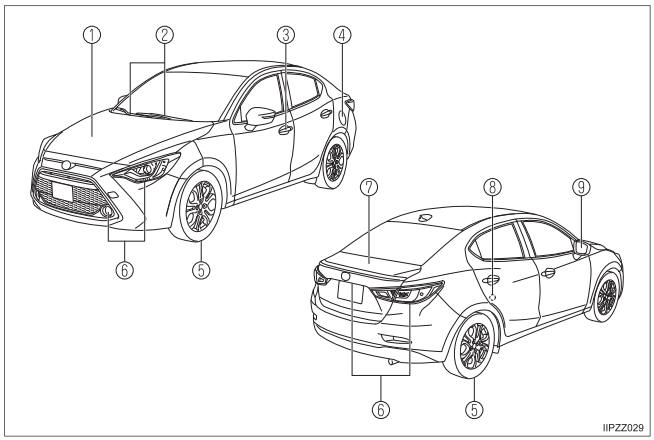 Hood
Windshield wiper blades
Door and key
Fuel-filler lid
Wheels and Tires
Exterior lights
Trunk lid
Child safety lock
Outside mirror
5-Door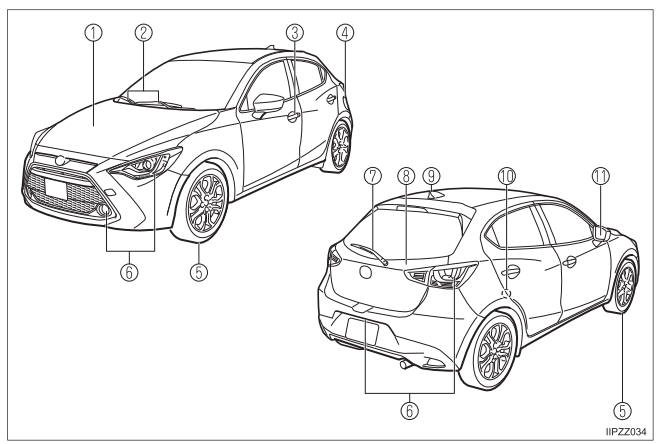 Hood
Windshield wiper blades
Door and key
Fuel-filler lid
Wheels and Tires
Exterior lights
Rear window wiper blade
Liftgate
Antenna
Child safety lock
Outside mirror
Owners Manual for fourth generation Toyota Yaris. We want to help you get the most driving pleasure from your vehicle. Your owner's manual, when read from cover to cover, can do that in many ways...
Other information:
Speedometer The speedometer indicates the speed of the vehicle. If a few seconds have elapsed after switching the ignition off, the needle may deviate. However, this does not indicate a problem. Odometer, Trip Meter and Trip Meter Selector The display mode can be changed from odometer to trip meter A to trip meter B and then back to odometer by pressing the selector while one of them is displayed...
A cup or small items can be placed on the center console tray using the center console divider. The center console tray is large enough to place a small item when the center console divider is not in use. WARNING Never use a cup holder to hold hot liquids while the vehicle is moving Using a cup holder to hold hot liquids while the vehicle is moving is dangerous...
Categories
No special break-in is necessary, but a few precautions in the first 600 miles (1,000 km) may add to the performance, economy, and life of the vehicle.
Do not race the engine. Do not maintain one constant speed, either slow or fast, for a long period of time. Do not drive constantly at full-throttle or high engine rpm for extended periods of time. Avoid unnecessary hard stops. Avoid full-throttle starts.