Toyota Yaris: If Trouble Arises / Emergency Towing
If the high engine coolant temperature warning light turns on, the vehicle loses power, or you hear a loud knocking or pinging noise, the engine is probably too hot...
We recommend that towing be done only by your Toyota dealer or a commercial tow-truck service. Proper lifting and towing are necessary to prevent damage to the vehicle...
Categories
Before refueling, close all the doors, windows, and the liftgate/trunk lid, and switch the ignition OFF.
To open the fuel-filler lid, pull the remote fuel-filler lid release.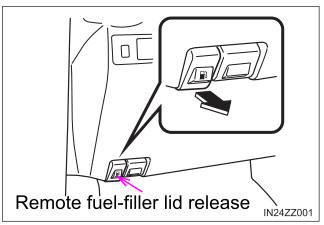 To remove the fuel-filler cap, turn it counterclockwise. Attach the removed cap to the inner side of the fuel-filler lid.