Toyota Yaris: Emergency Towing / Towing Description
We recommend that towing be done only by your Toyota dealer or a commercial tow-truck service.
Proper lifting and towing are necessary to prevent damage to the vehicle. Government and local laws must be followed.
A towed vehicle usually should have its drive wheels (front wheels) off the ground. If excessive damage or other conditions prevent this, use wheel dollies.
When towing with the rear wheels on the ground, release the parking brake.
NOTICE
Do not tow the vehicle pointed backward with driving wheels on the ground. This may cause internal damage to the transaxle.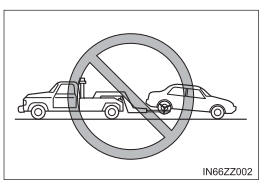 Do not tow with sling-type equipment. This could damage your vehicle. Use wheel-lift or flatbed equipment.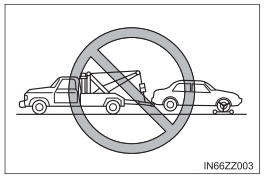 NOTICE Do not use the front tiedown eyelet for towing the vehicle. They have been designed only for securing the vehicle to a transport vessel during shipping...
Other information:
TARGET ADJUSTMENT(TRIANGLE TARGET) PROCEDURE 1. PREPARATION FOR MILLIMETER WAVE RADAR SENSOR ASSEMBLY ADJUSTMENT (a) Park the vehicle on a level surface where the area in front of the vehicle shown in the illustration is free of metal objects. *a 5 m (16...
REMOVAL PROCEDURE 1. REMOVE CENTER LOWER INSTRUMENT COVER Click here 2. REMOVE LOWER INSTRUMENT PANEL FINISH PANEL Click here 3. REMOVE SWITCH HOLE BASE SUB-ASSEMBLY Click here 4. REMOVE SHIFT LEVER KNOB SUB-ASSEMBLY Click here 5. REMOVE CONSOLE BOX ASSEMBLY Click here 6...
Categories
If a key is left in the vehicle, the functions of the key left in the vehicle are temporarily suspended to prevent theft of the vehicle.
To restore the functions, press the unlock button on the functions-suspended key in the vehicle.