Toyota Yaris: Maintenance and Care / Essential Information Introduction
Be careful not to hurt yourself when inspecting your vehicle, replacing a tire, or doing some kind of maintenance such as car washing. In particular, wear thick work gloves such as cotton gloves when touching areas that are difficult to see while inspecting or working on your vehicle. Doing inspections or procedures with your bare hands could cause injury.
If you are unsure about any procedure this manual describes, we strongly urge you to have a reliable and qualified service shop perform the work, preferably your Toyota dealer.
Factory-trained Toyota technicians and genuine Toyota parts are best for your vehicle. Without this expertise and the parts that have been designed and made especially for your Toyota, inadequate, incomplete, and insufficient servicing may result in problems. This could lead to vehicle damage or an accident and injuries.
For expert advice and quality service, consult your Toyota dealer.
To continue warranty eligibility and to protect your investment, it is your responsibility to properly maintain your vehicle according to factory recommended schedules outlined in this manual. Keep a copy of the repair order. It proves that the maintenance that has been performed is under warranty coverage. If any problem should arise while your vehicle is under warranty, your Toyota dealer will promptly take care of it.
This evidence may consist of the following:
The Maintenance Log, found within the Warranty and Maintenance Guide, must be completely filled out showing mileage, repair order number, date for each service, and signed by a qualified automotive service technician who service vehicles.
Original copies of repair orders or other receipts that include the mileage and date the vehicle was serviced. Each receipt should be signed by a qualified automotive service technician.
For self maintenance, a statement that you completed the maintenance yourself, displaying mileage and the date the work was performed. Also, receipts for the replacement parts (fluid, filters, etc.) indicating the date and mileage must accompany this statement.
Claims against the warranty resulting from lack of maintenance, as opposed to defective materials or authorized Toyota workmanship, will not be honored.
Any auto repair shop using parts equivalent to your Toyota's original equipment may perform maintenance. But we recommend that it always be done by your Toyota dealer using genuine Toyota parts.
Selecting "Maintenance Monitor" enables the system to notify you of your vehicle's approaching inspection/servicing period.
The malfunction diagnosis connector is designed exclusively for connecting the specially designed device to perform on-board diagnosis.
Do not connect any devices other than the specially designed malfunction diagnosis devices for servicing. If any device other than the malfunction diagnosis device is connected, it may affect the vehicle's electrical devices or lead to damage such as battery depletion.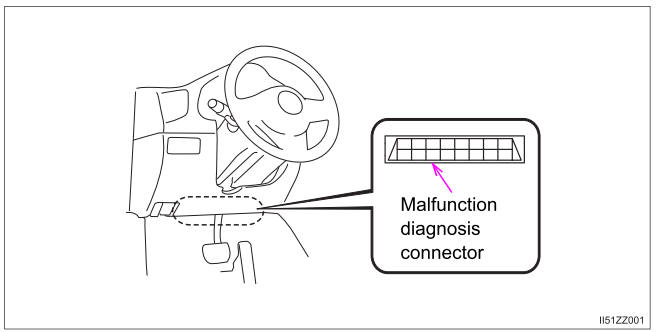 If you elect to perform maintenance yourself or have your vehicle serviced at a location other than your Toyota dealer, Toyota requires that all fluids, parts and materials must meet Toyota standards for durability and performance as described in this manual.
Maintenance Monitor Select the icon on the home screen to display the "Applications" screen. Select "Maintenance" to display the maintenance list screen...
Other information:
DESCRIPTION The engine oil temperature sensor (engine oil pressure and temperature sensor) replaces the oil temperature with electrical signals and outputs them to the ECM. DTC No. Detection Item DTC Detection Condition Trouble Area MIL Note P019511 Engine Oil Temperature Sensor Circuit Short to Ground The engine oil temperature sensor (engine oil pressure and temperature sensor) output voltage is below 0...
PROBLEM SYMPTOMS TABLE HINT: If a problem occurs in certain locations or at certain times of day, check for the possibility of wave interference. When the electrical key transmitter sub-assembly is brought near a smart door control receiver assembly (RF band), door outside handle assembly (LF band), indoor electrical key antenna (LF band) or any of the electrical key antennas (LF band), the possibility of wave interference decreases...
Categories
Before refueling, close all the doors, windows, and the liftgate/trunk lid, and switch the ignition OFF.
To open the fuel-filler lid, pull the remote fuel-filler lid release.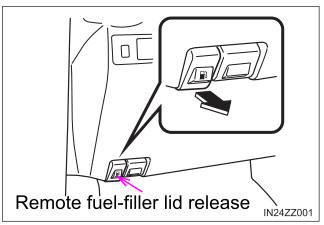 To remove the fuel-filler cap, turn it counterclockwise. Attach the removed cap to the inner side of the fuel-filler lid.