Toyota Yaris: Customer Information and Reporting Safety Defects / Uniform Tire Quality Grading System (UTQGS)
This information relates to the tire grading system developed by the U.S. National Highway Traffic Safety Administration for grading tires by tread wear, traction, and temperature performance.
Tread Wear
The tread wear grade is a comparative rating based on the wear rate of the tire when tested under controlled conditions on a specified government test course.
For example, a tire graded 150 would wear one-and-a-half times as well on the government course as a tire graded 100.
The relative performance of tires depends upon the actual conditions of their use, however, and may depart significantly from the norm because of variations in driving habits, service practices and differences in road characteristics and climate.
Traction-AA, A, B, C
The traction grades, from highest to lowest, are AA, A, B, and C. These grades represent the tire's ability to stop on wet pavement as measured under controlled conditions on specified government test surfaces of asphalt and concrete. A tire marked C may have poor traction performance.
WARNING
The traction grade assigned to this tire is based on braking (straight ahead) traction tests and does not include acceleration cornering (turning), hydroplaning, or peak traction characteristics.
Temperature-A, B, C
The temperature grades A (the highest), B, and C, represent the tire's resistance to the generation of heat and its ability to dissipate heat when tested under controlled conditions on a specified indoor labora- tory test wheel.
Sustained high temperature can cause the material of the tire to degenerate and reduce tire life, and excessive temperatures can lead to sudden tire failure.
Grade C corresponds to a level of performance which all passenger vehicle tires must meet under the Federal Motor Vehicle Safety Standard No. 109. Grades B and A represent higher levels of performance on the laboratory test wheel than the minimum required by law.
These grades will be added to the sidewalls of passenger vehicle tires over the next several years according to a schedule established by the NHTSA and the tire manufacturers.
The grade of tires available as standard or optional equipment on Toyota vehicles may vary with respect to grade.
ALL PASSENGER VEHICLE TIRES MUST CONFORM TO THESE GRADES AND TO ALL OTHER FEDERAL TIRE-SAFETY REQUIREMENTS.
WARNING
Keep your vehicle's tires properly inflated and not overloaded
Driving with improperly inflated or overloaded tires is dangerous. Excessive speed, underinflation, or excessive loading, either separately or in combination, can cause heat buildup and possible tire failure. The temperature grade for this tire is established for a tire that is properly inflated and not overloaded.
UNIFORM TIRE QUALITY GRADING
Quality grades can be found where applicable on the tire sidewall between tread shoulder and maximum section width.
For example:
TREADWEAR 200 TRACTION AA TEMPERATURE A UTQGS MARK (example):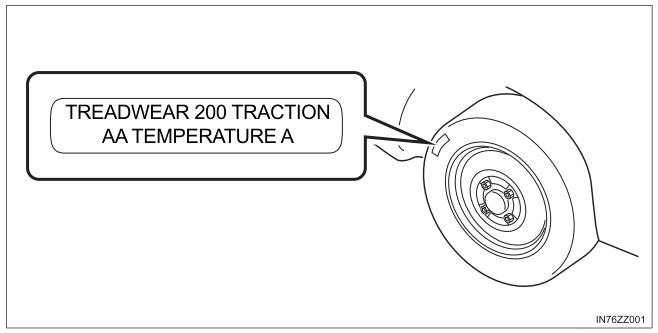 Your Toyota is equipped with several sophisticated computers that will record certain data, such as: Engine speed Accelerator status Brake status Vehicle speed Shift position The recorded data varies according to the vehicle grade level and options with which it is equipped...
Other information:
FREEZE FRAME DATA CHECK FREEZE FRAME DATA HINT: The ECU records vehicle and driving condition information as freeze frame data the moment a DTC is stored. (a) Enter the following menus: Powertrain / Radar Cruise 1*1 or Radar Cruise 2*2 / Trouble Codes...
INSTALLATION CAUTION / NOTICE / HINT HINT: Use the same procedure for the RH side and LH side. The following procedure is for the LH side. The front speed sensor rotor is a component of the front axle hub sub-assembly. If the front speed sensor rotor is malfunctioning, replace the front axle hub sub-assembly...