Toyota Yaris: Bluetooth® / Bluetooth® Audio
A2DP is a profile which transmits only audio to the Bluetooth® unit. If your Bluetooth® audio device corresponds only to A2DP, but not AVRCP, you cannot operate it using the control panel of the vehicle's audio system. In this case, only the operations on the mobile device are available the same as when a portable audio device for a noncompliant Bluetooth® device is connected to the AUX terminal.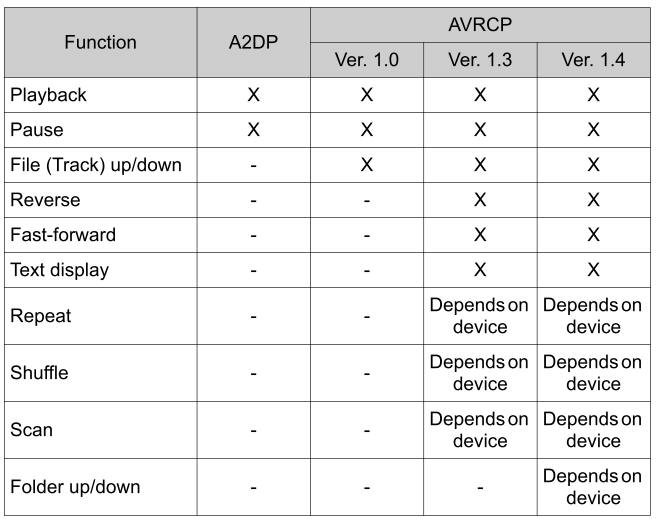 X : Available

- : Not available
The battery consumption of Bluetooth® audio devices increases while Bluetooth® is connected.
If a general mobile phone device is USB connected during music playback over the Bluetooth® connection, the Bluetooth® connection is disconnected.
For this reason, you cannot have music playback over a Bluetooth® connection and music playback using a USB connection at the same time.
If a device which supports AVRCP Ver. 1.6 or higher is connected, song information may not display correctly.
The system may not operate normally depending on the Bluetooth® audio device.
Categories
Before refueling, close all the doors, windows, and the liftgate/trunk lid, and switch the ignition OFF.
To open the fuel-filler lid, pull the remote fuel-filler lid release.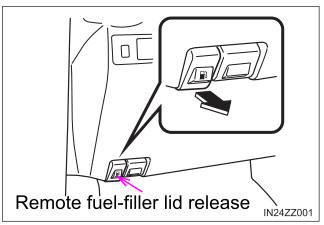 To remove the fuel-filler cap, turn it counterclockwise. Attach the removed cap to the inner side of the fuel-filler lid.