Toyota Yaris: Bluetooth® Audio / How to Use Aha™
Aha* 1 is an application which can be used to enjoy various Internet content such as Internet radio and podcasts.
Stay connected to your friends activities by getting updates from Facebook and Twitter. Using the location-based service, nearby services and destinations can be searched or real-time local information can be obtained.
For details on Aha, refer to "http://www.aharadio.com/".
* 1: Aha, the Aha logo, and the Aha trade dress are trademarks or registered trademarks of Harman International Industries, Inc., used with permission.
Playback
Select the

icon on the home screen to display the Entertainment screen. When

is selected, the following icons are displayed at the bottom of the center display. The displayed icon differs depending on the selected station.
In addition, icons other than the following icons may be displayed.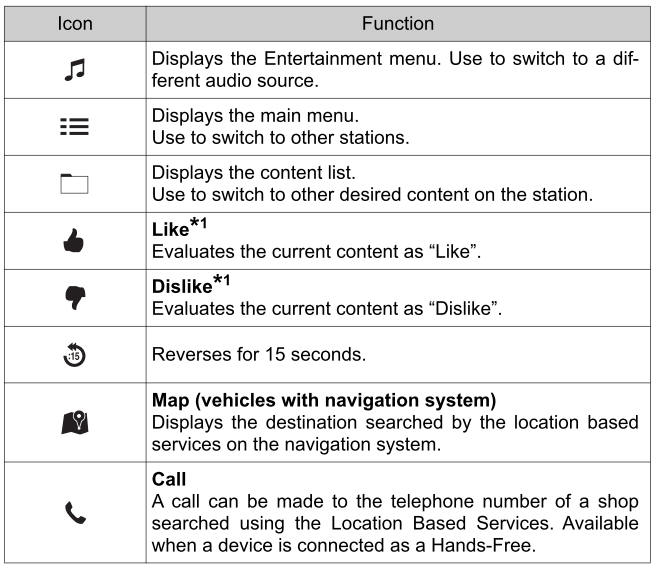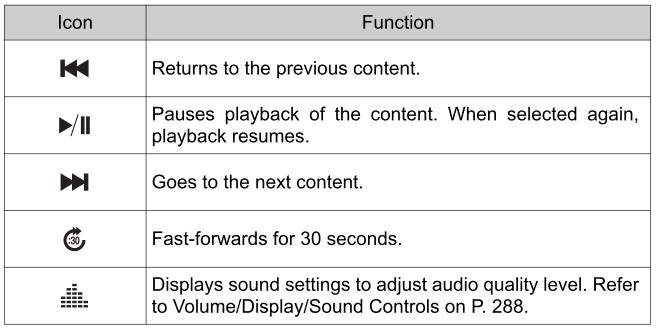 * 1: Some stations may use alternate variations of Like and Dislike, based on station type or provider.
Main menu

Select the icon.
Switch the tab and select the station category.
Example of use (Location Based Services)

Select the desired station from the "Nearby" tab on the main menu. The destination name or address playback starts in the order of the destination name list.
When the icon is selected, the currently displayed destination is displayed on the navigation system (vehicles with navigation system).
When the icon is selected, a phone call is placed to the currently displayed destination.

Select the icon to display the content list. Selection of other destinations from the list can be made.
How to Use Aha™
The service content provided by Aha varies depending on the country in which the user resides. In addition, the service is not available in some countries.
To operate Aha from your Bluetooth® device, perform the following in advance:

Install the Aha application to your device.
Create an Aha account for your device.
Log onto Aha using your device.
Select the preset station on your device.

If the Applications screen is not displayed on the device, Aha™ may not play on the center display.
Playback
The available Location Based Services may differ because the services depend on the content provided by Aha™.
Shout
Recordable time varies depending on the station (Max. 30 seconds).
Recording stops automatically when the recordable time has elapsed. You can then post or delete the recording.
Categories
No special break-in is necessary, but a few precautions in the first 600 miles (1,000 km) may add to the performance, economy, and life of the vehicle.
Do not race the engine. Do not maintain one constant speed, either slow or fast, for a long period of time. Do not drive constantly at full-throttle or high engine rpm for extended periods of time. Avoid unnecessary hard stops. Avoid full-throttle starts.