Toyota Yaris: Bluetooth® Audio / How to Use Pandora® (if equipped)
What is Pandora®?
Pandora® * 1 is free personalized Internet radio. Simply enter a favorite artist, track, genre, and Pandora® will create a personalized station that plays their music and more like it. Rate songs by giving thumbs-up and thumbs-down feedback to further refine your station, discover new music and help Pandora® play only music you like.
* 1: Pandora®, the Pandora® logo, and the Pandora® trade dress are trademarks or registered trademarks of Pandora Media, Inc., used with permission.
Playback
Select the

icon on the home screen to display the Entertainment screen. When is selected, the following icons are indicated in the bottom part of the center display.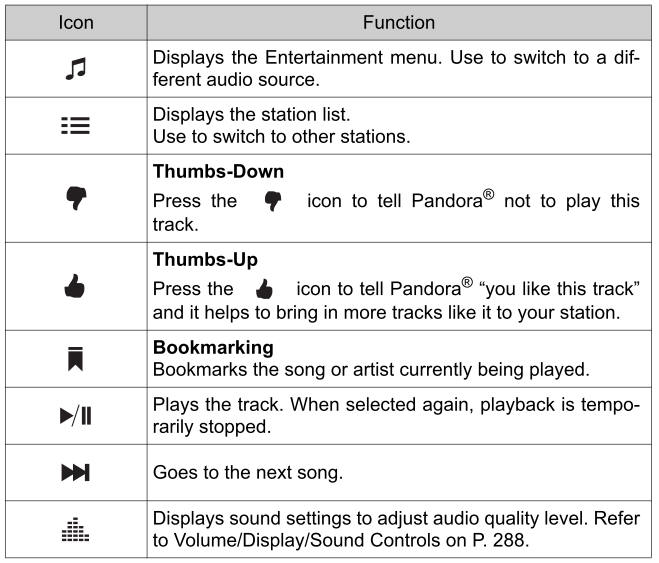 Selection from station list
Selection can be made from a programmed radio station list.
Select the icon.
Select the desired radio station.

When is selected, songs randomly selected from the radio station list are played.
Bookmarking
You can bookmark song or artist to check out later on the Web.
Select the icon.
Select to bookmark the song.
Select to bookmark the artist.
How to Use Pandora®
Pandora® may not be available outside of the U.S.A..
To operate Pandora® from your Bluetooth® device, perform the following in advance:

Create Pandora® account on the Web.
Create Pandora® station using Pandora® application.
Install Pandora® application on your device.
Playback
The skip function may not be available depending on the device.
The number of skips is limited by Pandora®.
If the icon is selected when the skip song function is running, the next song is skipped.
Categories
The fuel gauge shows approximately how much fuel is remaining in the tank when the ignition is switched ON. We recommend keeping the tank over 1/4 full.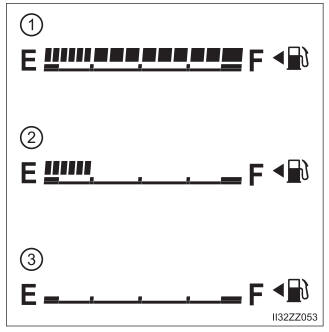 Full 1/4 Full Empty