Toyota Yaris: Charging System / Terminals Of Ecm
TERMINALS OF ECM
CHECK ECM

HINT:
The standard normal voltage between each pair of ECM terminals is shown in the table below. The appropriate conditions for checking each pair of terminals are also indicated. The result of checks should be compared with the standard normal voltage for that pair of terminals, displayed in the Specified Condition column. The illustration above can be used as a reference to identify the ECM terminal locations.
Terminal No. (Symbol)

Terminal Description

Condition

Specified Condition

A106-1 (BATT) - A106-10 (E1)

Auxiliary battery (for measuring auxiliary battery voltage and for ECM memory)

Always

11 to 14 V

A106-10 (E1) - Body ground

Ground

Always

Below 1 Ω

D104-62 (LIN) - Body ground

LIN communication line

Ignition switch off

(while LIN communication stopped)

10 kΩ or higher
Categories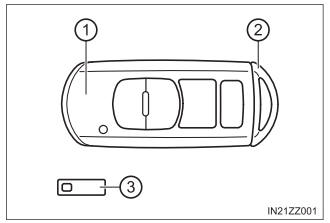 Smart key Auxiliary key Key code number plate
To use the auxiliary key, press the knob and pull out the auxiliary key from the smart key.