Toyota Yaris: Lighting (ext) / Automatic High Beam Main Switch
COMPONENTS ILLUSTRATION *1 CENTER LOWER INSTRUMENT COVER *2 LOWER INSTRUMENT PANEL FINISH PANEL *3 SWITCH HOLE BASE SUB-ASSEMBLY *4 SHIFT LEVER KNOB SUB-ASSEMBLY *5 CONSOLE BOX ASSEMBLY - - ILLUSTRATION *1 FRONT DOOR SCUFF PLATE LH *2 COWL SIDE TRIM BOARD LH *3 NO...
Other information:
DESCRIPTION The ECM calculates an appropriate cooling fan speed based on the engine coolant temperature, air conditioning switch status, refrigerant pressure, engine speed and vehicle speed, and sends a signal to the cooling fan ECU (fan with motor assembly)...
REASSEMBLY PROCEDURE 1. INSTALL VACUUM SENSOR ASSEMBLY (a) Install a new vacuum sensor grommet to the brake booster assembly. (b) Install the vacuum sensor assembly to the brake booster assembly as shown in the illustration. *a 45° +/- 20° Up 2...
Categories
The fuel gauge shows approximately how much fuel is remaining in the tank when the ignition is switched ON. We recommend keeping the tank over 1/4 full.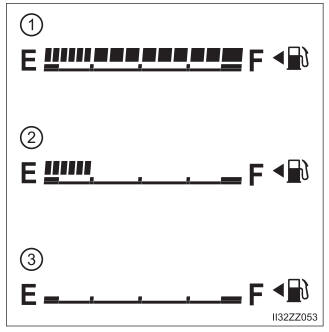 Full 1/4 Full Empty