Toyota Yaris: Lighting (ext) / Automatic High Beam Main Switch
COMPONENTS ILLUSTRATION *1 CENTER LOWER INSTRUMENT COVER *2 LOWER INSTRUMENT PANEL FINISH PANEL *3 SWITCH HOLE BASE SUB-ASSEMBLY *4 SHIFT LEVER KNOB SUB-ASSEMBLY *5 CONSOLE BOX ASSEMBLY - - ILLUSTRATION *1 FRONT DOOR SCUFF PLATE LH *2 COWL SIDE TRIM BOARD LH *3 NO...
Other information:
REMOVAL CAUTION / NOTICE / HINT The necessary procedures (adjustment, calibration, initialization or registration) that must be performed after parts are removed and installed, or replaced during exhaust manifold removal/installation are shown below. Necessary Procedures After Parts Removed/Installed/Replaced Replaced Part or Performed Procedure Necessary Procedure Effect/Inoperative Function when Necessary Procedure not Performed Link Gas leak from exhaust system is repaired Inspection After Repair Poor idle, etc...
DESCRIPTION The high-pressure direct injection fuel system consists of a spill control valve, check valve, fuel relief valve, fuel pressure sensor (for high pressure side), fuel pump assembly (for high pressure side) and direct fuel injector assemblies...
Categories
The fuel gauge shows approximately how much fuel is remaining in the tank when the ignition is switched ON. We recommend keeping the tank over 1/4 full.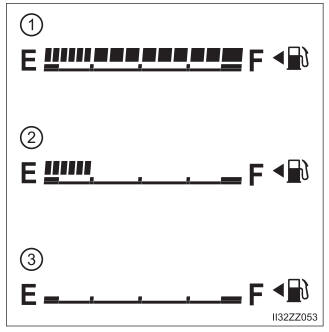 Full 1/4 Full Empty