Toyota Yaris: Audio System / Audio Set
Audio Set has 3 different human interfaces.
Commander switch
Touch panel
Voice recognition with steering switch and microphone
The explanation of functions described in this manual may differ from the actual operation, and the shapes of screens and buttons and the letters and characters displayed may also differ from the actual appearance.
Additionally, depending on future software updates, the content may successively change without notice.
Commander switch operation
For safety reasons, some operations are disabled while the vehicle is being driven.
Volume dial operation

Press the volume dial to mute and pause. However, while an audio source which cannot be paused such as FM radio is playing, only mute is available. Press the volume dial again to resume the audio.

Turn the volume dial to adjust the volume. The volume increases by turning the dial clockwise, and decreases by turning it counterclockwise.

Switches around commander knob

The following operations can be done by pressing the switches around the commander knob.

:Displays the home screen.

: Displays the Entertainment screen.

: Displays the Navigation screen (Only navigation-equipped vehicles).

For operation of the Navigation screen, refer to the navigation system manual. If the SD card for the navigation system is not inserted, the compass indicating the direction in which the vehicle is moving is displayed.

: Displays the Favorites screen. Long-press to store particular items in Favorites. (Radio, phonebook and destination of the navigation system can be programmed.)

: Returns to previous screen.

Commander knob operation

Selection of icons on screen:

Tilt or turn the commander knob and move the cursor to the desired icon.
Press the commander knob and select the icon.
Touch panel operation
For safety reasons, operation of the center display is disabled while the vehicle is being driven. However, items not displayed in gray can be operated using the commander switch while the vehicle is being driven.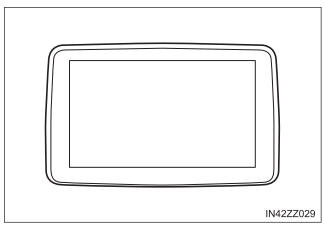 Commander switch operation
Long-press operation of the commander knob is also possible for some functions.
NOTICE
Touch panel operation
Do not press the screen strongly or press it with a sharp-pointed object. Otherwise, the screen could be damaged.
Categories
WARNING
When removing the fuel-filler cap, loosen the cap slightly and wait for any hissing to stop, then remove it
Fuel spray is dangerous. Fuel can burn skin and eyes and cause illness if ingested. Fuel spray is released when there is pressure in the fuel tank and the fuel-filler cap is removed too quickly.