Toyota Yaris: Audio Set / Operating the Satellite Radio (if equipped)
What is satellite radio?
SiriusXM® Satellite Radio
SiriusXM satellite radio is a subscription-based satellite radio service that broadcasts a variety of music, sports, news, weather, traffic and entertainment programming.
Your new Toyota vehicle is factory-installed with SiriusXM satellite radio hardware and includes a limited trial subscription term that begins on the date of sale or lease of your vehicle. See an authorized dealer for availability.
The satellite radio service should be active in your vehicle, if you can- not hear SiriusXM audio, please activate online by visiting siriusxm.com/refresh or by calling SiriusXM Listener Care at 1-877-447-0011 (U.S.A.)/1-888-539-7474 Customer Care (Canada).
You can find the radio ID by turning to Channel 0 or visiting siriusxm.com/activationhelp (U.S.A), and siriusxm.ca/subscribe-now/ (Canada).
For more information on extended subscription terms (a service fee is required), the online media player and a list of SiriusXM satellite radio channels, and other features, please visit www.siriusxm.com (U.S.A), and www.siriusxm.ca (Canada), or call SiriusXM at 1-877-447-0011 (U.S.A.)/1-888-539-7474 (Canada).
This feature may not be available in all markets and requires an active subscription. SiriusXM reserves the unrestricted right to change, rearrange, add or delete programming. This includes canceling, moving or adding particular channels, and its prices, at any time, with or without notice to you. Toyota shall not be responsible for any such programming changes.
Displaying the Radio ID (ESN)
When channel 0 is selected, the radio ID is displayed. Use the PREVIOUS or NEXT channel buttons to select channel 0.
SiriusXM operation
Select the

icon on the home screen to display the Entertainment screen. When

is selected, the following icons are indicated in the bottom part of the center display.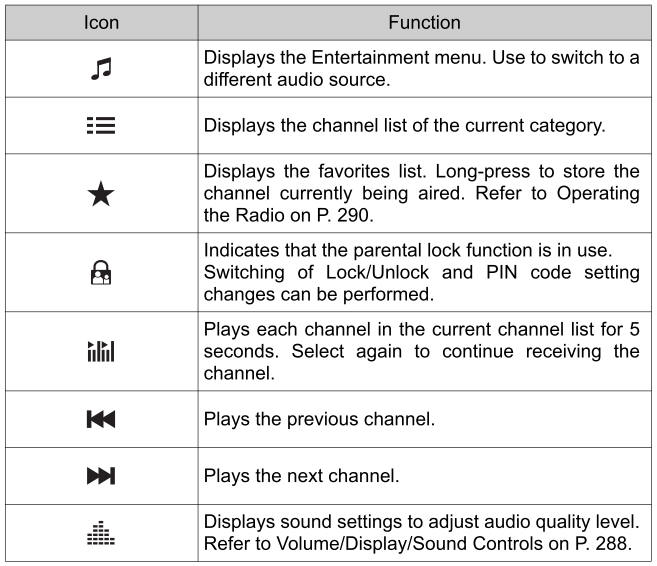 Selection from channel list

Receivable channels can be displayed on the channel list screen. You can easily select the channel you want to listen from the list. Each category can be also displayed.

Select the icon to display the channel list.
Select a desired channel.

Select from category list:

Select the icon to display the channel list.
Select to display the category list.
Select a desired category.
Categories
Stop the vehicle completely. Manual transaxle: Shift into neutral and set the parking brake.
Automatic transaxle: Shift the selector lever to the P position and set the parking brake.
Press the push button start to turn off the engine. The ignition position is off.