Toyota Yaris: Power Steering System / Parts Location
PARTS LOCATION
ILLUSTRATION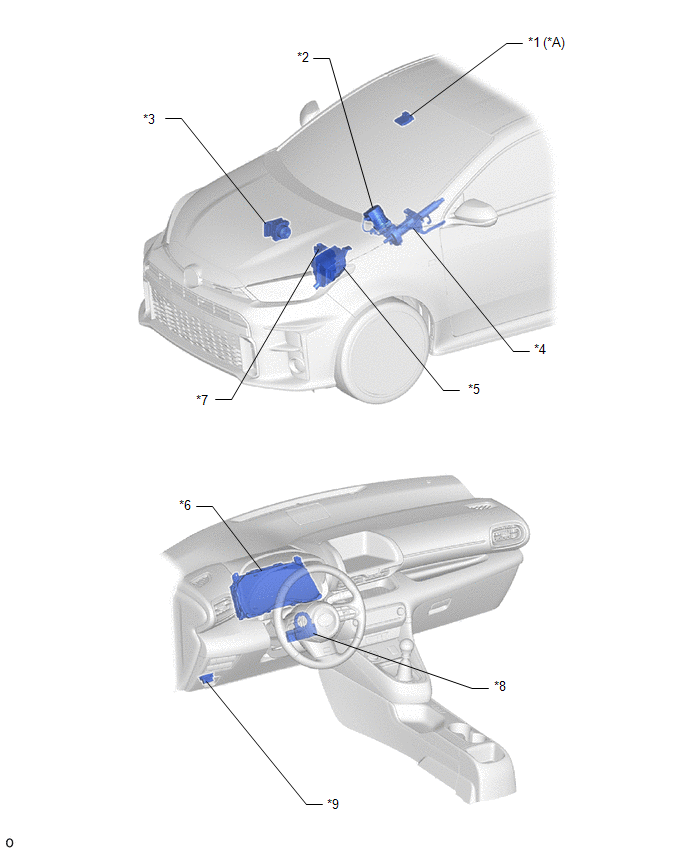 *A

w/ Toyota Safety Sense

-

-

*1

FORWARD RECOGNITION CAMERA

*2

POWER STEERING ECU ASSEMBLY

- POWER STEERING MOTOR

*3

SKID CONTROL ECU (BRAKE ACTUATOR ASSEMBLY)

*4

ELECTRIC POWER STEERING COLUMN SUB-ASSEMBLY

- TORQUE SENSOR

*5

NO. 1 ENGINE ROOM RELAY BLOCK

- EPS FUSE

*6

COMBINATION METER ASSEMBLY

*7

ECM

*8

STEERING SENSOR

*9

DLC3

-

-
PRECAUTION HANDLING PRECAUTIONS FOR SRS AIRBAG SYSTEM (a) This vehicle is equipped with a Supplemental Restraint System (SRS). Failure to carry out service operations in the correct sequence could cause the SRS to unexpectedly deploy during servicing...
Other information:
DESCRIPTION This DTC is output when the semiconductor power integration ECU detects a Internal circuit error. DTC No. Detection Item DTC Detection Condition Trouble Area B235204 Power Integration No.1 System Internal Failure Microcomputer abnormality AD circuit trouble Semiconductor power integration ECU WIRING DIAGRAM Click here CAUTION / NOTICE / HINT NOTICE: When using the GTS with the ignition switch off to troubleshoot: Connect the GTS to the vehicle, and turn a courtesy switch on and off at 1...
DESCRIPTION The BIN resistance is equipped for the purpose of correcting variances in brightness (luminous flux) when the light control LED ECU is energizing the LED with a constant current to illuminate it. Also, it monitors the voltage applied to the BIN resistance in order to detect abnormalities in the energizing current and thereby detect malfunctions...
Categories
Before refueling, close all the doors, windows, and the liftgate/trunk lid, and switch the ignition OFF.
To open the fuel-filler lid, pull the remote fuel-filler lid release.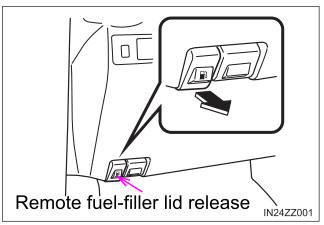 To remove the fuel-filler cap, turn it counterclockwise. Attach the removed cap to the inner side of the fuel-filler lid.