Toyota Yaris: Parking Brake / Parking Brake Assembly
COMPONENTS ILLUSTRATION *1 PARKING BRAKE SHOE ADJUSTING HOLE PLUG *2 REAR DISC *3 REAR DISC BRAKE CALIPER ASSEMBLY - - Tightening torque for "Major areas involving basic vehicle performance such as moving/turning/stopping": N*m (kgf*cm, ft...
Other information:
DESCRIPTION The crankshaft position sensor system consists of a crankshaft position sensor plate and Magneto-Resistive Element (MRE) type sensor. The crankshaft position sensor plate has 34 teeth at 10° intervals (2 teeth are missing for detecting top dead center), and is installed on the crankshaft...
INSTALLATION CAUTION / NOTICE / HINT NOTICE: Make sure to use Toyota Genuine Windshield Glass Adhesive (High Modulus Type) or equivalent. HINT: Use the same procedure for the RH side and LH side. The following procedure is for the LH side. PROCEDURE 1...
Categories
Before refueling, close all the doors, windows, and the liftgate/trunk lid, and switch the ignition OFF.
To open the fuel-filler lid, pull the remote fuel-filler lid release.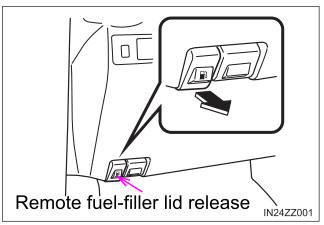 To remove the fuel-filler cap, turn it counterclockwise. Attach the removed cap to the inner side of the fuel-filler lid.