Toyota Yaris: Parking Brake / Parking Brake Assembly
COMPONENTS ILLUSTRATION *1 PARKING BRAKE SHOE ADJUSTING HOLE PLUG *2 REAR DISC *3 REAR DISC BRAKE CALIPER ASSEMBLY - - Tightening torque for "Major areas involving basic vehicle performance such as moving/turning/stopping": N*m (kgf*cm, ft...
Other information:
DESCRIPTION The cooler thermistor (room temperature sensor) is installed in the instrument panel to detect the cabin temperature, which is used to control the air conditioning system. The resistance of the cooler thermistor (room temperature sensor) changes in accordance with the cabin temperature...
Improper or inadequate vehicle maintenance can cause tires to wear abnormally. Here are some important maintenance points: Tire Inflation Pressure Inspect all tire pressure monthly (including the spare) when the tires are cold. Maintain recommended pressures for the best ride, top handling, and minimum tire wear...
Categories
Before refueling, close all the doors, windows, and the liftgate/trunk lid, and switch the ignition OFF.
To open the fuel-filler lid, pull the remote fuel-filler lid release.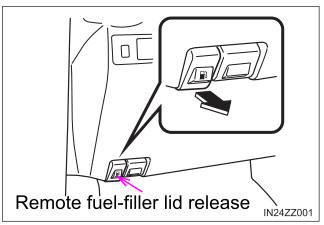 To remove the fuel-filler cap, turn it counterclockwise. Attach the removed cap to the inner side of the fuel-filler lid.