Toyota Yaris: Limitations to SRS Air Bag / Limitations to roll-over detection
The following illustration is an example of an accident that may not be detected as a roll-over accident. Therefore, the front seat belt pretensioners and curtain air bags may not deploy.
Pitch end over end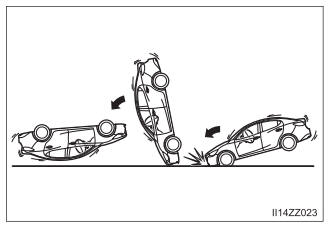 Other information:
COMPONENTS ILLUSTRATION *1 REAR COIL SPRING *2 REAR LOWER COIL SPRING INSULATOR *3 REAR NO. 2 SUSPENSION ARM ASSEMBLY *4 REAR STABILIZER LINK ASSEMBLY *5 REAR STABILIZER BAR *6 REAR SUSPENSION TOE ADJUST CAM SUB-ASSEMBLY *7 NO...
REGISTRATION PROCEDURE 1. REPAIR INSTRUCTION CAUTION: As weak radio waves are emitted from the electrical key transmitter sub-assembly, if a pacemaker is being used, be sure to read the pacemaker instruction manual and the following. People with implantable cardiac pacemakers, cardiac resynchronization therapy-pacemakers or implantable cardioverter defibrillators should keep away from the Smart Key system antennas...
Categories
No special break-in is necessary, but a few precautions in the first 600 miles (1,000 km) may add to the performance, economy, and life of the vehicle.
Do not race the engine. Do not maintain one constant speed, either slow or fast, for a long period of time. Do not drive constantly at full-throttle or high engine rpm for extended periods of time. Avoid unnecessary hard stops. Avoid full-throttle starts.