Toyota Yaris: Limitations to SRS Air Bag / Limitations to front/near front collision detection
The following illustrations are examples of front/near front collisions that may not be detected as severe enough to deploy the SRS air bag equipment.
Impacts involving trees or poles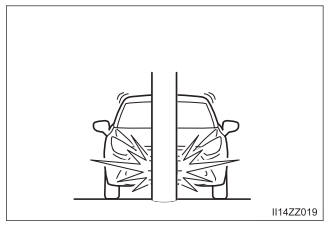 Frontal offset impact to the vehicle
Rear-ending or running under a truck's tail gate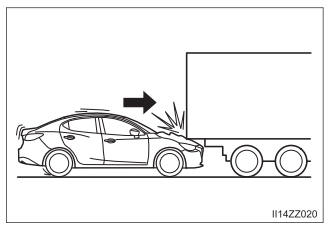 In severe collisions such as those described previously in "SRS Air Bag Deployment Criteria", the applicable SRS air bag equipment will deploy. However, in some accidents, the equipment may not deploy depending on the type of collision and its severity...
Other information:
REMOVAL CAUTION / NOTICE / HINT The necessary procedures (adjustment, calibration, initialization, or registration) that must be performed after parts are removed, installed, or replaced during the knock sensor removal/installation are shown below. Necessary Procedure After Parts Removed/Installed/Replaced Replacement Part or Procedure Necessary Procedure Effect/Inoperative when not Performed Link Replacement of throttle body with motor assembly Cleaning the deposits from the throttle body with motor assembly Air leaks from intake system Replacement of knock control sensor Inspection after repair Poor idle, etc...
DESCRIPTION When the brake pedal is depressed, the stop light switch assembly outputs a signal to the ECM. The ECM uses this signal to control cancellation of vehicle speed by the dynamic radar cruise control. When the ECM determines that terminals STP and ST1- of the stop light switch assembly are both less than 1 V, DTC P057162 is stored...
Categories
WARNING
When removing the fuel-filler cap, loosen the cap slightly and wait for any hissing to stop, then remove it
Fuel spray is dangerous. Fuel can burn skin and eyes and cause illness if ingested. Fuel spray is released when there is pressure in the fuel tank and the fuel-filler cap is removed too quickly.