Toyota Yaris: G16e-gts (engine Control) / Knock Sensor
ON-VEHICLE INSPECTION CAUTION / NOTICE / HINT CAUTION: To prevent injury due to contact with an operating V-ribbed belt or cooling fan, keep your hands and clothing away from the V-ribbed belt and cooling fan when working in the engine compartment with the engine running or the ignition switch on (IG)...
COMPONENTS ILLUSTRATION *1 KNOCK SENSOR *2 NO. 1 VENTILATION CASE *3 NO. 2 CYLINDER BLOCK INSULATOR *4 NO. 2 WATER BY-PASS PIPE *5 NO...
Other information:
DESCRIPTION This is the troubleshooting procedure for situations where the engine does not restart when attempting to restart it after either a failed engine start occurred under stop and start system control, or a mis-operation during vehicle takeoff resulted in an engine stall...
C..
Categories
The fuel gauge shows approximately how much fuel is remaining in the tank when the ignition is switched ON. We recommend keeping the tank over 1/4 full.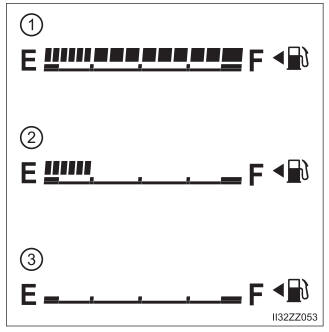 Full 1/4 Full Empty