Toyota Yaris: G16e-gts (intake / Exhaust) / Intake Manifold
INSTALLATION PROCEDURE 1. INSTALL FRONT EXHAUST PIPE ASSEMBLY (a) Using a vernier caliper, measure the free length of the compression springs. Standard Length 43...
COMPONENTS ILLUSTRATION *1 NO. 1 ENGINE UNDER COVER ASSEMBLY *2 ENGINE WIRE *3 NO. 4 WATER BY-PASS PIPE *4 NO. 1 FUEL VAPOR FEED HOSE *5 WIRE HARNESS CLAMP BRACKET *6 E...
Categories
Before refueling, close all the doors, windows, and the liftgate/trunk lid, and switch the ignition OFF.
To open the fuel-filler lid, pull the remote fuel-filler lid release.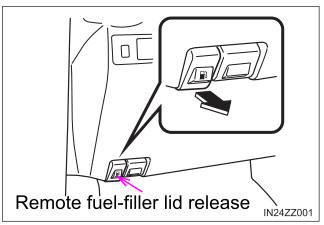 To remove the fuel-filler cap, turn it counterclockwise. Attach the removed cap to the inner side of the fuel-filler lid.