Toyota Yaris: Intake Manifold / Components
COMPONENTS
ILLUSTRATION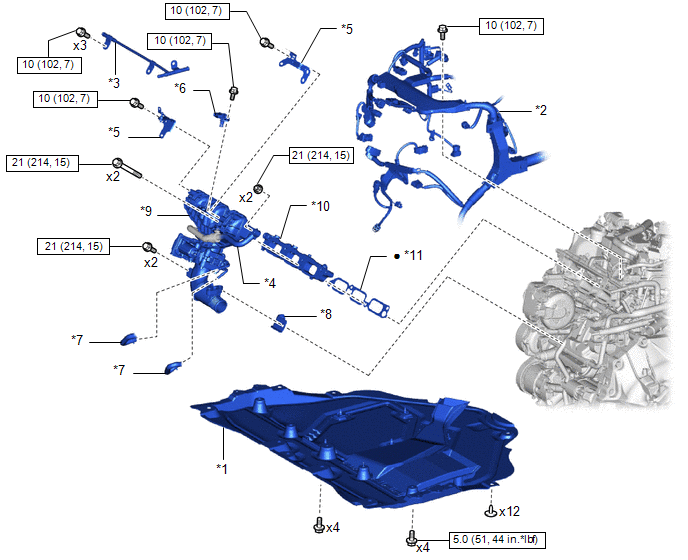 | | | | |
| --- | --- | --- | --- |
| *1 | NO. 1 ENGINE UNDER COVER ASSEMBLY | *2 | ENGINE WIRE |
| *3 | NO. 4 WATER BY-PASS PIPE | *4 | NO. 1 FUEL VAPOR FEED HOSE |
| *5 | WIRE HARNESS CLAMP BRACKET | *6 | E.F.I. VACUUM SENSOR ASSEMBLY |
| *7 | WATER BY-PASS HOSE | *8 | INTAKE AIR CONNECTOR BRACKET |
| *9 | INTAKE MANIFOLD | *10 | NO. 1 VENTILATION FLANGE SEPARATOR |
| *11 | NO. 1 INTAKE MANIFOLD TO HEAD GASKET | - | - |
| | N*m (kgf*cm, ft.*lbf): Specified torque | ● | Non-reusable part |
ILLUSTRATION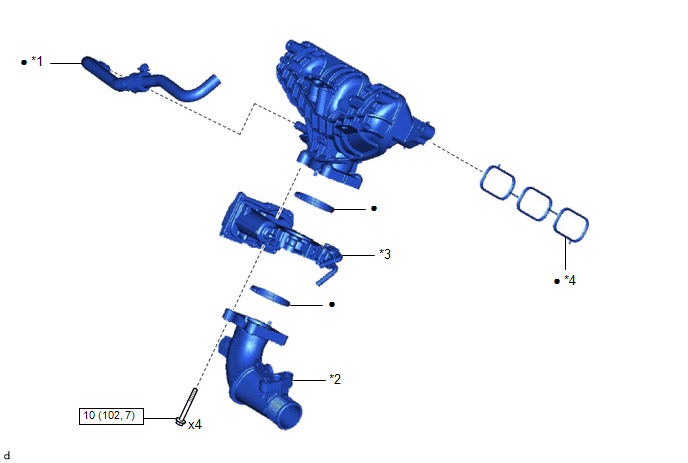 | | | | |
| --- | --- | --- | --- |
| *1 | NO. 1 FUEL VAPOR FEED HOSE | *2 | AIR TUBE ASSEMBLY |
| *3 | THROTTLE W/ THROTTLE POSITION SENSOR BODY ASSEMBLY | *4 | MANIFOLD TO CYLINDER HEAD GASKET |
| | N*m (kgf*cm, ft.*lbf): Specified torque | ● | Non-reusable part |
REMOVAL CAUTION / NOTICE / HINT The necessary procedures (adjustment, calibration, initialization or registration) that must be performed after parts are removed and installed, or replaced during intake manifold removal/installation are shown below...
Other information:
DISPOSAL CAUTION / NOTICE / HINT CAUTION: Before performing pre-disposal deployment of any SRS part, review and closely follow all applicable environmental and hazardous material regulations. Pre-disposal deployment may be considered hazardous material treatment...
DESCRIPTION The speed sensor detects wheel speed and sends the appropriate signals to the skid control ECU (brake actuator assembly). These signals are used for brake control. Speed sensor rotors have rows of alternating N and S magnetic poles, and their magnetic fields change when the rotors turn...
Categories
If a key is left in the vehicle, the functions of the key left in the vehicle are temporarily suspended to prevent theft of the vehicle.
To restore the functions, press the unlock button on the functions-suspended key in the vehicle.