Toyota Yaris: Air Fuel Ratio Sensor (for Sensor 1) / Installation
INSTALLATION
PROCEDURE
1. INSTALL AIR FUEL RATIO SENSOR
(a) Using SST, install the air fuel ratio sensor to the front exhaust manifold.

SST: 09224-00012

Torque:

Specified tightening torque :

44 N·m {449 kgf·cm, 32 ft·lbf}

NOTICE:

If the air fuel ratio sensor has been struck or dropped, replace it.

| | |
| --- | --- |
| *a | SST fulcrum length |
| *b | Torque Wrench Fulcrum Length |
(b) Engage the 2 clamps.
(c) Connect the air fuel ratio sensor connector.
2. INSTALL INTAKE AIR RESONATOR
Click here

3. INSTALL NO. 1 AIR CLEANER HOSE
Click here

4. INSTALL OUTER COWL TOP PANEL SUB-ASSEMBLY
Click here

5. INSTALL WATER GUARD PLATE RH
Click here

6. INSTALL FRONT NO. 1 VENTILATOR SEAL
Click here

7. INSTALL WINDSHIELD WIPER MOTOR AND LINK
Click here

8. INSPECT FOR EXHAUST GAS LEAK
Click here

9. PERFORM INITIALIZATION
(a) Perform "Inspection After Repair" after replacing the air fuel ratio sensor.
Click here

INSPECTION PROCEDURE 1. INSPECT AIR FUEL RATIO SENSOR (a) Measure the resistance according to the value(s) in the table below. Standard Resistance: Tester Connection Condition Specified Condition D102-1(HA1A) - D102-2(+B) 20°C (68°F) 1...
Other information:
DESCRIPTION The camshaft position sensor (for exhaust camshaft) (EV1 signal) consists of a magnet and MRE (Magneto Resistance Element). The exhaust camshaft has a timing rotor for the camshaft position sensor. When the exhaust camshaft rotates, changes occur in the air gaps between the timing rotor and MRE, which affects the magnetic field...
PRECAUTION NOTICE: If the auxiliary battery has been discharged and charged or the cable has been disconnected and reconnected to the negative (-) auxiliary battery terminal, perform Steering Sensor Zero Point Calibration. Click here PRECAUTION FOR DISCONNECTING CABLE FROM NEGATIVE AUXILIARY BATTERY TERMINAL PRECAUTIONS FOR LANE TRACING ASSIST SYSTEM (a) Precautions for Using the Lane Tracing Assist System (1) The lane tracing assist system provides information to the driver and performs steering assistance according to the road and driving conditions...
Categories
Before refueling, close all the doors, windows, and the liftgate/trunk lid, and switch the ignition OFF.
To open the fuel-filler lid, pull the remote fuel-filler lid release.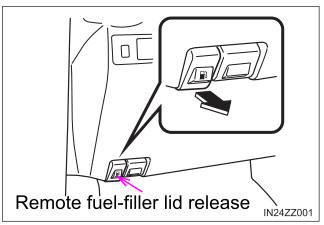 To remove the fuel-filler cap, turn it counterclockwise. Attach the removed cap to the inner side of the fuel-filler lid.