Toyota Yaris: Fuel Pump / Inspection
INSPECTION
PROCEDURE
1. INSPECT FUEL PUMP
(a) Measure the resistance according to the value(s) in the table below.

Standard Resistance:

| Tester Connection | Specified Condition |
| --- | --- |
| U - V | 0.05 to 3.0 Ω |
| V - W | 0.05 to 3.0 Ω |
| U - W | 0.05 to 3.0 Ω |

If the result is not as specified, replace the fuel pump.

*a

Component without harness connected

(Fuel Pump)
DISASSEMBLY CAUTION / NOTICE / HINT NOTICE: Do not disconnect the tube shown in the illustration when disassembling the fuel suction tube with pump and gauge assembly...
REASSEMBLY PROCEDURE 1. INSTALL FUEL PUMP HINT: Perform "Inspection After Repair" after replacing the fuel pump. Click here (a) Install the fuel pump to the No...
Categories
Before refueling, close all the doors, windows, and the liftgate/trunk lid, and switch the ignition OFF.
To open the fuel-filler lid, pull the remote fuel-filler lid release.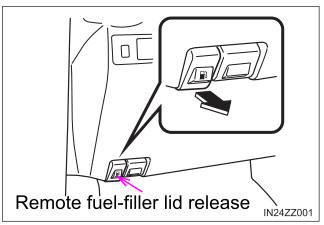 To remove the fuel-filler cap, turn it counterclockwise. Attach the removed cap to the inner side of the fuel-filler lid.