Toyota Yaris: Setup / When Disconnecting Or Reconnecting Battery Terminal
Automatic Learning Chart
AUTOMATIC LEARNING CHART
AUTOMATIC LEARNING PERFORMED WHEN CABLE IS DISCONNECTED / RECONNECTED TO AUXILIARY BATTERY TERMINAL
When the cable is disconnected / reconnected to the auxiliary battery terminal, systems temporarily stop operating. However, each system has a function that completes learning the first time the system is used.
Learning completes when vehicle is driven

Effect/Inoperative Function When Necessary Procedures are not Performed

Necessary Procedures

Link

Lane tracing assist system

Drive the vehicle straight ahead at 35 km/h (22 mph) or more for 5 second or more.

Pre-collision system

Stop and start system

Drive the vehicle until stop and start control is permitted (approximately 5 to 60 minutes)

Learning completes when vehicle is operated normally

| Effect/Inoperative Function When Necessary Procedures are not Performed | Necessary Procedures | Link |
| --- | --- | --- |
| Power door lock control system | Perform door unlock operation with door control switch or electrical key transmitter sub-assembly switch. | |
| Air conditioning system | After the ignition switch is turned to ON, the servo motor standard position is recognized. | - |
Before Disconnecting Battery
BEFORE DISCONNECTING BATTERY
PRECAUTION FOR DISCONNECTING CABLE FROM NEGATIVE AUXILIARY BATTERY TERMINAL
NOTICE:
After the ignition switch is turned off, the radio and display receiver assembly records various types of memory and settings. As a result, after turning the ignition switch off, make sure to wait at least 120 seconds before disconnecting the cable from the negative (-) auxiliary battery terminal.
ProcedurePROCEDURE PROCEDURE 1. CUSTOMIZE LANE TRACING ASSIST SYSTEM Click here 2. CUSTOMIZE WIRELESS DOOR LOCK CONTROL SYSTEM Click here 3. CUSTOMIZE SMART KEY SYSTEM (for Entry Function) Click here 4...
Other information:
Audio unit Talk button, Pick-up button and Hang-up button Talk button Pick-up button Hang-up button Microphone Microphone (hands-free) The microphone is used for speaking voice commands or when making a Hands-free call. Talk button, Pick-Up button and Hang-Up button (hands-free) The basic functions of Bluetooth® Hands-Free can be used for such things as making calls or hanging up using the talk, pick-up and hang-up buttons on the steering wheel...
Seat Operation Seat SlideTo move a seat forward or backward, raise the lever and slide the seat to the desired position and release the lever. Make sure the lever returns to its original position and the seat is locked in place by attempting to push it forward and backward...
Categories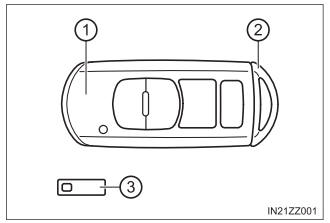 Smart key Auxiliary key Key code number plate
To use the auxiliary key, press the knob and pull out the auxiliary key from the smart key.