Toyota Yaris: Tires / Temporary Spare Tire
Inspect the temporary spare tire at least monthly to make sure it is properly inflated and stored.
The temporary spare tire is easier to handle because of its construction which is lighter and smaller than a conventional tire. This tire should be used only for an emergency and only for a short distance.
Use the temporary spare tire only until the conventional tire is repaired, which should be as soon as possible.
The temporary spare tire condition gradually deteriorates even if it has not been used.
Tires degrade over time, even when they are not being used on the road. It is recommended that tires generally be replaced when they are 6 years or older. Heat caused by hot climates or frequent high loading conditions can accelerate the aging process. You should replace the spare tire when you replace the other road tires due to the aging of the spare tire. The period in which the tire was manufactured (both week and year) is indicated by a 4-digit number.
NOTICE
Do not use your temporary spare tire rim with a snow tire or a conventional tire. Neither will properly fit and could damage both tire and rim.
The temporary spare tire has a tread life of less than 3,000 miles (5,000 km). The tread life may be shorter depending on driving conditions.
The temporary spare tire is for limited use, however, if the tread wear solid-band indicator appears, replace the tire with the same type of temporary spare.
If a tire wears evenly, a wear indicator will appear as a solid band across the tread. Replace the tire when this happens. New tread Worn tread Tread wear indicator You should replace the tire before the band crosses the entire tread...
Proper tire balancing provides the best riding comfort and helps reduce tread wear. Out-of-balance tires can cause vibration and uneven wear, such as cupping and flat spots...
Other information:
PROBLEM SYMPTOMS TABLE NOTICE: Before replacing the main body ECU (multiplex network body ECU), refer to Service Bulletin. HINT: Use the table below to help determine the cause of problem symptoms. If multiple suspected areas are listed, the potential causes of the symptoms are listed in order of probability in the "Suspected Area" column of the table...
F..
Categories
The fuel gauge shows approximately how much fuel is remaining in the tank when the ignition is switched ON. We recommend keeping the tank over 1/4 full.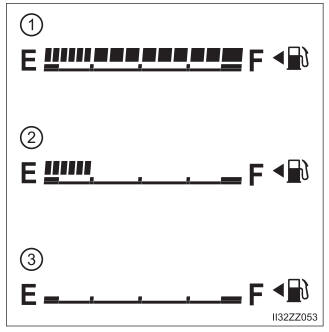 Full 1/4 Full Empty