Toyota Yaris: Lighting System / System Diagram
SYSTEM DIAGRAM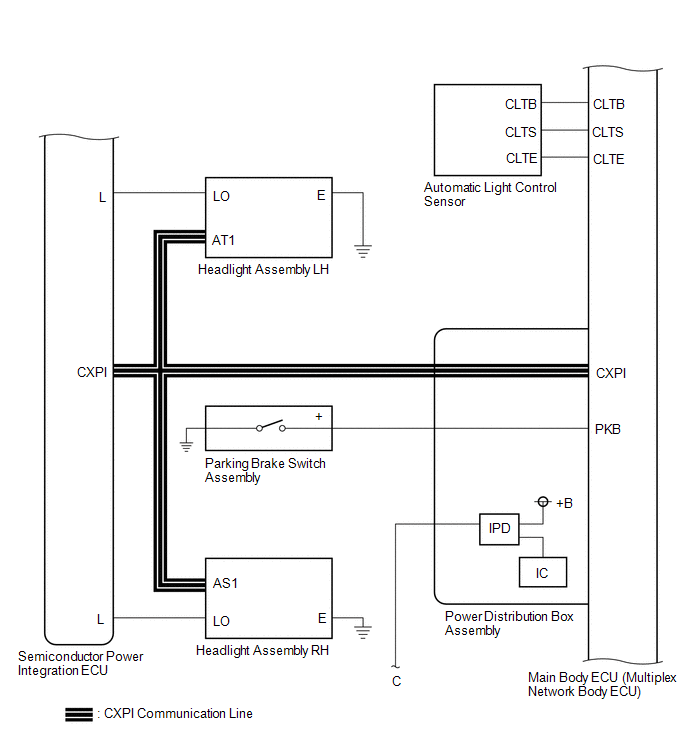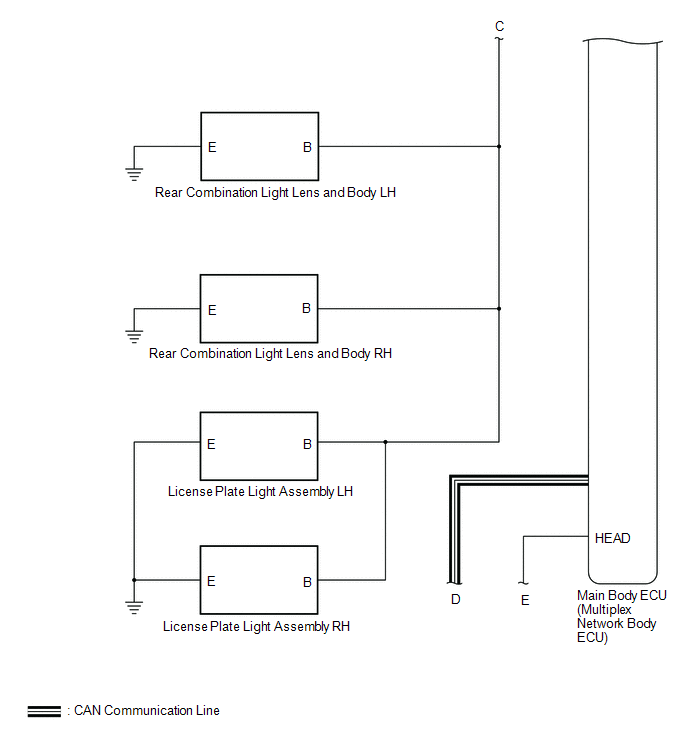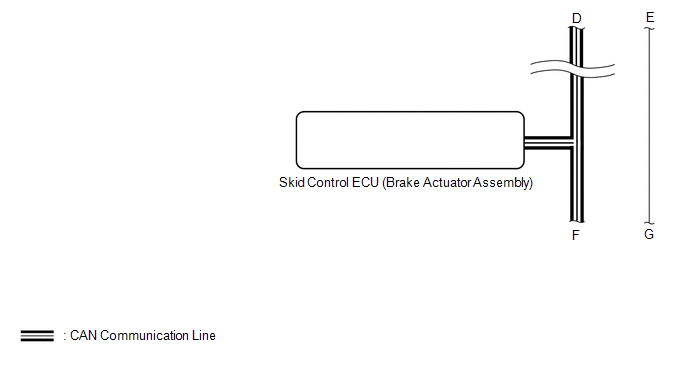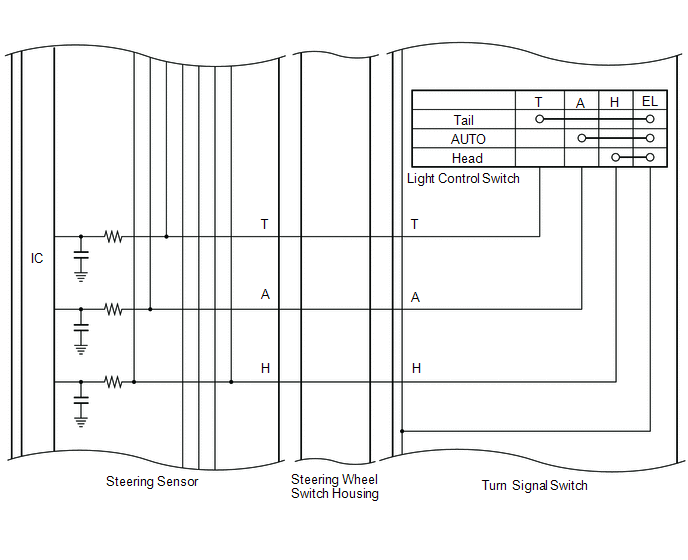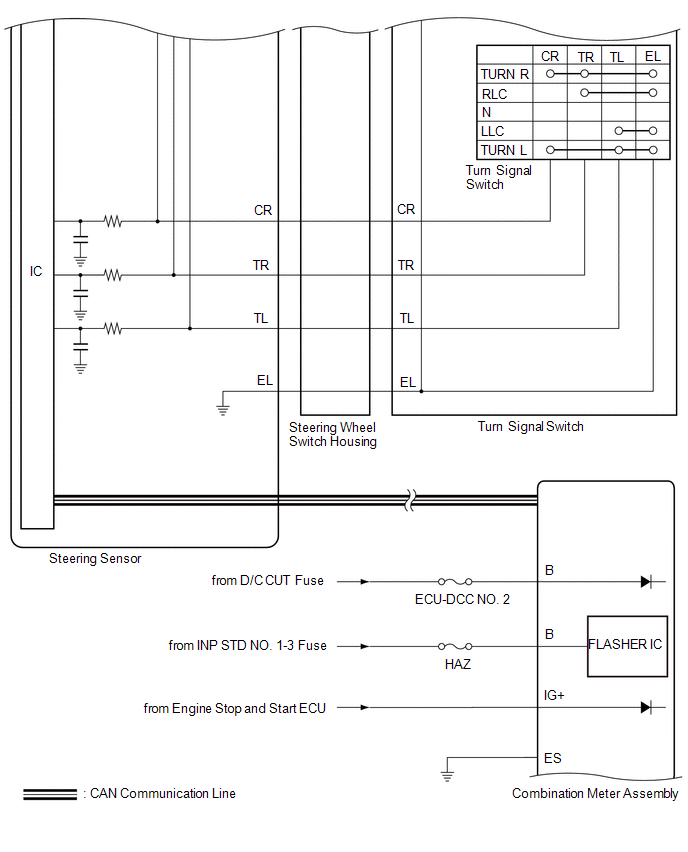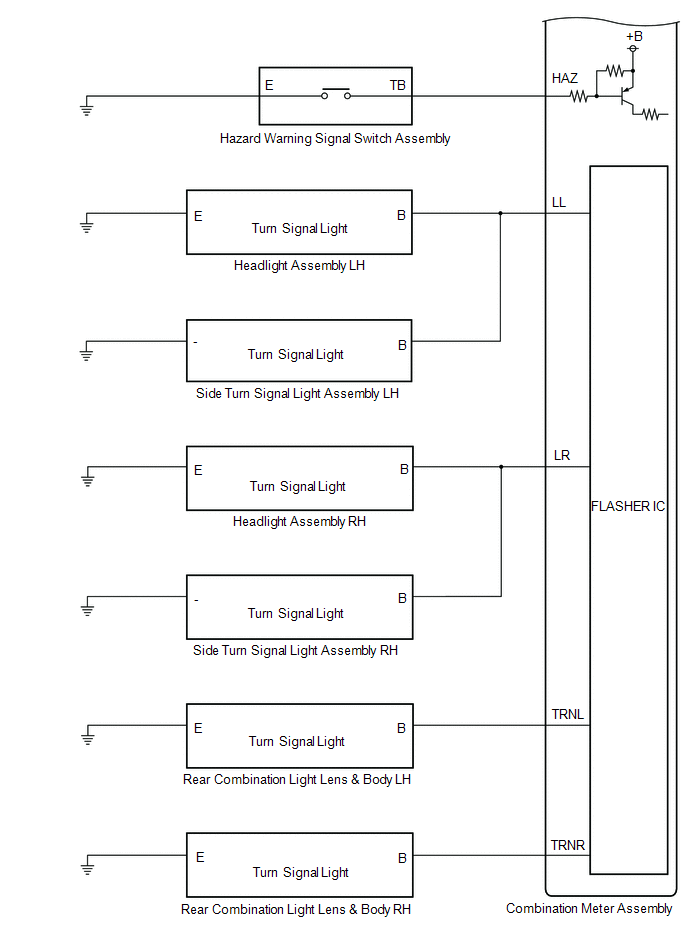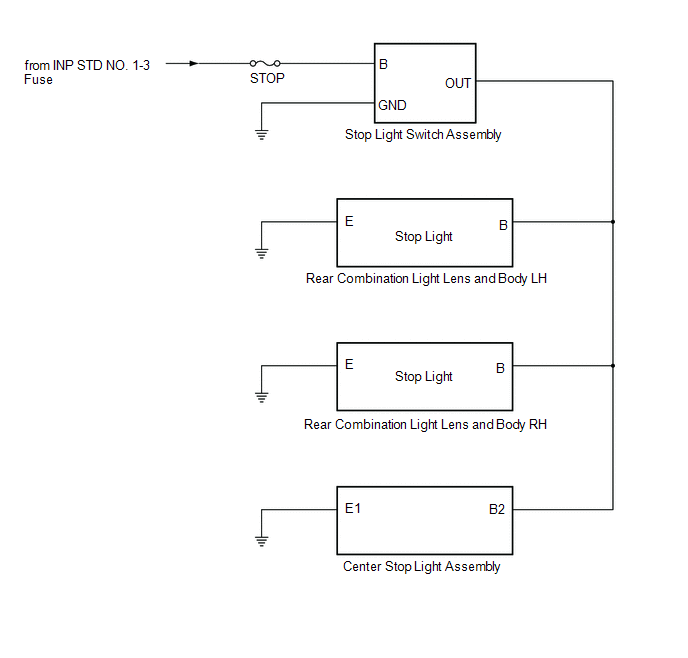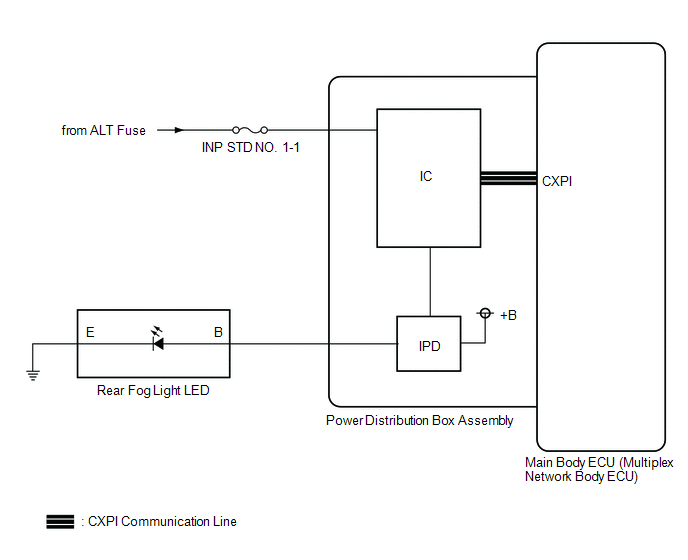 MANUAL LEVELING SYSTEM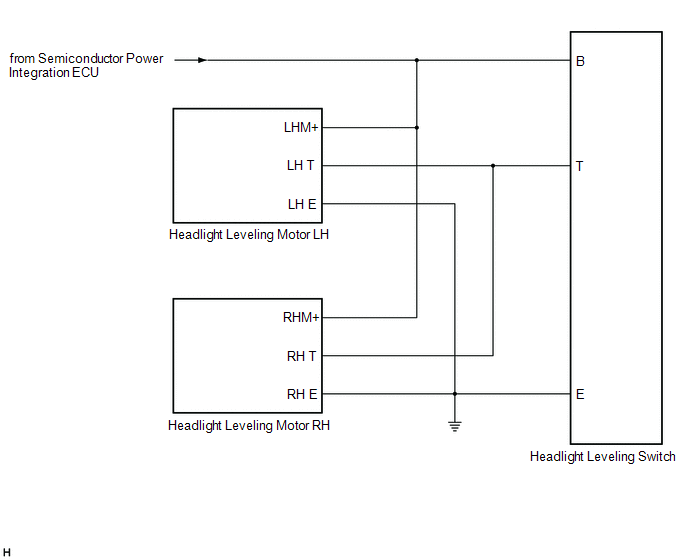 AUTOMATIC HIGH BEAM SYSTEM (w/ Toyota Safety Sense)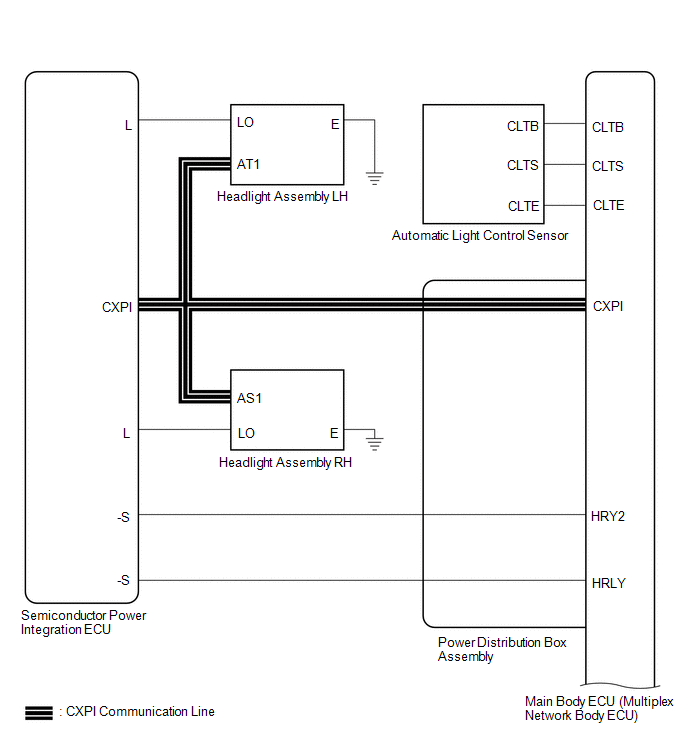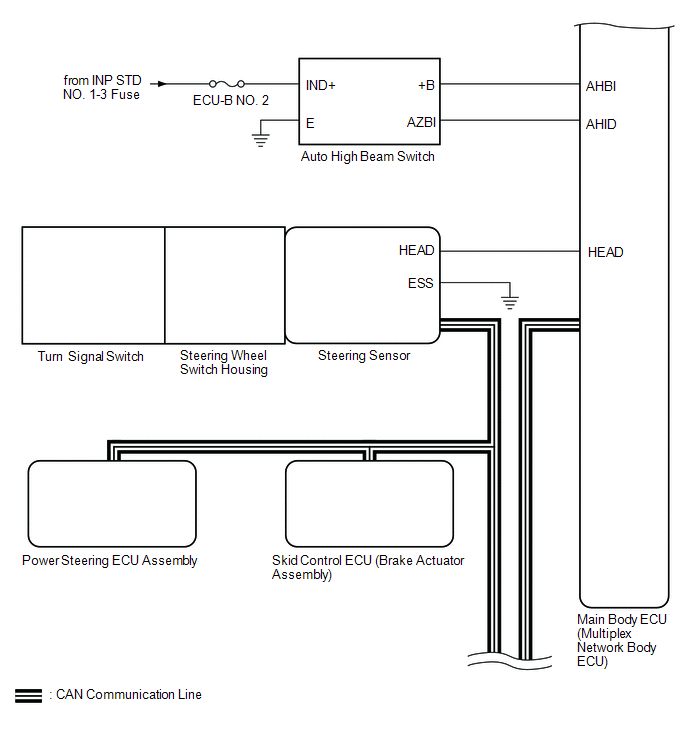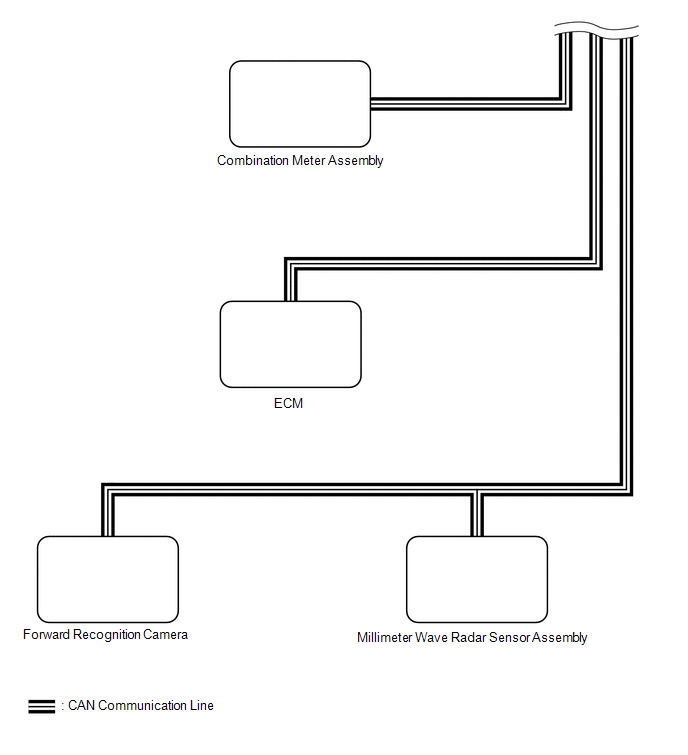 HEADLIGHT ASSEMBLY CIRCUIT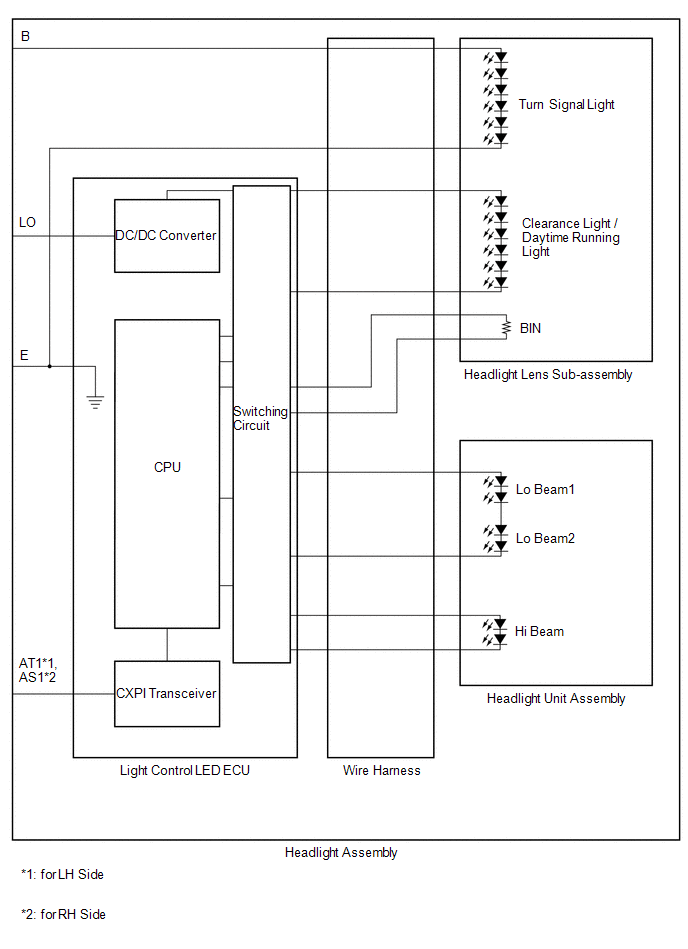 PARTS LOCATION ILLUSTRATION *A w/ Toyota Safety Sense - - *1 SIDE TURN SIGNAL LIGHT ASSEMBLY LH *2 SIDE TURN SIGNAL LIGHT ASSEMBLY RH *3 HEADLIGHT ASSEMBLY LH *4 HEADLIGHT ASSEMBLY RH *5 HEADLIGHT LENS SUB-ASSEMBLY LH *6 HEADLIGHT LENS SUB-ASSEMBLY RH *7 HEADLIGHT UNIT ASSEMBLY LH *8 HEADLIGHT UNIT ASSEMBLY RH *9 LIGHT CONTROL LED ECU LH *10 LIGHT CONTROL LED ECU RH *11 HEADLIGHT LEVELING MOTOR LH *12 HEADLIGHT LEVELING MOTOR RH *13 HEADLIGHT HOUSING SUB-ASSEMBLY LH (WIRE HARNESS LH) *14 HEADLIGHT HOUSING SUB-ASSEMBLY RH (WIRE HARNESS RH) *15 FOG LIGHT ASSEMBLY LH *16 FOG LIGHT ASSEMBLY RH *17 FORWARD RECOGNITION CAMERA *18 MILLIMETER WAVE RADAR SENSOR ASSEMBLY *19 ECM *20 POWER STEERING ECU ASSEMBLY *21 SKID CONTROL ECU (BRAKE ACTUATOR ASSEMBLY) *22 NO...
CAUTION / NOTICE / HINT HINT: Use the following procedure to troubleshoot the lighting system. *: Use the GTS. PROCEDURE 1. VEHICLE BROUGHT TO WORKSHOP NEXT 2...
Other information:
ComponentsCOMPONENTS ILLUSTRATION *1 CENTER LOWER INSTRUMENT COVER *2 LOWER INSTRUMENT PANEL FINISH PANEL *3 ENGINE SWITCH - - RemovalREMOVAL PROCEDURE 1. REMOVE CENTER LOWER INSTRUMENT COVER Click here 2. REMOVE LOWER INSTRUMENT PANEL FINISH PANEL Click here 3...
D..
Categories
Before refueling, close all the doors, windows, and the liftgate/trunk lid, and switch the ignition OFF.
To open the fuel-filler lid, pull the remote fuel-filler lid release.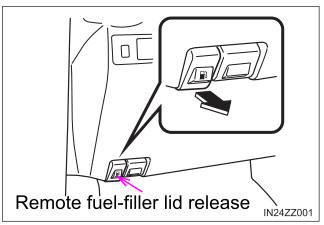 To remove the fuel-filler cap, turn it counterclockwise. Attach the removed cap to the inner side of the fuel-filler lid.