Toyota Yaris: Lighting System / Parts Location
PARTS LOCATION
ILLUSTRATION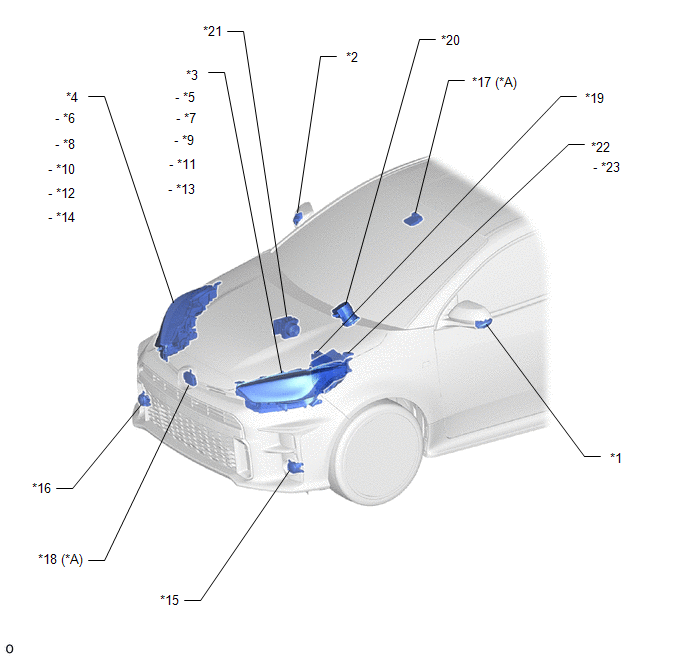 *A

w/ Toyota Safety Sense

-

-

*1

SIDE TURN SIGNAL LIGHT ASSEMBLY LH

*2

SIDE TURN SIGNAL LIGHT ASSEMBLY RH

*3

HEADLIGHT ASSEMBLY LH

*4

HEADLIGHT ASSEMBLY RH

*5

HEADLIGHT LENS SUB-ASSEMBLY LH

*6

HEADLIGHT LENS SUB-ASSEMBLY RH

*7

HEADLIGHT UNIT ASSEMBLY LH

*8

HEADLIGHT UNIT ASSEMBLY RH

*9

LIGHT CONTROL LED ECU LH

*10

LIGHT CONTROL LED ECU RH

*11

HEADLIGHT LEVELING MOTOR LH

*12

HEADLIGHT LEVELING MOTOR RH

*13

HEADLIGHT HOUSING SUB-ASSEMBLY LH

(WIRE HARNESS LH)

*14

HEADLIGHT HOUSING SUB-ASSEMBLY RH

(WIRE HARNESS RH)

*15

FOG LIGHT ASSEMBLY LH

*16

FOG LIGHT ASSEMBLY RH

*17

FORWARD RECOGNITION CAMERA

*18

MILLIMETER WAVE RADAR SENSOR ASSEMBLY

*19

ECM

*20

POWER STEERING ECU ASSEMBLY

*21

SKID CONTROL ECU (BRAKE ACTUATOR ASSEMBLY)

*22

NO. 1 ENGINE ROOM RELAY BLOCK

*23

SEMICONDUCTOR POWER INTEGRATION ECU

-

-
ILLUSTRATION
| | | | |
| --- | --- | --- | --- |
| *1 | CENTER STOP LIGHT ASSEMBLY | *2 | BACK-UP LIGHT LED |
| *3 | LICENSE PLATE LIGHT ASSEMBLY LH | *4 | LICENSE PLATE LIGHT ASSEMBLY RH |
| *5 | REAR COMBINATION LIGHT LENS AND BODY LH | *6 | REAR COMBINATION LIGHT LENS AND BODY RH |
| *7 | REAR FOG LIGHT LED | *8 | FUSIBLE LINK BLOCK ASSEMBLY |
ILLUSTRATION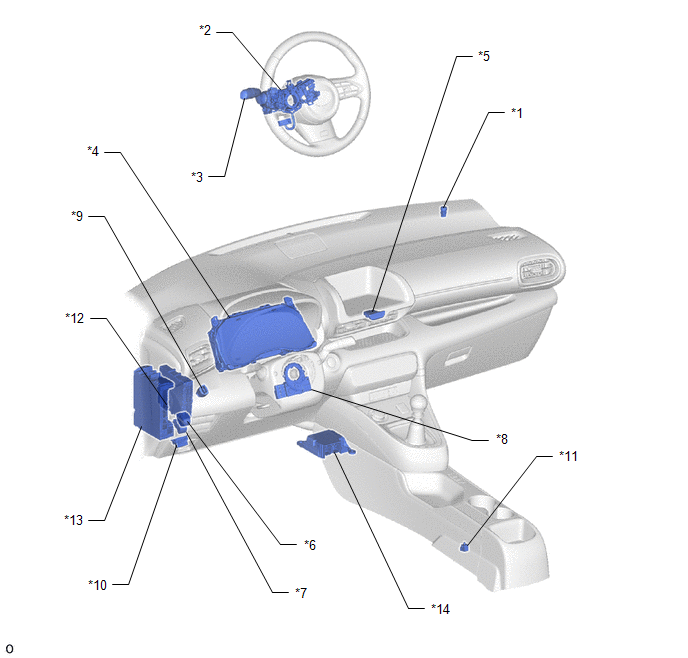 *1

AUTOMATIC LIGHT CONTROL SENSOR

*2

STEERING WHEEL SWITCH HOUSING

*3

TURN SIGNAL SWITCH

- DIMMER SWITCH

- FOG LIGHT SWITCH

- LIGHT CONTROL SWITCH

*4

COMBINATION METER ASSEMBLY

*5

HAZARD WARNING SIGNAL SWITCH ASSEMBLY

*6

HEADLAMP LEVELING SWITCH

*7

AUTO HIGH BEAM SWITCH

*8

STEERING SENSOR

*9

STOP LIGHT SWITCH ASSEMBLY

*10

DLC3

*11

PARKING BRAKE SWITCH ASSEMBLY

*12

MAIN BODY ECU (MULTIPLEX NETWORK BODY ECU)

*13

POWER DISTRIBUTION BOX ASSEMBLY

- HAZ FUSE

- METER-IGR FUSE

- ECU-IGR NO. 1 FUSE

- ECU-DCC NO. 2 FUSE

- ECU-IGR NO. 2 FUSE

- STOP FUSE

- ECU-B NO. 2 FUSE

- IGR-NO. 1 RELAY

- IGR-NO. 2 RELAY

*14

AIR BAG SENSOR ASSEMBLY
PRECAUTION PRECAUTION FOR BULB REPLACEMENT (a) Always prepare a new bulb for immediate replacement. While replacing the bulb, the lens may attract dust and moisture if the bulb is removed from the vehicle for a long time...
Other information:
The side air bags are mounted in the outboard sides of the front seatbacks. When the air bag crash sensors detect a side impact of greater than moderate force, the system inflates the side air bag only on the side in which the vehicle was hit...
TERMINALS OF ECU CHECK POWER DISTRIBUTION BOX ASSEMBLY AND MAIN BODY ECU (MULTIPLEX NETWORK BODY ECU) *1 Power Distribution Box Assembly *2 Main Body ECU (Multiplex Network Body ECU) (a) Remove the main body ECU (multiplex network body ECU) from the power distribution box assembly...
Categories
WARNING
Never allow a person to ride in the luggage compartment/trunk
Allowing a person to ride in the luggage compartment/trunk is dangerous. The person in the luggage compartment/trunk could be seriously injured or killed during sudden braking or a collision.
Do not drive with the liftgate/trunk lid open