Toyota Yaris: Input Shaft / Reassembly
REASSEMBLY
PROCEDURE
1. INSTALL INPUT SHAFT FRONT BEARING INNER RACE
(a) Using SST and a press, install the input shaft front bearing inner race to the input shaft.

SST: 09608-00071
2. INSTALL INPUT SHAFT SNAP RING
| | |
| --- | --- |
| (a) Using a brass bar and hammer, tap a new input shaft snap ring to the input shaft. | |
3. INSTALL 4TH DRIVE GEAR
(a) Using SST and a press, install the 4th drive gear to the input shaft.

SST: 09309-14040
4. INSTALL 3RD DRIVE GEAR
| | |
| --- | --- |
| (a) Install the spacer to the input shaft. | |
(b) Using SST and a press, install the 3rd drive gear to the input shaft.

SST: 09309-14040
5. INSTALL 6TH DRIVE GEAR
(a) Using SST and a press, install the 6th drive gear to the input shaft.

SST: 09309-14040
6. INSTALL INPUT SHAFT REAR RADIAL BALL BEARING
(a) Using SST and a press, install the input shaft rear radial ball bearing to the input shaft.

SST: 09506-30012
7. INSTALL INPUT SHAFT REAR BEARING SHAFT SNAP RING
(a) Select a new input shaft rear bearing shaft snap ring, using the table below, that makes the thrust clearance of the input shaft bearing less than 0.1 mm (0.00394 in.).

Input Shaft Rear Bearing Shaft Snap Ring Thickness:

| Mark | Thickness mm (in.) | Mark | Thickness mm (in.) |
| --- | --- | --- | --- |
| A | 1.80 to 1.85 (0.0709 to 0.0728) | 3 | 2.20 to 2.25 (0.0866 to 0.0886) |
| B | 1.85 to 1.90 (0.0728 to 0.0748) | 4 | 2.25 to 2.30 (0.0886 to 0.0906) |
| C | 1.90 to 1.95 (0.0748 to 0.0768) | 5 | 2.30 to 2.35 (0.0906 to 0.0925) |
| D | 1.95 to 2.00 (0.0768 to 0.0787) | 6 | 2.35 to 2.40 (0.0925 to 0.0945) |
| E | 2.00 to 2.05 (0.0787 to 0.0807) | F | 2.40 to 2.45 (0.0945 to 0.0965) |
| 0 | 2.05 to 2.10 (0.0807 to 0.0827) | G | 2.45 to 2.50 (0.0965 to 0.0984) |
| 1 | 2.10 to 2.15 (0.0827 to 0.0846) | H | 2.50 to 2.55 (0.0984 to 0.1004) |
| 2 | 2.15 to 2.20 (0.0846 to 0.0866) | - | - |
| | |
| --- | --- |
| (b) Using a snap ring expander, install the input shaft rear bearing shaft snap ring to the input shaft. | |
INSPECTION PROCEDURE 1. INSPECT INPUT SHAFT (a) Check the input shaft for wear and damage. (b) Using a dial indicator, measure the input shaft runout...
ComponentsCOMPONENTS ILLUSTRATION *1 INTELLIGENT MANUAL TRANSMISSION SWITCH (COMBINATION SWITCH ASSEMBLY) - - InspectionINSPECTION PROCEDURE 1...
Other information:
DATA LIST / ACTIVE TEST DATA LIST NOTICE: In the table below, the values listed under "Normal Condition" are reference values. Do not depend solely on these reference values when deciding whether a part is faulty or not. HINT: Using the GTS to read the Data List allows the values or states of switches, sensors, actuators and other items to be read without removing any parts...
F..
Categories
Before refueling, close all the doors, windows, and the liftgate/trunk lid, and switch the ignition OFF.
To open the fuel-filler lid, pull the remote fuel-filler lid release.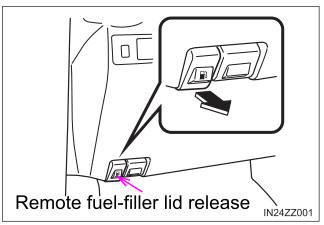 To remove the fuel-filler cap, turn it counterclockwise. Attach the removed cap to the inner side of the fuel-filler lid.