Toyota Yaris: Charging System / Parts Location
PARTS LOCATION
ILLUSTRATION
*1

GENERATOR ASSEMBLY

*2

ECM

*3

NO. 1 ENGINE ROOM RELAY BLOCK

- EFI NO. 1 FUSE

- R/B BATT FUSE

- INP STD NO. 1-3 FUSE

- ALT FUSE

-

-
ILLUSTRATION
*1

BATTERY STATE SENSOR ASSEMBLY

*2

AUXILIARY BATTERY

*3

NO. 5 ENGINE ROOM RELAY BLOCK

- BATT-S NO. 1 FUSE

*4

FUSIBLE LINK BLOCK ASSEMBLY

- R/B RR NO. 1 FUSE
ILLUSTRATION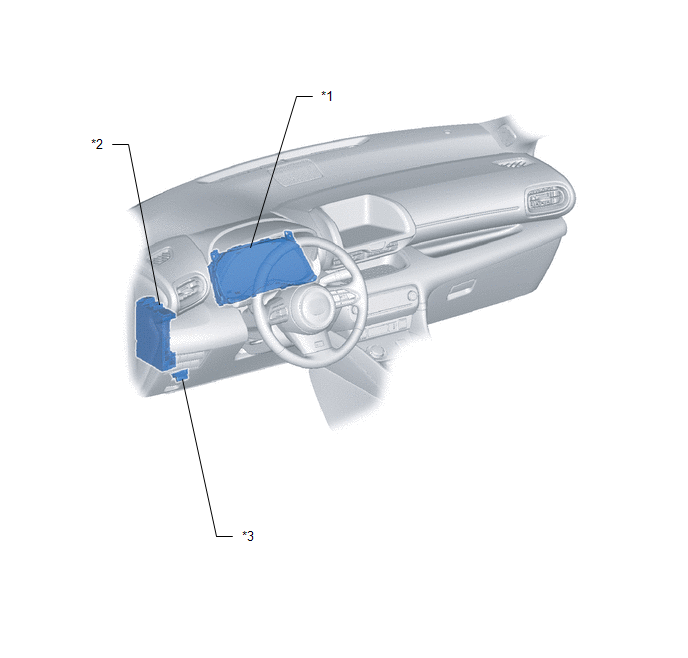 *1

COMBINATION METER ASSEMBLY

*2

POWER DISTRIBUTION BOX ASSEMBLY

- ECU-B NO. 2 FUSE

*3

DLC3

-

-
PRECAUTION CHARGING SYSTEM PRECAUTION NOTICE: Check that the battery cables are connected to the correct terminals. Disconnect the battery cables when the auxiliary battery is given a quick charge...
Other information:
Vinyl Remove dust and loose dirt from vinyl with a whisk broom or vacuum cleaner. Clean vinyl with a leather-and-vinyl cleaner. Leather (if equipped) Remove dust and sand first using a vacuum cleaner or other means, then wipe dirt off using a soft cloth with a leather cleaner or a soft cloth soaked in mild soap...
DESCRIPTION The D-4S system has two fuel injection systems. One is an in-cylinder direct injection system that directly injects pressurized fuel into the combustion chamber. The other is an intake port injection system. The ECM determines which fuel injection system to use in accordance with the engine conditions...
Categories
No special break-in is necessary, but a few precautions in the first 600 miles (1,000 km) may add to the performance, economy, and life of the vehicle.
Do not race the engine. Do not maintain one constant speed, either slow or fast, for a long period of time. Do not drive constantly at full-throttle or high engine rpm for extended periods of time. Avoid unnecessary hard stops. Avoid full-throttle starts.