Toyota Yaris: Charging System / Precaution
PRECAUTION
CHARGING SYSTEM PRECAUTION
NOTICE:
Check that the battery cables are connected to the correct terminals.
Disconnect the battery cables when the auxiliary battery is given a quick charge.
Do not perform tests with a high voltage insulation resistance tester.
Never disconnect the battery cables while the engine is running.
Check that the charging cable nuts are tightened on terminal B of the generator assembly and on the No. 1 engine room relay block.
PARTS LOCATION ILLUSTRATION *1 GENERATOR ASSEMBLY *2 ECM *3 NO. 1 ENGINE ROOM RELAY BLOCK - EFI NO. 1 FUSE - R/B BATT FUSE - INP STD NO...
Other information:
GENERAL INFORMATION A large number of ECU controlled systems are used in this vehicle. In general, ECU controlled systems are considered to be very intricate, requiring a high level of technical knowledge to troubleshoot. However, most problem checking procedures only involve inspecting the ECU controlled system circuits one by one...
DESCRIPTION The waste gate valve is built into the turbine housing and is operated by the vacuum regulating valve assembly. The ECM uses duty control to open and close the vacuum regulating valve assembly. The amount of opening is controlled according to the operation status...
Categories
The fuel gauge shows approximately how much fuel is remaining in the tank when the ignition is switched ON. We recommend keeping the tank over 1/4 full.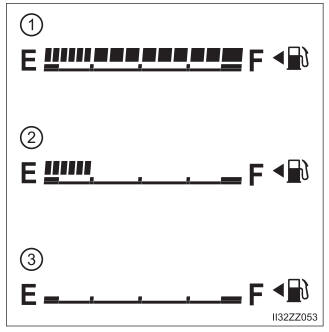 Full 1/4 Full Empty