Toyota Yaris: Stop And Start System / Parts Location
PARTS LOCATION
ILLUSTRATION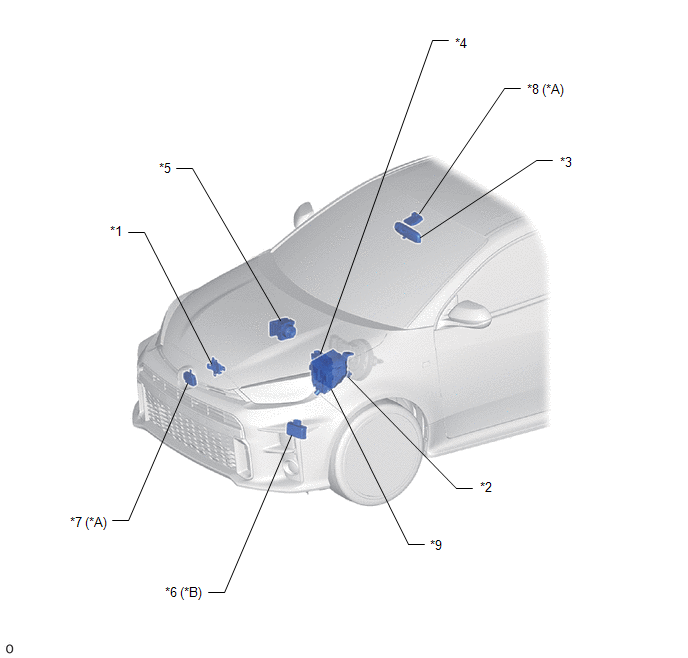 *A

w/ Toyota Safety Sense

*B

w/ Active Noise Control System

*1

ENGINE HOOD COURTESY SWITCH (HOOD LOCK ASSEMBLY)

*2

VACUUM SENSOR ASSEMBLY

*3

INNER REAR VIEW MIRROR ASSEMBLY

*4

ECM

*5

SKID CONTROL ECU (BRAKE ACTUATOR ASSEMBLY)

*6

EXTERNAL BACKUP BOOST CONVERTER (ECO RUN VEHICLE CONVERTER ASSEMBLY)

*7

MILLIMETER WAVE RADAR SENSOR ASSEMBLY

*8

FORWARD RECOGNITION CAMERA

*9

ENGINE ROOM RELAY BLOCK

- EFI-MAIN NO. 1 FUSE

- EFI NO. 3 FUSE

- INJ FUSE

- IGP MAIN FUSE

- ECU-IGP NO. 3 FUSE

- BBC NO. 1 FUSE

- BBC NO. 2 FUSE

- BBC NO. 3 FUSE

- AMP NO. 2 FUSE

- SUB R/B BATT FUSE

- EFI MAIN NO. 1 RELAY

- IGP RELAY

-

-
ILLUSTRATION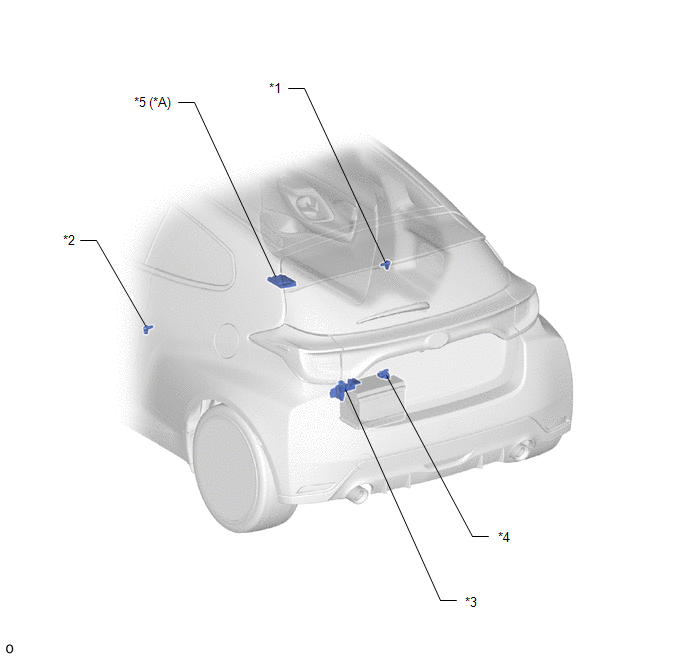 *A

w/ Active Noise Control System

-

-

*1

FRONT DOOR COURTESY LIGHT SWITCH ASSEMBLY (RH)

*2

FRONT DOOR COURTESY LIGHT SWITCH ASSEMBLY (LH)

*3

FUSIBLE LINK BLOCK ASSEMBLY

- ENG FUSE

- R/B FR FUSE

*4

BATTERY STATE SENSOR ASSEMBLY

*5

STEREO COMPONENT EQUALIZER ASSEMBLY

-

-
ILLUSTRATION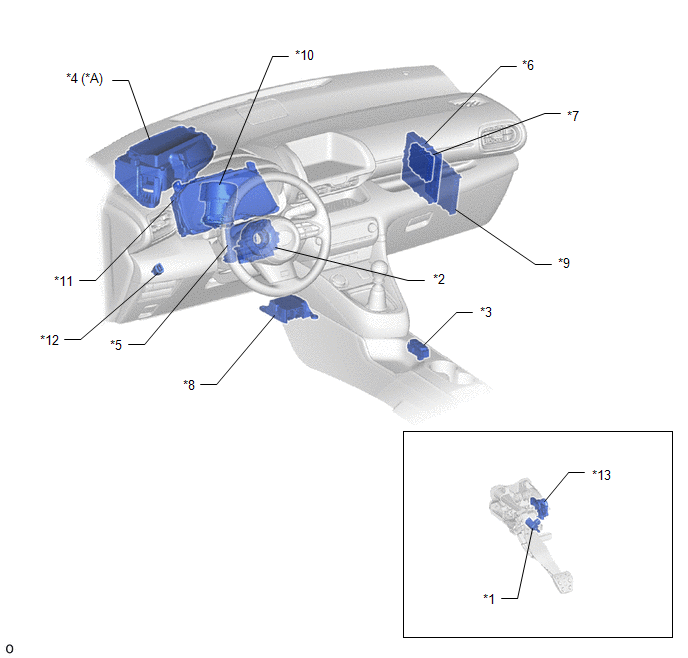 | | | | |
| --- | --- | --- | --- |
| *A | w/ Headup Display System | - | - |
| *1 | CLUTCH START SWITCH ASSEMBLY (FOR LOWER) | *2 | SPIRAL CABLE SUB-ASSEMBLY |
| *3 | STOP AND START SYSTEM CANCEL SWITCH (COMBINATION SWITCH ASSEMBLY) | *4 | METER MIRROR SUB-ASSEMBLY |
| *5 | AIR CONDITIONING AMPLIFIER ASSEMBLY | *6 | ENGINE STOP AND START ECU |
| *7 | CENTRAL GATEWAY ECU (NETWORK GATEWAY ECU) | *8 | AIRBAG SENSOR ASSEMBLY |
| *9 | CERTIFICATION ECU (SMART KEY ECU ASSEMBLY) | *10 | POWER STEERING ECU ASSEMBLY |
| *11 | COMBINATION METER ASSEMBLY | *12 | STOP LIGHT SWITCH ASSEMBLY |
| *13 | CLUTCH PEDAL STROKE SENSOR ASSEMBLY | - | - |
ILLUSTRATION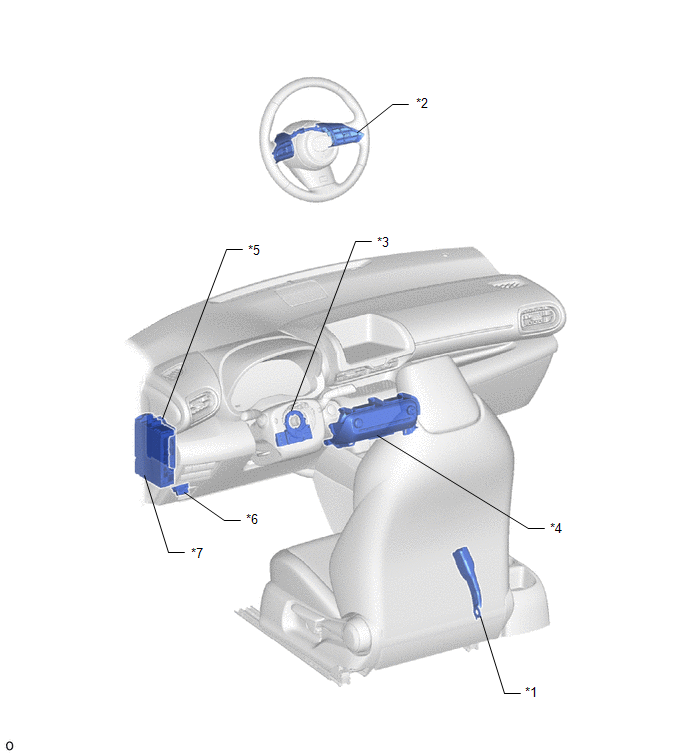 *1

FRONT SEAT INNER BELT ASSEMBLY LH

*2

STEERING PAD SWITCH ASSEMBLY

*3

STEERING SENSOR

*4

AIR CONDITIONING CONTROL ASSEMBLY

*5

MAIN BODY ECU (MULTIPLEX NETWORK BODY ECU)

*6

DLC3

*7

POWER DISTRIBUTION BOX ASSEMBLY

- AM2 FUSE

- ECU-ACC FUSE

- ECU-IGR NO. 1 FUSE

- ECU-IGR NO. 4 FUSE

- ACC RELAY

- IGR NO. 1 RELAY

-

-
ILLUSTRATION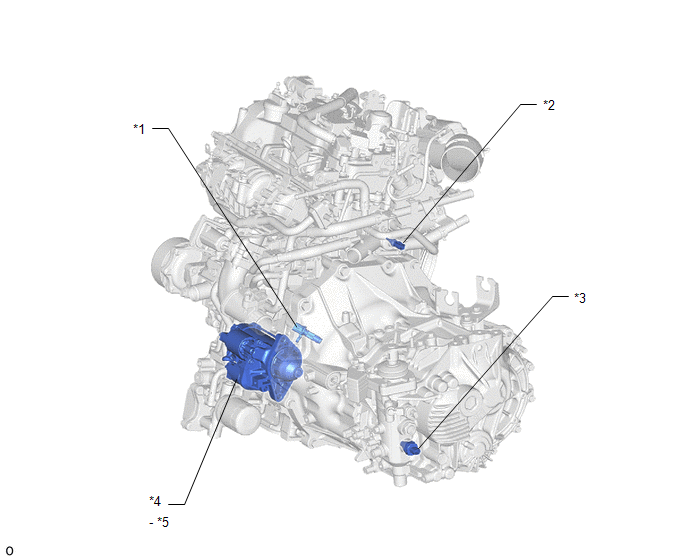 | | | | |
| --- | --- | --- | --- |
| *1 | CRANKSHAFT POSITION SENSOR | *2 | ENGINE COOLANT TEMPERATURE SENSOR |
| *3 | NEUTRAL POSITION SENSOR (NEUTRAL POSITION SWITCH) | *4 | STARTER ASSEMBLY |
| *5 | STARTER INRUSH CURRENT REDUCTION RELAY | - | - |
PRECAUTION PRECAUTIONS WHEN INSPECTING STOP AND START SYSTEM NOTICE: When the audio and visual system volume is high, a fail-safe function may operate in order to maintain the operation of stop and start control...
Other information:
PRECAUTION PRECAUTION FOR SEMICONDUCTOR POWER INTEGRATION ECU (a) Do not remove or install the semiconductor power integration ECU and power distribution box assembly with the negative (-) auxiliary battery terminal connected. NOTICE: After turning the ignition switch off, waiting time may be required before disconnecting the cable from the negative (-) auxiliary battery terminal...
REASSEMBLY CAUTION / NOTICE / HINT HINT: Use the same procedure for the RH and LH sides. The procedure listed below is for the LH side. PROCEDURE 1. INSTALL STOP LIGHT LED (a) Install the stop light LED as shown in the illustration to install it...
Categories
Before refueling, close all the doors, windows, and the liftgate/trunk lid, and switch the ignition OFF.
To open the fuel-filler lid, pull the remote fuel-filler lid release.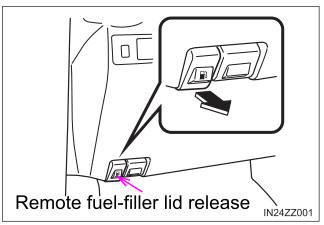 To remove the fuel-filler cap, turn it counterclockwise. Attach the removed cap to the inner side of the fuel-filler lid.