Toyota Yaris: Fuel System / Parts Location
PARTS LOCATION
ILLUSTRATION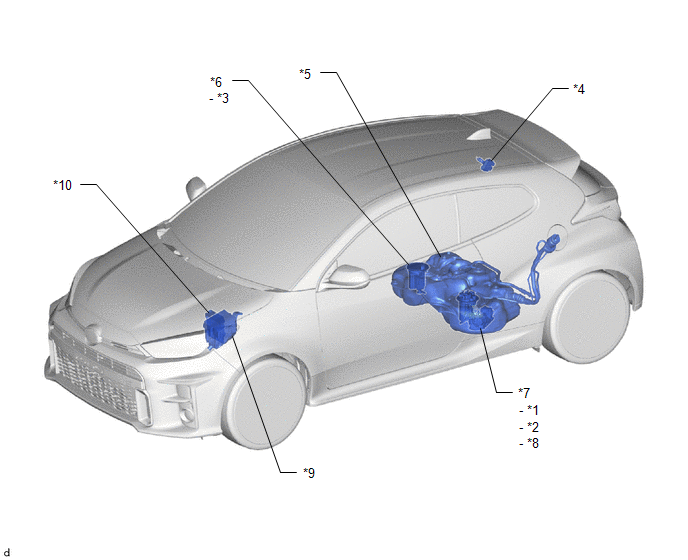 *1

FUEL PUMP

*2

FUEL SENDER GAUGE ASSEMBLY

*3

NO. 2 FUEL SENDER GAUGE ASSEMBLY

*4

FUEL PUMP CONTROL ECU

*5

FUEL TANK ASSEMBLY

*6

FUEL TANK VENT TUBE WITH SENDER GAUGE ASSEMBLY

*7

FUEL SUCTION TUBE WITH PUMP AND GAUGE ASSEMBLY

*8

FUEL MAIN VALVE ASSEMBLY

*9

NO. 1 ENGINE ROOM RELAY BLOCK

- EFI-MAIN NO. 1 RELAY

- EFI-MAIN NO. 2 RELAY

- INJ FUSE

- EFI-MAIN NO. 1 FUSE

- EFI-MAIN NO. 2 FUSE

*10

ECM
ILLUSTRATION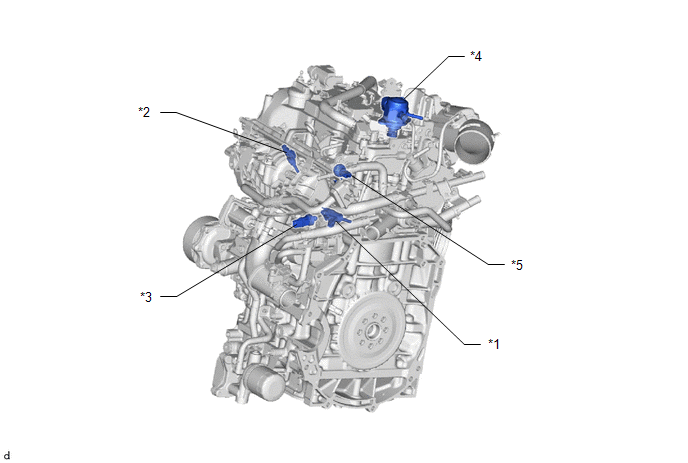 | | | | |
| --- | --- | --- | --- |
| *1 | DIRECT FUEL INJECTOR ASSEMBLY | *2 | PORT FUEL INJECTOR ASSEMBLY |
| *3 | FUEL PRESSURE SENSOR (for High Pressure) | *4 | FUEL PUMP ASSEMBLY (for High Pressure) |
| *5 | NO. 2 FUEL PRESSURE SENSOR (for Low Pressure) | - | - |
PRECAUTION CAUTION: Never perform work on fuel system components near any possible ignition sources. Vaporized fuel could ignite, resulting in a serious accident...
Other information:
COMPONENTS ILLUSTRATION *1 COVER AND DISC CLUTCH SET *2 MANUAL TRANSAXLE ASSEMBLY *3 CLUTCH RELEASE CYLINDER WITH BEARING ASSEMBLY *4 CLUTCH TUBE BOOT *5 CLUTCH RELEASE CYLINDER TO BLEEDER TUBE *6 CLUTCH RELEASE BLEEDER SUB-ASSEMBLY *7 BLEEDER CLUTCH RELEASE TUBE *8 CLAMP *9 CLUTCH RELEASE BEARING PLATE - - Tightening torque for "Major areas involving basic vehicle performance such as moving/turning/stopping": N*m (kgf*cm, ft...
To activate the system, press the ON switch. The cruise main indication (white) is displayed. To deactivate the system, press the OFF/CAN switch. The cruise main indication (white) turns off. When the ignition is switched OFF, the system status before it was turned off is maintained...
Categories
The front seat belt pretensioners are designed to deploy in moderate or severe frontal, near frontal collisions.
In addition, the pretensioners operate when a side collision or a rollover accident is detected. The pretensioners operate differently depending on what types of air bags are equipped. For more details about the seat belt pretensioner operation, refer to the SRS Air Bag Deployment Criteria.