Toyota Yaris: Driving Tips / Overloading
WARNING
Be careful not to overload your vehicle
The gross axle weight rating (GAWR) and the gross vehicle weight rating (GVWR) of the vehicle are on the Motor Vehicle Safety Standard Label on the driver's door frame. Exceeding these ratings can cause an accident or vehicle damage. You can estimate the weight of the load by weighing the items (or people) before putting them in the vehicle.
WARNING Dry off brakes that have become wet by driving slowly, releasing the accelerator pedal and lightly applying the brakes several times until the brake performance returns to normal Driving with wet brakes is dangerous...
Your vehicle's suspension and underbody can be damaged if driven on rough/uneven roads or over speed bumps at excessive speeds. Use care and reduce speed when traveling on rough/uneven roads or over speed bumps...
Other information:
REMOVAL CAUTION / NOTICE / HINT The necessary procedures (adjustment, calibration, initialization or registration) that must be performed after parts are removed and installed, or replaced during fuel pressure sensor removal/installation are shown below...
D..
Categories
The fuel gauge shows approximately how much fuel is remaining in the tank when the ignition is switched ON. We recommend keeping the tank over 1/4 full.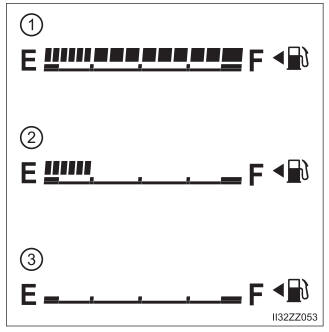 Full 1/4 Full Empty