Toyota Yaris: Engine Assembly / Components
COMPONENTS
ILLUSTRATION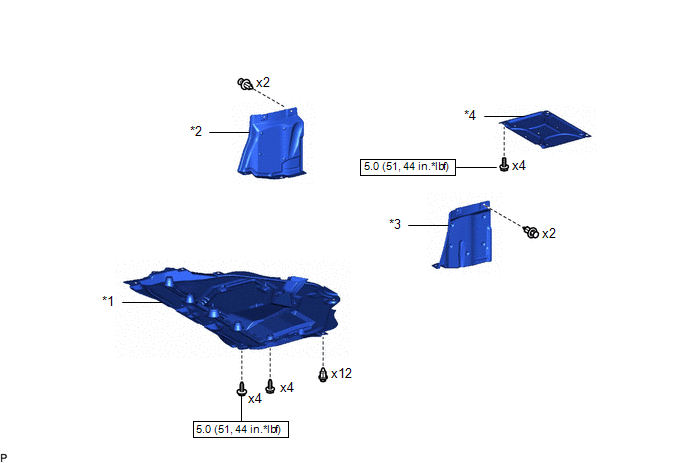 | | | | |
| --- | --- | --- | --- |
| *1 | NO. 1 ENGINE UNDER COVER ASSEMBLY | *2 | ENGINE UNDER COVER RH |
| *3 | ENGINE UNDER COVER LH | *4 | CENTER NO. 4 ENGINE UNDER COVER |
| | N*m (kgf*cm, ft.*lbf): Specified torque | - | - |
ILLUSTRATION

| | | | |
| --- | --- | --- | --- |
| *1 | FRONT FENDER LINER LH | *2 | FRONT FENDER LINER RH |
ILLUSTRATION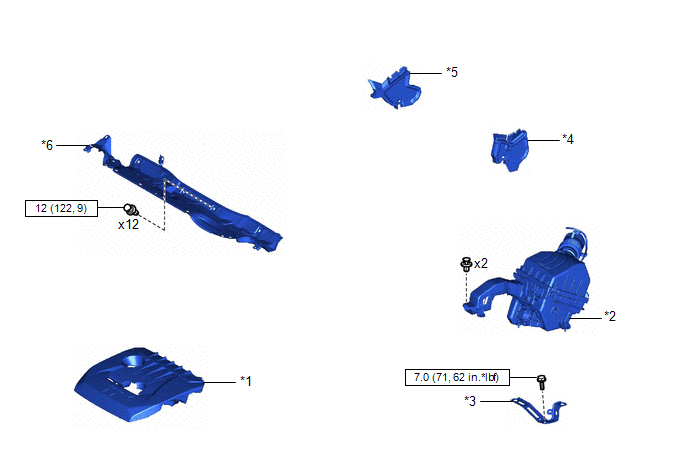 | | | | |
| --- | --- | --- | --- |
| *1 | NO. 1 ENGINE COVER SUB-ASSEMBLY | *2 | AIR CLEANER ASSEMBLY |
| *3 | AIR CLEANER BRACKET | *4 | NO. 1 FRONT VENTILATOR SEAL |
| *5 | WATER GUARD PLATE RH | *6 | OUTER COWL TOP PANEL SUB-ASSEMBLY |
| | N*m (kgf*cm, ft.*lbf): Specified torque | - | - |
ILLUSTRATION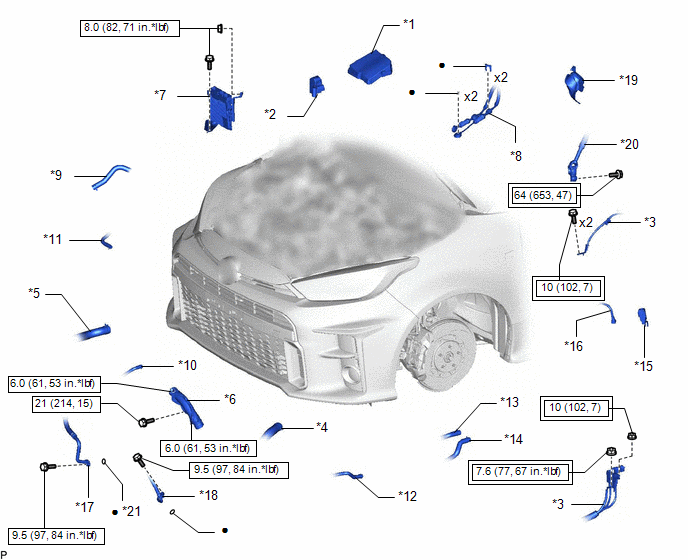 | | | | |
| --- | --- | --- | --- |
| *1 | NO. 1 RELAY BLOCK COVER | *2 | JUNKTION BLOCK COVER |
| *3 | WIRE HARNESS | *4 | NO. 1 RADIATOR HOSE |
| *5 | NO. 2 RADIATOR HOSE | *6 | NO. 2 AIR TUBE |
| *7 | ECM | *8 | TRANSMISSION CONTROL CABLE ASSEMBLY |
| *9 | UNION TO CONNECTOR TUBE HOSE | *10 | NO. 1 WATER BY-PASS HOSE |
| *11 | NO. 2 WATER BY-PASS HOSE | *12 | NO. 1 FUEL VAPOR FEED HOSE |
| *13 | NO. 3 WATER BY-PASS HOSE ASSEMBLY | *14 | INLET HEATER WATER HOSE |
| *15 | FUEL HOSE CLAMP | *16 | FUEL TUBE SUB-ASSEMBLY |
| *17 | SUCTION HOSE SUB-ASSEMBLY | *18 | NO. 1 COOLER REFRIGERANT DISCHARGE HOSE |
| *19 | COLUMN HOLE COVER SILENCER SHEET | *20 | NO. 2 STEERING INTERMEDIATE SHAFT ASSEMBLY |
| *21 | O-RING | - | - |
| | Tightening torque for "Major areas involving basic vehicle performance such as moving/turning/stopping" : N*m (kgf*cm, ft.*lbf) | | N*m (kgf*cm, ft.*lbf): Specified torque |
| ● | Non-reusable part | - | - |
ILLUSTRATION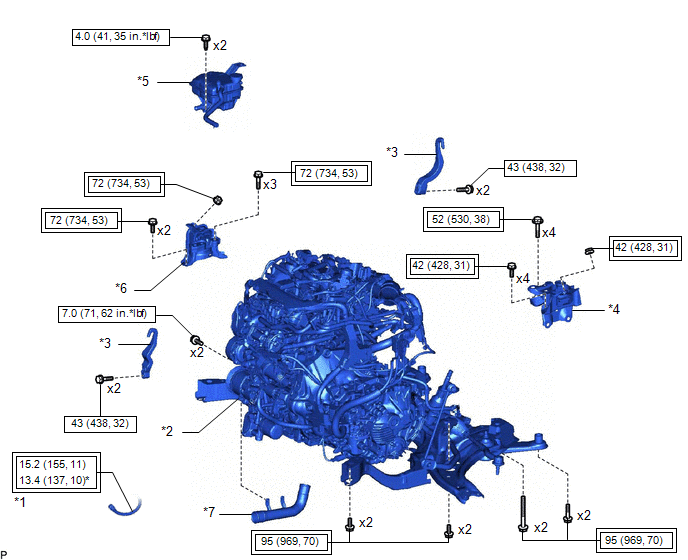 | | | | |
| --- | --- | --- | --- |
| *1 | NO. 1 CLUTCH HOSE | *2 | ENGINE ASSEMBLY WITH TRANSAXLE |
| *3 | ENGINE HANGER | *4 | ENGINE MOUNTING INSULATOR LH |
| *5 | RESERVE TANK ASSEMBLY | *6 | ENGINE MOUNTING INSULATOR SUB-ASSEMBLY RH |
| *7 | NO. 1 AIR TUBE | - | - |
| | Tightening torque for "Major areas involving basic vehicle performance such as moving/turning/stopping" : N*m (kgf*cm, ft.*lbf) | | N*m (kgf*cm, ft.*lbf): Specified torque |
ILLUSTRATION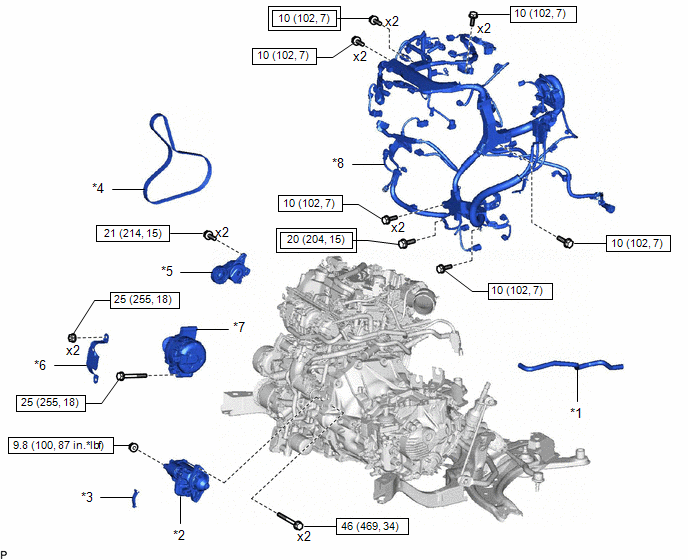 | | | | |
| --- | --- | --- | --- |
| *1 | NO. 1 FUEL VAPOR FEED HOSE | *2 | STARTER ASSEMBLY |
| *3 | FLYWHEEL HOUSING SIDE COVER | *4 | FAN AND GENERATOR V BELT |
| *5 | V-RIBBED BELT TENSIONER ASSEMBLY | *6 | GENERATOR SPLASH GUARD COVER ASSEMBLY |
| *7 | GENERATOR WITH REGULATOR ASSEMBLY | *8 | ENGINE WIRE |
| | Tightening torque for "Major areas involving basic vehicle performance such as moving/turning/stopping" : N*m (kgf*cm, ft.*lbf) | | N*m (kgf*cm, ft.*lbf): Specified torque |
ILLUSTRATION
| | | | |
| --- | --- | --- | --- |
| *1 | EXHAUST MANIFOLD CONVERTER SUB-ASSEMBLY | *2 | PROPELLER SHAFT HEAT INSULATOR |
| *3 | MANUAL TRANSAXLE | *4 | CLUTCH COVER ASSEMBLY |
| *5 | CLUTCH DISC ASSEMBLY | *6 | FLYWHEEL SUB-ASSEMBLY |
| *7 | NO. 1 CRANKSHAFT POSITION SENSOR PLATE | - | - |
| | N*m (kgf*cm, ft.*lbf): Specified torque | ● | Non-reusable part |
| ★ | Precoated part | - | - |
REMOVAL CAUTION / NOTICE / HINT The necessary procedures (adjustment, calibration, initialization, or registration) that must be performed after parts are removed, installed, or replaced during the engine assembly removal/installation are shown below...
Other information:
C..
UTILITY NOTICE: If the forward recognition camera has been replaced due to a malfunction in the lane tracing assist system, make sure to perform forward recognition camera adjustment. Otherwise all of the systems that use the forward recognition camera will not operate normally...
Categories
The front and side supplemental restraint systems (SRS) include different types of air bags. Please verify the different types of air bags which are equipped on your vehicle by locating the "SRS AIRBAG" location indicators. These indicators are visible in the area where the air bags are installed.
The air bags are installed in the following locations:
The steering wheel hub (driver air bag) The front passenger dashboard (front passenger air bag) The outboard sides of the front seatbacks (side air bags) The front and rear window pillars, and the roof edge along both sides (curtain air bags)