Toyota Yaris: Automatic Transaxle Controls / Driving Tips
Passing
For extra power when passing another vehicle or climbing steep grades, depress the accelerator fully. The transaxle will shift to a lower gear, depending on vehicle speed.
Some models: The accelerator pedal may initially feel heavy as it is being depressed, then feel lighter as it is depressed further. This change in pedal force aids the engine control system in determining how much the accelerator pedal has been depressed for performing kickdown, and functions to control whether or not kickdown should be performed.
Climbing steep grades from a stop
To climb a steep grade from a stopped position:
Depress the brake pedal.
Shift to D or M1, depending on the load weight and grade steepness.
Release the brake pedal while gradually accelerating.
Descending steep grades
When descending a steep grade, shift to lower gears, depending on load weight and grade steepness. Descend slowly, using the brakes only occasionally to prevent them from overheating.
WARNING
Do not let the vehicle move in a direction opposite to the direction selected by the selector lever
Do not let the vehicle move backward with the selector lever in a forward position, or do not let the vehicle move forward with the selector lever in the reverse position. Otherwise, the engine may stop, causing the loss of the power brake and power steering functions, and make it difficult to control the vehicle which could result in an accident.
The manual shift mode gives you the feel of driving a manual transaxle vehicle by allowing you to operate the selector lever manually. This allows you to control engine rpm and torque to the drive wheels much like a manual transaxle when more control is desired...
Other information:
REASSEMBLY CAUTION / NOTICE / HINT CAUTION: Wear protective gloves. Sharp areas on the parts may injure your hands. HINT: Use the same procedure for the driver side and front passenger side. The procedure listed below is for the driver side. Use the same procedure for sports seat type and sporty seat type...
TERMINALS OF ECM CHECK ECM HINT: The standard normal voltage between each pair of ECM terminals is shown in the table below. The appropriate conditions for checking each pair of terminals are also indicated. The result of checks should be compared with the standard normal voltage for that pair of terminals, displayed in the Specified Condition column...
Categories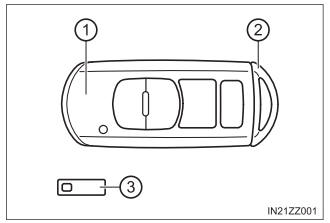 Smart key Auxiliary key Key code number plate
To use the auxiliary key, press the knob and pull out the auxiliary key from the smart key.