Toyota Yaris: Front Brake / Components
COMPONENTS
ILLUSTRATION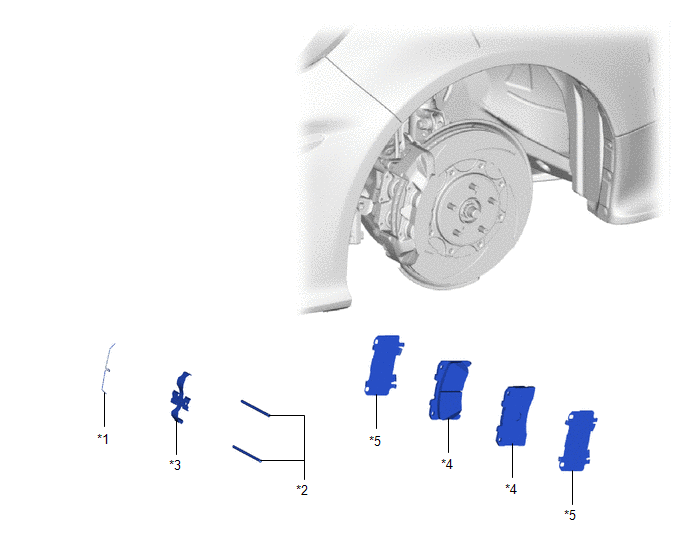 | | | | |
| --- | --- | --- | --- |
| *1 | FRONT DISC BRAKE PIN HOLD CLIP | *2 | FRONT DISC BRAKE ANTI-RATTLE PIN |
| *3 | FRONT DISC BRAKE ANTI-RATTLE SPRING | *4 | FRONT DISC BRAKE PAD |
| *5 | FRONT DISC BRAKE ANTI-SQUEAL SHIM | - | - |
ILLUSTRATION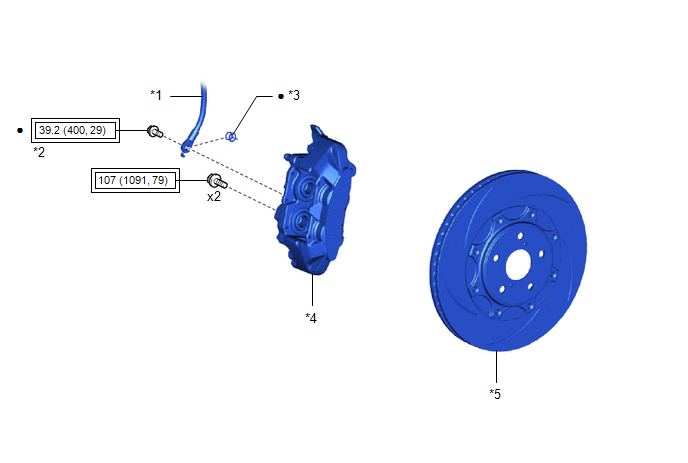 | | | | |
| --- | --- | --- | --- |
| *1 | FRONT FLEXIBLE HOSE | *2 | UNION BOLT |
| *3 | GASKET | *4 | FRONT DISC BRAKE CYLINDER ASSEMBLY |
| *5 | FRONT DISC | - | - |
| | Tightening torque for "Major areas involving basic vehicle performance such as moving/turning/stopping": N*m (kgf*cm, ft.*lbf) | ● | Non-reusable part |
ILLUSTRATION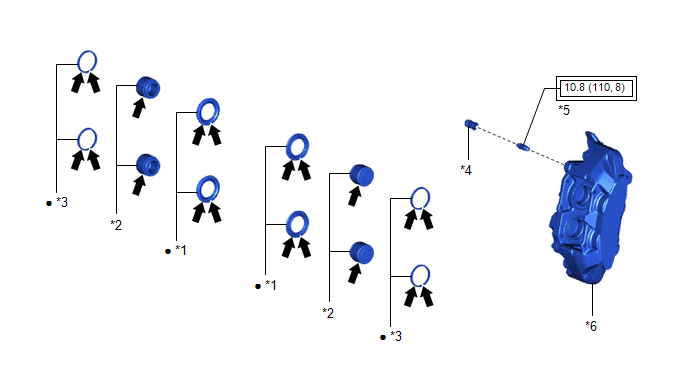 | | | | |
| --- | --- | --- | --- |
| *1 | CYLINDER BOOT | *2 | FRONT DISC BRAKE PISTON |
| *3 | PISTON SEAL | *4 | FRONT DISC BRAKE BLEEDER PLUG CAP |
| *5 | FRONT DISC BRAKE BLEEDER PLUG | *6 | FRONT DISC BRAKE CYLINDER |
| | Tightening torque for "Major areas involving basic vehicle performance such as moving/turning/stopping": N*m (kgf*cm, ft.*lbf) | ● | Non-reusable part |
| | Lithium soap base glycol grease | - | - |
DISASSEMBLY PROCEDURE 1. REMOVE CYLINDER BOOT (a) Using a screwdriver with its tip wrapped with protective tape, remove the 4 cylinder boots from the front disc brake cylinder...
Other information:
The Low Speed Pre-Collision System laser sensor is installed at the top of the windshield near the rearview mirror. Always keep the surface of the windshield around the laser sensor clean to assure proper operation of the Low Speed PreCollision System...
ON-VEHICLE INSPECTION PROCEDURE 1. INSPECT CAMSHAFT TIMING OIL CONTROL SOLENOID ASSEMBLY (for Intake Side) (a) Connect the GTS to the DLC3. (b) Start the engine. (c) Turn the GTS on. (d) Inspect the camshaft timing oil control solenoid assembly. (1) Enter the following menus: Powertrain / Engine / Active Test / Control the Intake VVT OCV Duty Ratio Bank 1 / Data List / Intake VVT Change Angle Bank 1...
Categories
Stop the vehicle completely. Manual transaxle: Shift into neutral and set the parking brake.
Automatic transaxle: Shift the selector lever to the P position and set the parking brake.
Press the push button start to turn off the engine. The ignition position is off.