Toyota Yaris: Steering Column Assembly / Components
COMPONENTS
ILLUSTRATION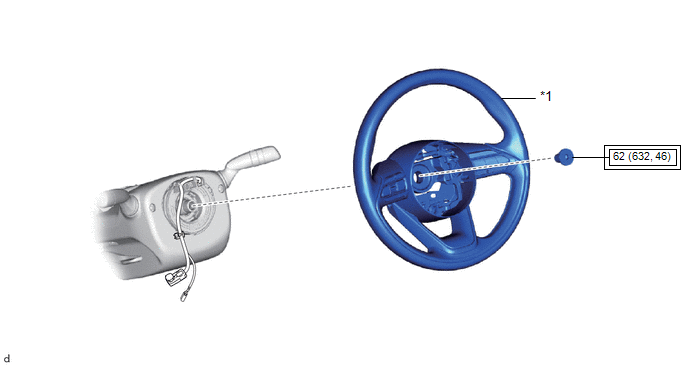 | | | | |
| --- | --- | --- | --- |
| *1 | STEERING WHEEL ASSEMBLY | - | - |
| | Tightening torque for "Major areas involving basic vehicle performance such as moving/turning/stopping" : N*m (kgf*cm, ft.*lbf) | - | - |
ILLUSTRATION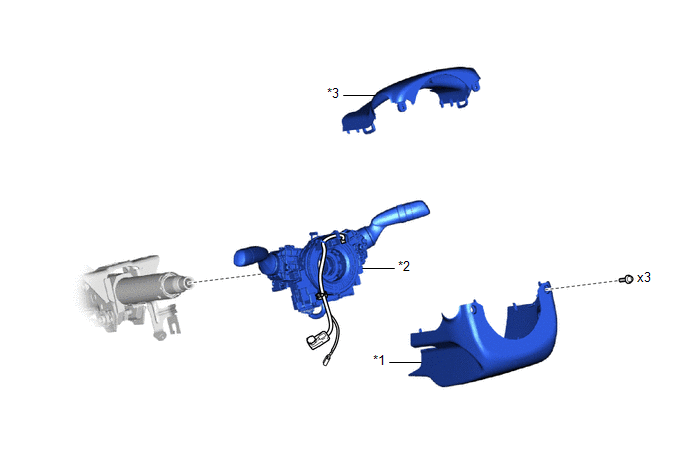 | | | | |
| --- | --- | --- | --- |
| *1 | LOWER STEERING COLUMN COVER | *2 | TURN SIGNAL SWITCH ASSEMBLY WITH SPIRAL CABLE SUB-ASSEMBLY |
| *3 | UPPER STEERING COLUMN COVER | - | - |
ILLUSTRATION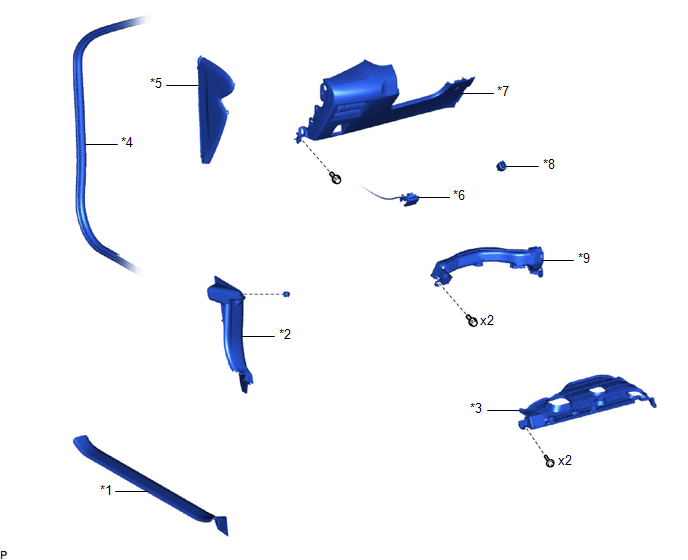 | | | | |
| --- | --- | --- | --- |
| *1 | FRONT DOOR SCUFF PLATE LH | *2 | COWL SIDE TRIM BOARD LH |
| *3 | NO. 1 INSTRUMENT PANEL UNDER COVER SUB-ASSEMBLY | *4 | FRONT DOOR OPENING TRIM WEATHERSTRIP LH |
| *5 | NO. 1 INSTRUMENT SIDE PANEL | *6 | HOOD LOCK CONTROL LEVER SUB-ASSEMBLY |
| *7 | LOWER INSTRUMENT PANEL FINISH PANEL ASSEMBLY | *8 | STOP LIGHT SWITCH ASSEMBLY |
| *9 | NO. 1 AIR DUCT | - | - |
ILLUSTRATION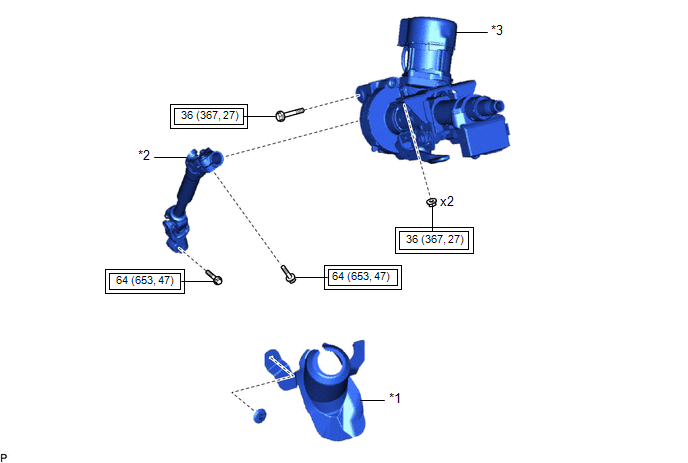 | | | | |
| --- | --- | --- | --- |
| *1 | COLUMN HOLE COVER SILENCER SHEET | *2 | NO. 2 STEERING INTERMEDIATE SHAFT ASSEMBLY |
| *3 | STEERING COLUMN ASSEMBLY | - | - |
| | Tightening torque for "Major areas involving basic vehicle performance such as moving/turning/stopping" : N*m (kgf*cm, ft.*lbf) | - | - |
ILLUSTRATION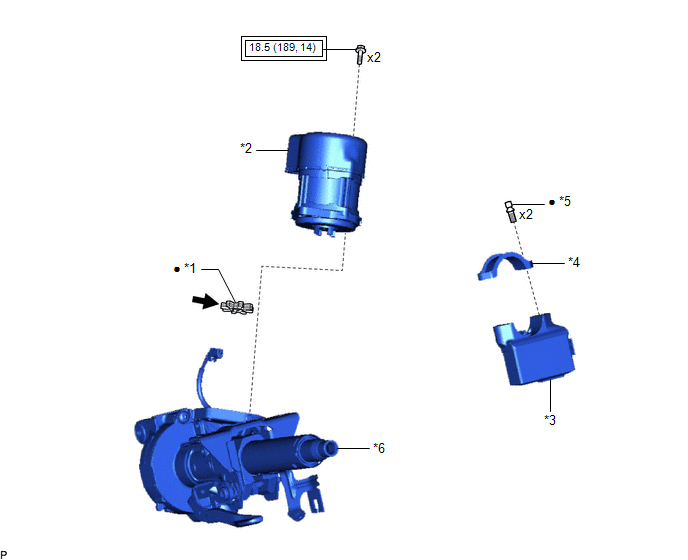 | | | | |
| --- | --- | --- | --- |
| *1 | ELECTRIC POWER STEERING MOTOR SHAFT DAMPER | *2 | POWER STEERING ECU ASSEMBLY |
| *3 | STEERING LOCK ACTUATOR OR UPPER BRACKET ASSEMBLY | *4 | UPPER STEERING COLUMN CLAMP |
| *5 | STEERING LOCK SET BOLT | *6 | ELECTRIC POWER STEERING COLUMN SUB-ASSEMBLY |
| | Tightening torque for "Major areas involving basic vehicle performance such as moving/turning/stopping" : N*m (kgf*cm, ft.*lbf) | ● | Non-reusable part |
| | Grease | - | - |
REMOVAL CAUTION / NOTICE / HINT The necessary procedures (adjustment, calibration, initialization, or registration) that must be performed after parts are removed and installed, or replaced during the electric power steering column sub-assembly removal/installation are shown below...
Other information:
PARTS LOCATION ILLUSTRATION *1 ECM *2 NO. 1 ENGINE ROOM RELAY BLOCK - ECU-IGP NO. 3 FUSE ILLUSTRATION *1 STEREO COMPONENT EQUALIZER ASSEMBLY *2 DLC3 ILLUSTRATION *1 ACTIVE NOISE CONTROL MICROPHONE LH *2 ACTIVE NOISE CONTROL MICROPHONE RH *3 FRONT NO...
D..
Categories
The fuel gauge shows approximately how much fuel is remaining in the tank when the ignition is switched ON. We recommend keeping the tank over 1/4 full.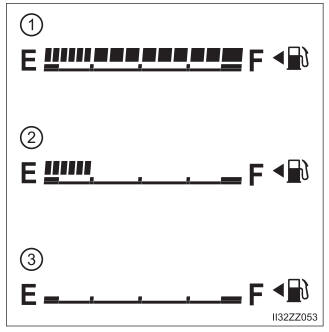 Full 1/4 Full Empty