Toyota Yaris: Steering Column Assembly / Components
COMPONENTS
ILLUSTRATION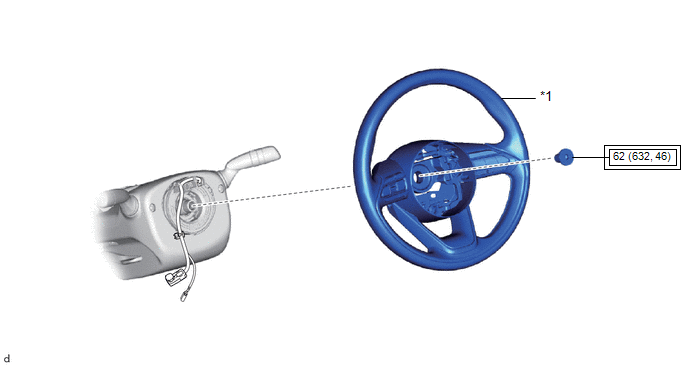 | | | | |
| --- | --- | --- | --- |
| *1 | STEERING WHEEL ASSEMBLY | - | - |
| | Tightening torque for "Major areas involving basic vehicle performance such as moving/turning/stopping" : N*m (kgf*cm, ft.*lbf) | - | - |
ILLUSTRATION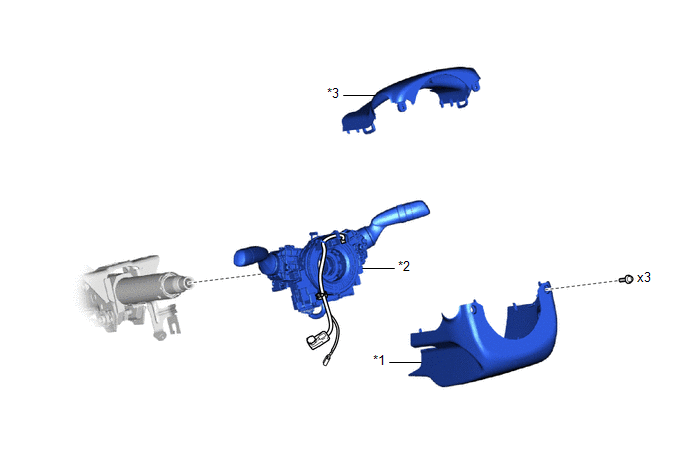 | | | | |
| --- | --- | --- | --- |
| *1 | LOWER STEERING COLUMN COVER | *2 | TURN SIGNAL SWITCH ASSEMBLY WITH SPIRAL CABLE SUB-ASSEMBLY |
| *3 | UPPER STEERING COLUMN COVER | - | - |
ILLUSTRATION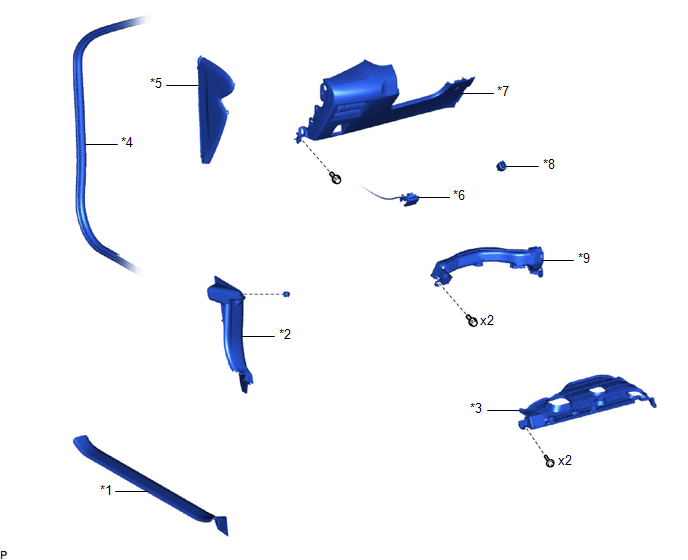 | | | | |
| --- | --- | --- | --- |
| *1 | FRONT DOOR SCUFF PLATE LH | *2 | COWL SIDE TRIM BOARD LH |
| *3 | NO. 1 INSTRUMENT PANEL UNDER COVER SUB-ASSEMBLY | *4 | FRONT DOOR OPENING TRIM WEATHERSTRIP LH |
| *5 | NO. 1 INSTRUMENT SIDE PANEL | *6 | HOOD LOCK CONTROL LEVER SUB-ASSEMBLY |
| *7 | LOWER INSTRUMENT PANEL FINISH PANEL ASSEMBLY | *8 | STOP LIGHT SWITCH ASSEMBLY |
| *9 | NO. 1 AIR DUCT | - | - |
ILLUSTRATION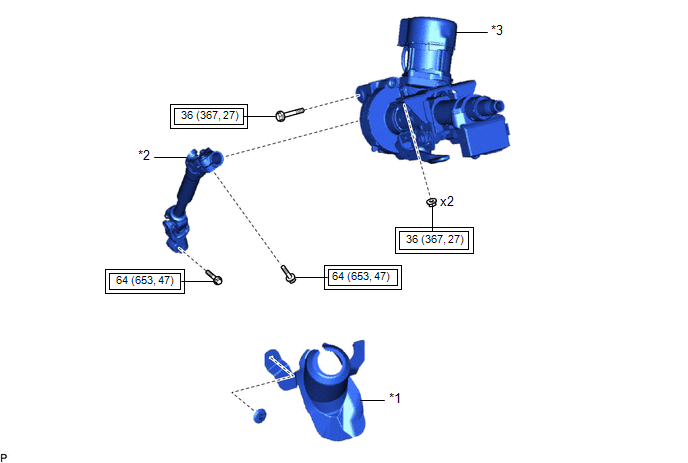 | | | | |
| --- | --- | --- | --- |
| *1 | COLUMN HOLE COVER SILENCER SHEET | *2 | NO. 2 STEERING INTERMEDIATE SHAFT ASSEMBLY |
| *3 | STEERING COLUMN ASSEMBLY | - | - |
| | Tightening torque for "Major areas involving basic vehicle performance such as moving/turning/stopping" : N*m (kgf*cm, ft.*lbf) | - | - |
ILLUSTRATION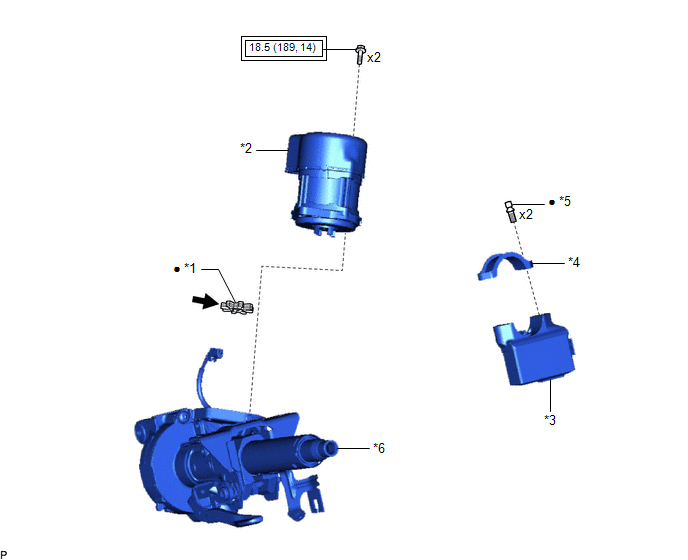 | | | | |
| --- | --- | --- | --- |
| *1 | ELECTRIC POWER STEERING MOTOR SHAFT DAMPER | *2 | POWER STEERING ECU ASSEMBLY |
| *3 | STEERING LOCK ACTUATOR OR UPPER BRACKET ASSEMBLY | *4 | UPPER STEERING COLUMN CLAMP |
| *5 | STEERING LOCK SET BOLT | *6 | ELECTRIC POWER STEERING COLUMN SUB-ASSEMBLY |
| | Tightening torque for "Major areas involving basic vehicle performance such as moving/turning/stopping" : N*m (kgf*cm, ft.*lbf) | ● | Non-reusable part |
| | Grease | - | - |
REMOVAL CAUTION / NOTICE / HINT The necessary procedures (adjustment, calibration, initialization, or registration) that must be performed after parts are removed and installed, or replaced during the electric power steering column sub-assembly removal/installation are shown below...
Other information:
InspectionINSPECTION PROCEDURE 1. INSPECT ST NO. 1 RELAY (a) Check the resistance. (1) Measure the resistance according to the value(s) in the table below. Standard Resistance: Tester Connection Condition Specified Condition 3 - 5 Battery voltage not applied to terminals 1 and 2 10 kΩ or higher Battery voltage applied to terminals 1 and 2 Below 1 Ω If the result is not as specified, replace the ST No...
WARNING Dry off brakes that have become wet by driving slowly, releasing the accelerator pedal and lightly applying the brakes several times until the brake performance returns to normal Driving with wet brakes is dangerous. Increased stopping distance or the vehicle pulling to one side when braking could result in a serious accident...
Categories
The fuel gauge shows approximately how much fuel is remaining in the tank when the ignition is switched ON. We recommend keeping the tank over 1/4 full.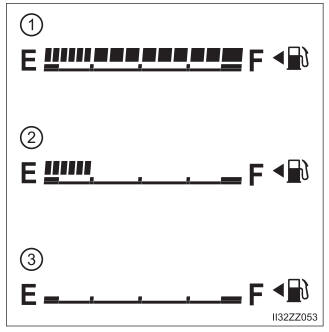 Full 1/4 Full Empty