Toyota Yaris: Network Gateway Ecu / Components
COMPONENTS
ILLUSTRATION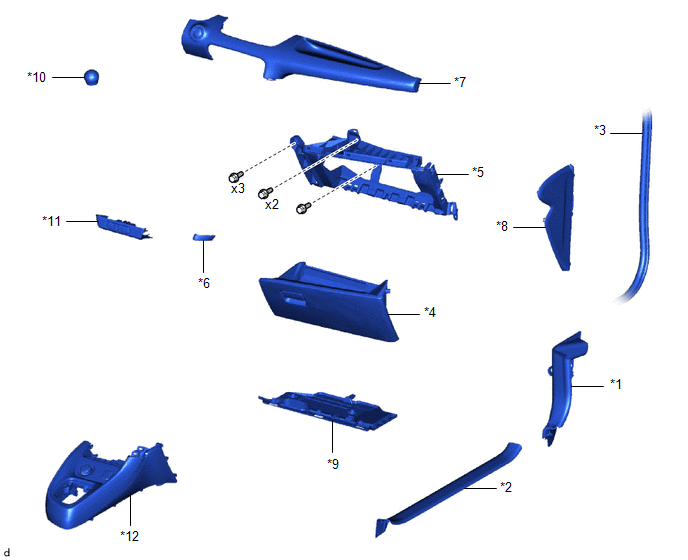 | | | | |
| --- | --- | --- | --- |
| *1 | COWL SIDE TRIM BOARD RH | *2 | FRONT DOOR SCUFF PLATE RH |
| *3 | FRONT DOOR OPENING TRIM WEATHERSTRIP RH | *4 | GLOVE COMPARTMENT DOOR ASSEMBLY |
| *5 | LOWER NO. 2 INSTRUMENT PANEL FINISH PANEL | *6 | CENTER LOWER INSTRUMENT COVER |
| *7 | LOWER INSTRUMENT PANEL FINISH PANEL | *8 | NO. 1 INSTRUMENT SIDE PANEL |
| *9 | NO. 2 INSTRUMENT PANEL UNDER COVER SUB-ASSEMBLY | *10 | SHIFT LEVER KNOB SUB-ASSEMBLY |
| *11 | SWITCH HOLE BASE SUB-ASSEMBLY | *12 | CONSOLE BOX ASSEMBLY |
ILLUSTRATION

| | | | |
| --- | --- | --- | --- |
| *1 | ECU INTEGRATION BOX RH | *2 | CENTRAL GATEWAY ECU (NETWORK GATEWAY ECU) |
| | N*m (kgf*cm, ft.*lbf): Specified torque | - | - |
REMOVAL CAUTION / NOTICE / HINT The necessary procedures (adjustment, calibration, initialization, or registration) that must be performed after parts are removed and installed, or replaced during the central gateway ECU (network gateway ECU) removal/installation are shown below...
Other information:
ON-VEHICLE INSPECTION PROCEDURE 1. INSPECT BRAKE BOOSTER ASSEMBLY (a) Airtightness check (1) Start the engine and stop it after 1 or 2 minutes. Slowly depress the brake pedal several times. HINT: If the brake pedal can be depressed nearly to the floor the first time, but on the 2nd and 3rd time cannot be depressed as far, the brake booster assembly is airtight...
DESCRIPTION The mass air flow meter sub-assembly is a sensor that measures the intake air volume using the following built-in components: By-pass passage (allows some of the intake air to flow past a silicon chip sensor) Silicon chip sensor (uses a heater control bridge circuit and temperature sensor bridge circuit to detect the difference in the temperature of the intake air that passes the sensors positioned before and after the heater)...
Categories
No special break-in is necessary, but a few precautions in the first 600 miles (1,000 km) may add to the performance, economy, and life of the vehicle.
Do not race the engine. Do not maintain one constant speed, either slow or fast, for a long period of time. Do not drive constantly at full-throttle or high engine rpm for extended periods of time. Avoid unnecessary hard stops. Avoid full-throttle starts.