Toyota Yaris: Starter / Components
COMPONENTS
ILLUSTRATION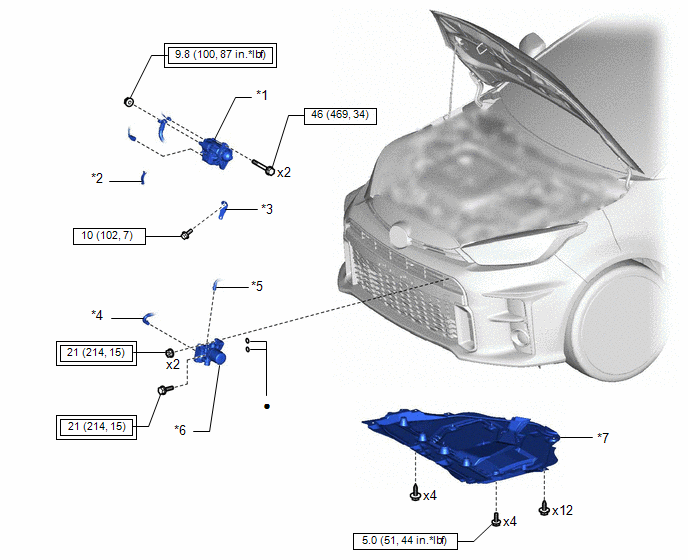 | | | | |
| --- | --- | --- | --- |
| *1 | STARTER ASSEMBLY | *2 | FLYWHEEL HOUSING SIDE COVER |
| *3 | WIRE HARNESS CLAMP BRACKET | *4 | NO. 5 WATER BY-PASS HOSE |
| *5 | NO. 1 ENGINE UNDER COVER ASSEMBLY | *6 | OIL COOLER ASSEMBLY |
| *7 | NO. 1 ENGINE UNDER COVER ASSEMBLY | - | - |
| | Tightening torque for "Major areas involving basic vehicle performance such as moving/turning/stopping": N*m (kgf*cm, ft.*lbf) | | N*m (kgf*cm, ft.*lbf): Specified torque |
| ● | Non-reusable part | - | - |
ILLUSTRATION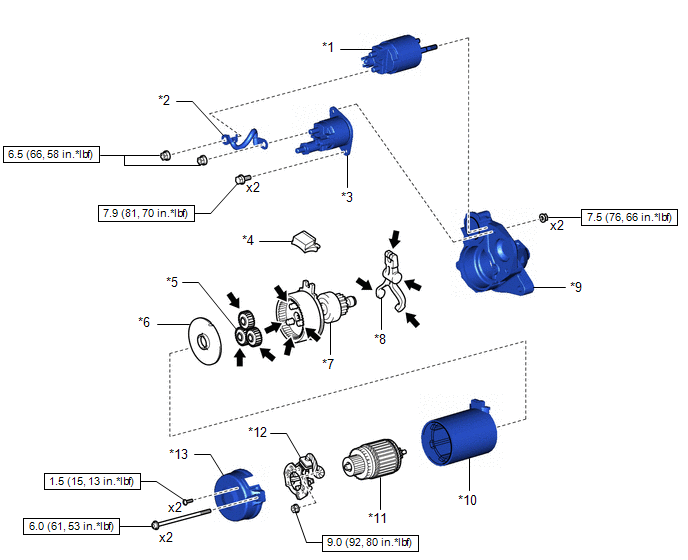 | | | | |
| --- | --- | --- | --- |
| *1 | MAGNET SWITCH | *2 | WIRE HARNESS |
| *3 | STARTER INRUSH CURRENT REDUCTION RELAY | *4 | RUBBER SEAL |
| *5 | PLANETARY GEAR | *6 | STARTER ARMATURE PLATE |
| *7 | STARTER CENTER BEARING CLUTCH SUB-ASSEMBLY | *8 | PINION DRIVE LEVER |
| *9 | STARTER DRIVE HOUSING ASSEMBLY | *10 | STARTER YOKE ASSEMBLY |
| *11 | STARTER ARMATURE ASSEMBLY | *12 | STARTER BRUSH HOLDER ASSEMBLY |
| *13 | STARTER COMMUTATOR END FRAMEASSEMBLY | - | - |
| | N*m (kgf*cm, ft.*lbf): Specified torque | | High-temperature grease |
REMOVAL CAUTION / NOTICE / HINT HINT: When the cable is disconnected / reconnected to the auxiliary battery terminal, systems temporarily stop operating...
Other information:
REMOVAL PROCEDURE 1. REMOVE NO. 1 ENGINE UNDER COVER ASSEMBLY Click here 2. REMOVE OIL PRESSURE AND TEMPERATURE SENSOR (a) Disconnect the oil pressure and temperature sensor connector. (b) Using a 24 mm deep socket wrench, remove the oil pressure and temperature sensor...
PRECAUTION PRECAUTIONS WHEN USING GTS (a) When using the GTS with the ignition switch off, connect the GTS to the DLC3 and turn a courtesy light switch on and off at intervals of 1.5 seconds or less until communication between the GTS and the vehicle begins...
Categories
WARNING
When removing the fuel-filler cap, loosen the cap slightly and wait for any hissing to stop, then remove it
Fuel spray is dangerous. Fuel can burn skin and eyes and cause illness if ingested. Fuel spray is released when there is pressure in the fuel tank and the fuel-filler cap is removed too quickly.