Toyota Yaris: Operating Tips for Audio System / Agreements and disclaimers related to Apple CarPlay™
This unit is compatible with Apple CarPlay™ which can operate an iPhone® using the vehicle's audio device.
iPhone, Siri and Apple Music are registered trademarks of Apple Inc.
Apple CarPlay is trademarks of Apple Inc.
iOS is a trademark or registered trademark of Cisco in the U.S. and other countries and is used under license.
May not be compatible depending on the model or OS version.
To prevent loss or damage of stored data, we recommend that you always back up your data.
NOTICE
For the purposes of safety, do not operate your iPhone® while driving.
Disconnect the iPhone® when it is not in use. If the device is left in the cabin, it could be damaged or the battery may deteriorate due to the excessive temperature or humidity inside the cabin.
If the iPhone® battery has deteriorated, it may not recharge or play audio even if it is connected to this unit.
Before use, carefully read the user instructions for the iPhone®.
Categories
Before refueling, close all the doors, windows, and the liftgate/trunk lid, and switch the ignition OFF.
To open the fuel-filler lid, pull the remote fuel-filler lid release.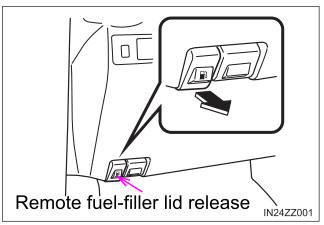 To remove the fuel-filler cap, turn it counterclockwise. Attach the removed cap to the inner side of the fuel-filler lid.