Toyota Yaris: Manual Transaxle System / Vehicle Control History
VEHICLE CONTROL HISTORY
VEHICLE CONTROL HISTORY
HINT:
A part of the control history can be confirmed using the vehicle control history.
Click here

DESCRIPTION The crankshaft position sensor system consists of a crankshaft position sensor plate (crankshaft pulley) and Magneto Resistance Element (MRE) type sensor...
Other information:
4-Door AM/FM Radio Antenna The AM/FM radio antenna receives both AM and FM signals. The antenna is embedded into the window glass. Satellite Radio Antenna (if equipped) The satellite radio antenna receives SiriusXM signals. NOTICE AM/FM Radio Antenna When washing the inside of the window which has an antenna, use a soft cloth dampened in lukewarm water, gently wiping the antenna lines...
DESCRIPTION When the vehicle is being driven, depressing the accelerator pedal sensor assembly and brake pedal will activate the brake override system to restrict engine output. The conditions for activating the brake override system as well as the items that are controlled are explained below...
Categories
The fuel gauge shows approximately how much fuel is remaining in the tank when the ignition is switched ON. We recommend keeping the tank over 1/4 full.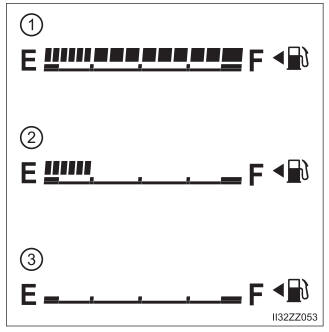 Full 1/4 Full Empty