Toyota Yaris: Manual Transaxle System / Vehicle Control History
VEHICLE CONTROL HISTORY
VEHICLE CONTROL HISTORY
HINT:
A part of the control history can be confirmed using the vehicle control history.
Click here

DESCRIPTION The crankshaft position sensor system consists of a crankshaft position sensor plate (crankshaft pulley) and Magneto Resistance Element (MRE) type sensor...
Other information:
ComponentsCOMPONENTS ILLUSTRATION *1 PARKING BRAKE SWITCH ASSEMBLY - - N*m (kgf*cm, ft.*lbf): Specified torque - - RemovalREMOVAL PROCEDURE 1. REMOVE REAR CONSOLE BOX ASSEMBLY Click here 2. REMOVE PARKING BRAKE SWITCH ASSEMBLY (a) Disconnect the parking brake switch connector...
DESCRIPTION Detection Item Symptom Trouble Area Combination Meter ECU Communication Stop Mode Communication stop for "Combination Meter" is indicated on the "Communication Bus Check" screen of the GTS. Click here Combination meter assembly main line or connector Power source circuit of combination meter assembly Combination meter assembly ground circuit Combination meter assembly WIRING DIAGRAM CAUTION / NOTICE / HINT CAUTION: When performing the confirmation driving pattern, obey all speed limits and traffic laws...
Categories
The fuel gauge shows approximately how much fuel is remaining in the tank when the ignition is switched ON. We recommend keeping the tank over 1/4 full.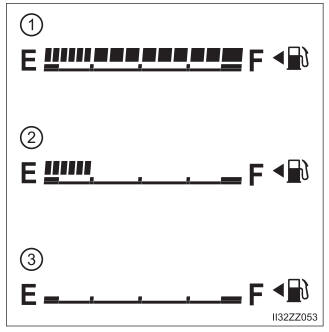 Full 1/4 Full Empty