Toyota Yaris: Manual Transaxle System / Vehicle Control History
VEHICLE CONTROL HISTORY
VEHICLE CONTROL HISTORY
HINT:
A part of the control history can be confirmed using the vehicle control history.
Click here

DESCRIPTION The crankshaft position sensor system consists of a crankshaft position sensor plate (crankshaft pulley) and Magneto Resistance Element (MRE) type sensor...
Other information:
Before performing battery maintenance, remove the battery cover by pressing the tab. WARNING Wash hands after handling the battery and related accessories Battery posts, terminals and related accessories contain lead and lead compounds, chemicals known to the State of California to cause cancer and reproductive harm...
DESCRIPTION If the manual up and down functions operate normally but the auto up and down functions do not, the power window control system may be in fail-safe mode. If power window initialization has not been performed, the auto up and down functions will not operate...
Categories
The fuel gauge shows approximately how much fuel is remaining in the tank when the ignition is switched ON. We recommend keeping the tank over 1/4 full.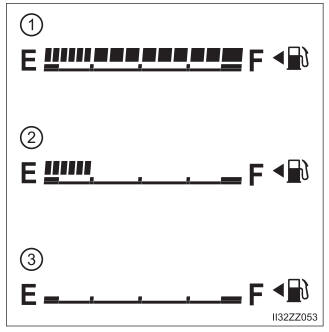 Full 1/4 Full Empty