Toyota Yaris: Manual Transaxle System / Vehicle Control History
VEHICLE CONTROL HISTORY
VEHICLE CONTROL HISTORY
HINT:
A part of the control history can be confirmed using the vehicle control history.
Click here

DESCRIPTION The crankshaft position sensor system consists of a crankshaft position sensor plate (crankshaft pulley) and Magneto Resistance Element (MRE) type sensor...
Other information:
DATA LIST / ACTIVE TEST DATA LIST NOTICE: In the following table, the values listed under "Normal Condition" are reference values. Do not depend solely on these reference values when deciding whether a part is faulty or not. HINT: Using the GTS to read the Data List allows the values or states of switches, sensors, actuators and other items to be read without removing any parts...
INSPECTION PROCEDURE 1. INSPECT INNER REAR VIEW MIRROR ASSEMBLY (a) Inspect the operation of the electrochromic inner rear view mirror assembly. *a Black Colored Tape *b Forward Sensor *c Bright *d Dark *e Auxiliary Battery *f AUTO Switch *g Component without harness connected (Inner Rear View Mirror Assembly) - - (1) Connect a positive (+) lead from the auxiliary battery to terminal 4 (IG) and a negative (-) lead to terminal 1 (E)...
Categories
The fuel gauge shows approximately how much fuel is remaining in the tank when the ignition is switched ON. We recommend keeping the tank over 1/4 full.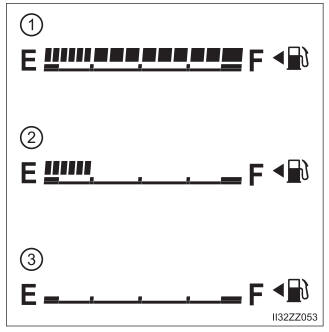 Full 1/4 Full Empty