Toyota Yaris: G16e-gts (starting) / Relay
Inspection
INSPECTION
PROCEDURE
1. INSPECT ST NO. 1 RELAY
(a) Check the resistance.

(1) Measure the resistance according to the value(s) in the table below.

Standard Resistance:

Tester Connection

Condition

Specified Condition

3 - 5

Battery voltage not applied to terminals 1 and 2

10 kΩ or higher

Battery voltage applied to terminals 1 and 2

Below 1 Ω

If the result is not as specified, replace the ST No. 1 relay.
ComponentsCOMPONENTS ILLUSTRATION *1 CENTER LOWER INSTRUMENT COVER *2 LOWER INSTRUMENT PANEL FINISH PANEL *3 ENGINE SWITCH - - RemovalREMOVAL PROCEDURE 1...
Other information:
DESCRIPTION The starter inrush current reduction relay prevents the auxiliary battery voltage from becoming dropping excessively while the starter assembly is operating. If the auxiliary battery voltage drops below the threshold, stop and start control will be prohibited...
A cup or small items can be placed on the center console tray using the center console divider. The center console tray is large enough to place a small item when the center console divider is not in use. WARNING Never use a cup holder to hold hot liquids while the vehicle is moving Using a cup holder to hold hot liquids while the vehicle is moving is dangerous...
Categories
Before refueling, close all the doors, windows, and the liftgate/trunk lid, and switch the ignition OFF.
To open the fuel-filler lid, pull the remote fuel-filler lid release.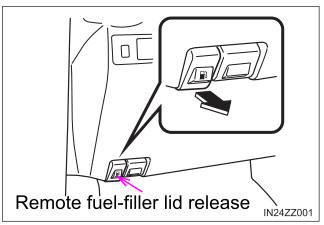 To remove the fuel-filler cap, turn it counterclockwise. Attach the removed cap to the inner side of the fuel-filler lid.