Toyota Yaris: Vehicle Stability Control System / Parts Location
PARTS LOCATION
ILLUSTRATION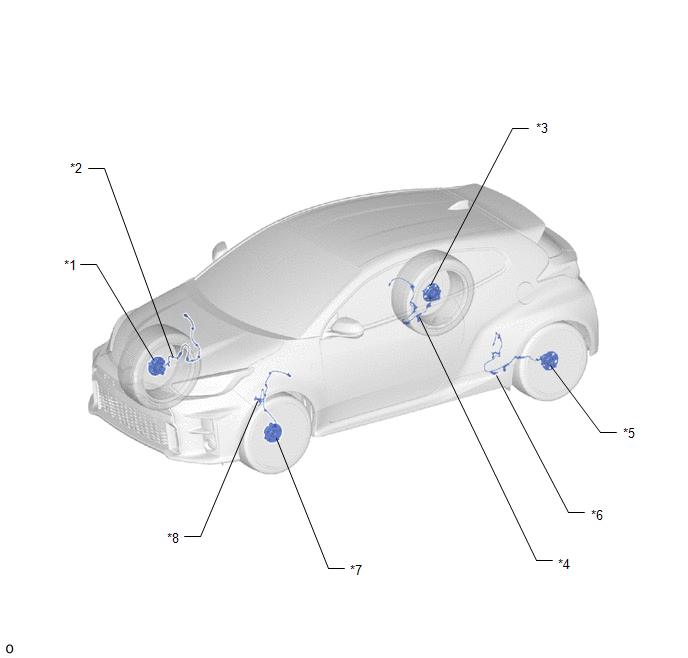 *1

FRONT AXLE HUB SUB-ASSEMBLY RH

- FRONT SPEED SENSOR ROTOR RH

*2

FRONT SPEED SENSOR RH

*3

REAR AXLE HUB AND BEARING ASSEMBLY RH

- REAR SPEED SENSOR ROTOR RH

*4

REAR SPEED SENSOR RH

*5

REAR AXLE HUB AND BEARING ASSEMBLY LH

- REAR SPEED SENSOR ROTOR LH

*6

REAR SPEED SENSOR LH

*7

FRONT AXLE HUB SUB-ASSEMBLY LH

- FRONT SPEED SENSOR ROTOR LH

*8

FRONT SPEED SENSOR LH
ILLUSTRATION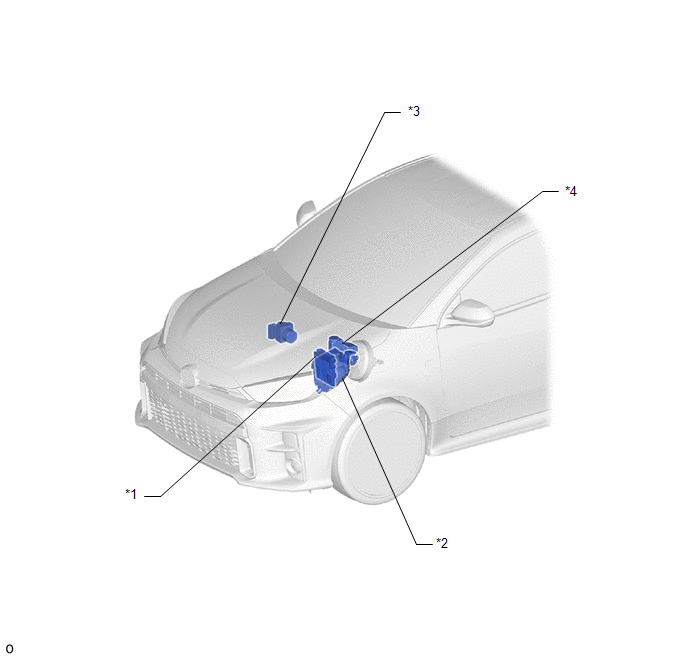 *1

ECM

*2

NO. 1 ENGINE ROOM RELAY BLOCK

- ABS NO. 1 FUSE

- ABS NO. 2 FUSE

- ECU-IGP NO. 3 FUSE

*3

BRAKE ACTUATOR ASSEMBLY

- SKID CONTROL ECU

*4

BRAKE MASTER CYLINDER RESERVOIR ASSEMBLY

- BRAKE FLUID LEVEL WARNING SWITCH
ILLUSTRATION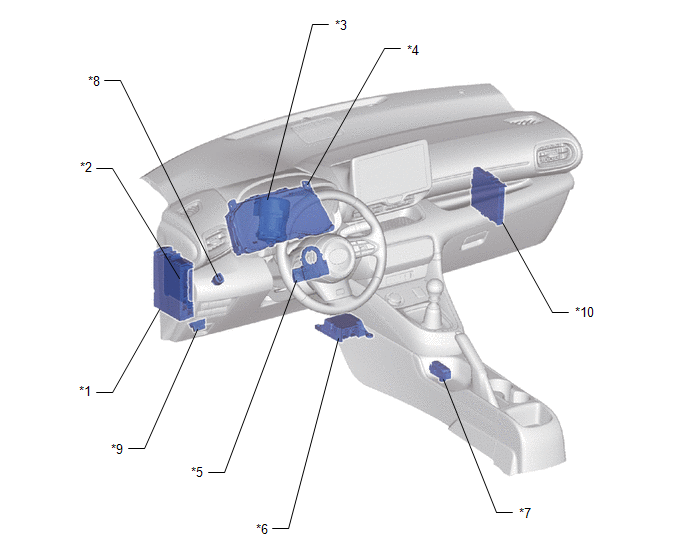 *1

POWER DISTRIBUTION BOX ASSEMBLY

- ECU-DCC NO. 1 FUSE

- ECU-DCC NO. 2 FUSE

- ECU-IGR NO. 1 FUSE

- A/BAG-IGR FUSE

- STOP FUSE

*2

MAIN BODY ECU (MULTIPLEX NETWORK BODY ECU)

*3

POWER STEERING ECU ASSEMBLY

*4

COMBINATION METER ASSEMBLY

- ABS WARNING LIGHT

- BRAKE SYSTEM WARNING LIGHT

- VSC OFF INDICATOR LIGHT

- SLIP INDICATOR LIGHT

- MULTI-INFORMATION DISPLAY (TRC OFF MESSAGE)

*5

STEERING SENSOR

*6

AIRBAG SENSOR ASSEMBLY

- YAW RATE AND ACCELERATION SENSOR

*7

COMBINATION SWITCH ASSEMBLY

- VSC OFF SWITCH

*8

STOP LIGHT SWITCH ASSEMBLY

*9

DLC3

*10

CERTIFICATION ECU (SMART KEY ECU ASSEMBLY)
PRECAUTION HANDLING PRECAUTION (a) Always ensure that the ignition switch is off before removing the brake actuator assembly or a sensor unless specifically instructed by the repair manual...
Other information:
DESCRIPTION DTC No. Detection Item DTC Detection Condition Trouble Area DTC Output from C122D14 Brake Master Cylinder Pressure Sensor Supply Voltage Circuit Short to Ground or Open Master cylinder pressure sensor power supply voltage decrease occurs or history of voltage decrease exists, and defective master cylinder pressure sensor output continues for 1...
CAUTION / NOTICE / HINT HINT: Replace parts related to the wireless door lock and smart key system according to the inspection procedure. If the wireless door lock and smart key system does not operate, first check the customize item and make sure that the wireless door lock and smart key system is not turned off...
Categories
No special break-in is necessary, but a few precautions in the first 600 miles (1,000 km) may add to the performance, economy, and life of the vehicle.
Do not race the engine. Do not maintain one constant speed, either slow or fast, for a long period of time. Do not drive constantly at full-throttle or high engine rpm for extended periods of time. Avoid unnecessary hard stops. Avoid full-throttle starts.