Toyota Yaris: Window Defogger System / Parts Location
PARTS LOCATION
ILLUSTRATION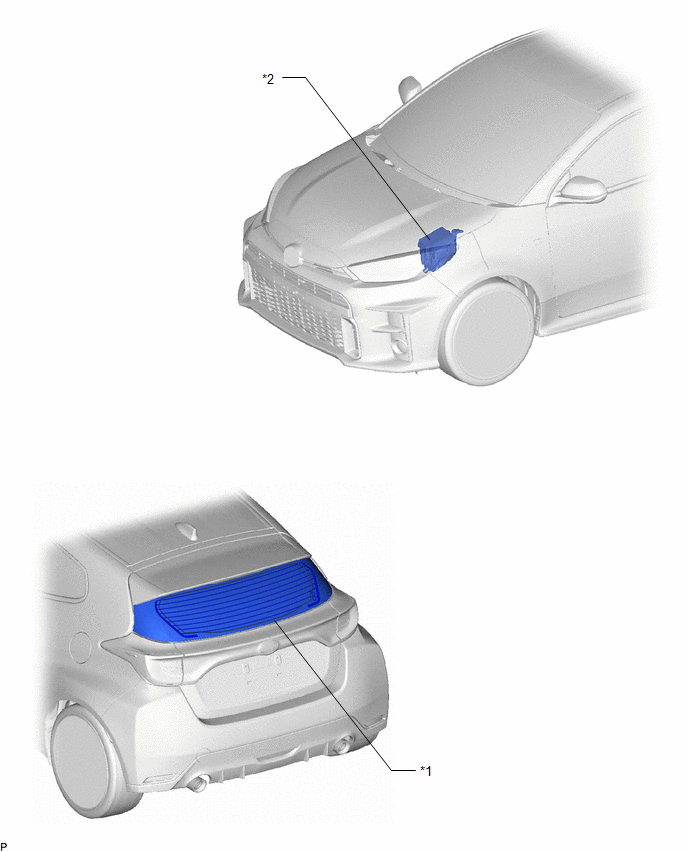 *1

REAR WINDOW DEFOGGER WIRE (BACK DOOR GLASS)

*2

NO. 1 ENGINE ROOM RELAY BLOCK AND NO. 1 ENGINE ROOM JUNCTION BLOCK ASSEMBLY

- ECU-IGP NO. 3 FUSE
ILLUSTRATION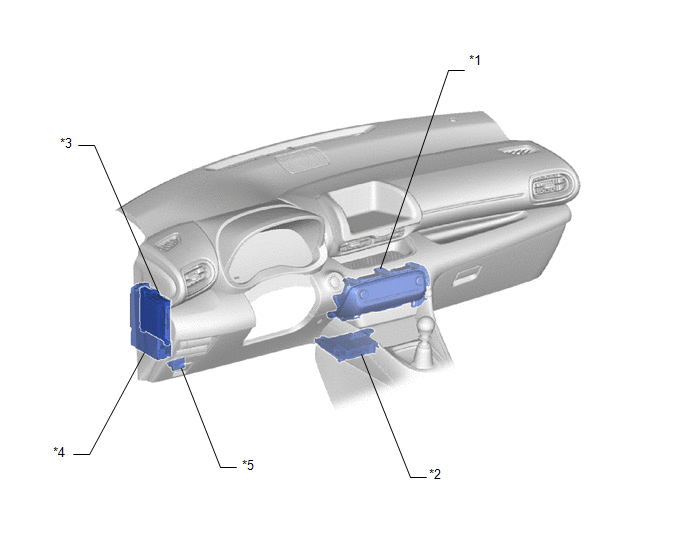 *1

AIR CONDITIONING CONTROL ASSEMBLY

*2

AIR CONDITIONING AMPLIFIER ASSEMBLY

*3

MAIN BODY ECU (MULTIPLEX NETWORK BODY ECU)

*4

POWER DISTRIBUTION BOX ASSEMBLY

- ECU-B NO. 2 FUSE

*5

DLC3

-

-
Other information:
DESCRIPTION In the VVT (Variable Valve Timing) system, the appropriate intake and exhaust valve open and close timing is controlled by the ECM. The ECM performs intake and exhaust valve control by performing the following: 1) controlling the camshaft, cam timing oil control solenoid assembly, camshaft timing gear bolt (camshaft timing oil control valve) and operating the camshaft timing gear; and 2) changing the relative positions of the camshaft and crankshaft...
OpenTo remove the fuel-filler cap, turn it counterclockwise. Attach the removed cap to the inner side of the fuel lid. CloseTo close the fuel-filler cap, turn it clockwise until a click is heard. NOTICE If the check fuel cap warning light illuminates, the fuel-filler cap may not be properly installed...
Categories
No special break-in is necessary, but a few precautions in the first 600 miles (1,000 km) may add to the performance, economy, and life of the vehicle.
Do not race the engine. Do not maintain one constant speed, either slow or fast, for a long period of time. Do not drive constantly at full-throttle or high engine rpm for extended periods of time. Avoid unnecessary hard stops. Avoid full-throttle starts.