Toyota Yaris: Tire And Wheel System / How To Proceed With Troubleshooting
PROCEDURE
| | |
| --- | --- |
| 1. | CHECK TIRE AND WHEEL SYSTEM |
| | | |
| --- | --- | --- |
| DIAGNOSIS OF IRREGULAR TIRE WEAR | | GO TO STEP 11 |
DIAGNOSIS OF TIRE VIBRATION

Click here

NEXT

Click here

| | | |
| --- | --- | --- |
| NG | | GO TO STEP 10 |
OK

| | |
| --- | --- |
| 4. | INSPECT AND/OR ADJUST WHEEL BALANCE |
Click here

NEXT

| | |
| --- | --- |
| 5. | INSPECT FRONT AXLE HUB BEARING LOOSENESS AND AXLE HUB RUNOUT |
Click here

| | | |
| --- | --- | --- |
| NG | | GO TO STEP 9 |
OK

| | |
| --- | --- |
| 6. | INSPECT REAR AXLE HUB BEARING LOOSENESS AND AXLE HUB RUNOUT |
Click here

| | | |
| --- | --- | --- |
| NG | | GO TO STEP 8 |
OK

| | | |
| --- | --- | --- |
| NEXT | | RETURN VEHICLE TO CUSTOMER |
| | |
| --- | --- |
| 8. | REPAIR REAR AXLE HUB BEARING LOOSENESS AND AXLE HUB RUNOUT |
Click here

| | | |
| --- | --- | --- |
| NEXT | | GO TO STEP 7 |
| | |
| --- | --- |
| 9. | REPAIR FRONT AXLE HUB BEARING LOOSENESS AND AXLE HUB RUNOUT |
Click here

| | | |
| --- | --- | --- |
| NEXT | | GO TO STEP 6 |
| | |
| --- | --- |
| 10. | REPAIR OR REPLACE TIRE(S) |
| | | |
| --- | --- | --- |
| NEXT | | GO TO STEP 4 |
Click here

NEXT

| | |
| --- | --- |
| 12. | REPAIR OR REPLACE TIRE(S) |
NEXT

| | |
| --- | --- |
| 13. | INSPECT AND/OR ADJUST FRONT WHEEL ALIGNMENT |
Click here

NEXT

| | |
| --- | --- |
| 14. | INSPECT AND/OR ADJUST REAR WHEEL ALIGNMENT |
Click here

NEXT

| | | |
| --- | --- | --- |
| NEXT | | RETURN VEHICLE TO CUSTOMER |
INSPECTION PROCEDURE 1. INSPECT TIRES (a) Inspect the tires for wear and proper inflation pressure. Cold Tire Inflation Pressure: Tire Size Front kPa (kgf/cm2, psi) Rear kPa (kgf/cm2, psi) *1: for driving under 200 km/h (124 mph) *2: for driving at 200 km/h (124 mph) or over 225/40R18 88W 220 (2...
Other information:
Use snow tires on all four wheels Do not go faster than 75 mph (120 km/h) while driving with snow tires. Inflate snow tires 30 kPa (0.3 kgf/cm2, 4.3 psi) more than recommended on the tire pressure label (driver's door frame), but never more than the maximum cold-tire pressure shown on the tires...
Seat Operation Seat SlideTo move a seat forward or backward, raise the lever and slide the seat to the desired position and release the lever. Make sure the lever returns to its original position and the seat is locked in place by attempting to push it forward and backward...
Categories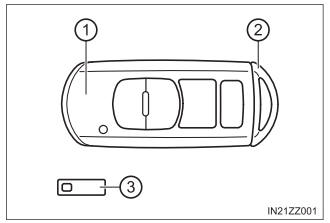 Smart key Auxiliary key Key code number plate
To use the auxiliary key, press the knob and pull out the auxiliary key from the smart key.