Toyota Yaris: Tire And Wheel System / How To Proceed With Troubleshooting
PROCEDURE
| | |
| --- | --- |
| 1. | CHECK TIRE AND WHEEL SYSTEM |
| | | |
| --- | --- | --- |
| DIAGNOSIS OF IRREGULAR TIRE WEAR | | GO TO STEP 11 |
DIAGNOSIS OF TIRE VIBRATION

Click here

NEXT

Click here

| | | |
| --- | --- | --- |
| NG | | GO TO STEP 10 |
OK

| | |
| --- | --- |
| 4. | INSPECT AND/OR ADJUST WHEEL BALANCE |
Click here

NEXT

| | |
| --- | --- |
| 5. | INSPECT FRONT AXLE HUB BEARING LOOSENESS AND AXLE HUB RUNOUT |
Click here

| | | |
| --- | --- | --- |
| NG | | GO TO STEP 9 |
OK

| | |
| --- | --- |
| 6. | INSPECT REAR AXLE HUB BEARING LOOSENESS AND AXLE HUB RUNOUT |
Click here

| | | |
| --- | --- | --- |
| NG | | GO TO STEP 8 |
OK

| | | |
| --- | --- | --- |
| NEXT | | RETURN VEHICLE TO CUSTOMER |
| | |
| --- | --- |
| 8. | REPAIR REAR AXLE HUB BEARING LOOSENESS AND AXLE HUB RUNOUT |
Click here

| | | |
| --- | --- | --- |
| NEXT | | GO TO STEP 7 |
| | |
| --- | --- |
| 9. | REPAIR FRONT AXLE HUB BEARING LOOSENESS AND AXLE HUB RUNOUT |
Click here

| | | |
| --- | --- | --- |
| NEXT | | GO TO STEP 6 |
| | |
| --- | --- |
| 10. | REPAIR OR REPLACE TIRE(S) |
| | | |
| --- | --- | --- |
| NEXT | | GO TO STEP 4 |
Click here

NEXT

| | |
| --- | --- |
| 12. | REPAIR OR REPLACE TIRE(S) |
NEXT

| | |
| --- | --- |
| 13. | INSPECT AND/OR ADJUST FRONT WHEEL ALIGNMENT |
Click here

NEXT

| | |
| --- | --- |
| 14. | INSPECT AND/OR ADJUST REAR WHEEL ALIGNMENT |
Click here

NEXT

| | | |
| --- | --- | --- |
| NEXT | | RETURN VEHICLE TO CUSTOMER |
INSPECTION PROCEDURE 1. INSPECT TIRES (a) Inspect the tires for wear and proper inflation pressure. Cold Tire Inflation Pressure: Tire Size Front kPa (kgf/cm2, psi) Rear kPa (kgf/cm2, psi) *1: for driving under 200 km/h (124 mph) *2: for driving at 200 km/h (124 mph) or over 225/40R18 88W 220 (2...
Other information:
DESCRIPTION The No. 1 turbo pressure sensor detects the intake manifold pressure as a change in voltage. The ECM calculates the intake manifold pressure based on this voltage. DTC No. Detection Item DTC Detection Condition Trouble Area MIL Note P010511 Manifold Absolute Pressure / Barometric Pressure Sensor Circuit Short to Ground The No...
COMPONENTS ILLUSTRATION *1 COVER AND DISC CLUTCH SET *2 MANUAL TRANSAXLE ASSEMBLY *3 CLUTCH RELEASE CYLINDER WITH BEARING ASSEMBLY *4 CLUTCH TUBE BOOT *5 CLUTCH RELEASE CYLINDER TO BLEEDER TUBE *6 CLUTCH RELEASE BLEEDER SUB-ASSEMBLY *7 BLEEDER CLUTCH RELEASE TUBE *8 CLAMP *9 CLUTCH RELEASE BEARING PLATE - - Tightening torque for "Major areas involving basic vehicle performance such as moving/turning/stopping": N*m (kgf*cm, ft...
Categories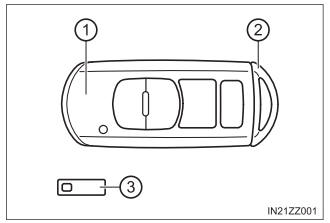 Smart key Auxiliary key Key code number plate
To use the auxiliary key, press the knob and pull out the auxiliary key from the smart key.