Toyota Yaris: Steering Wheel / Heated Steering Wheel (if equipped)
The grips on the left and right of the steering wheel can be warmed up.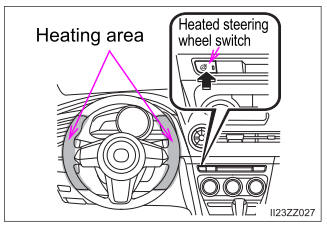 The ignition must be switched ON.
Press the switch to turn on the heated steering wheel. The heated steering wheel operates for about 30 minutes and then turns off automatically.
The indicator light illuminates when the heater is operating.
To turn off the heated steering wheel before the 30 minutes has elapsed, press the switch again.
WARNING
The following types of persons should be careful not to touch the steering wheel. Otherwise, it could cause a low-temperature burn.
Infants, small children, elderly people, and physically challenged people
People with delicate skin
People who are excessively fatigued
People who are intoxicated
People who have taken sleep-inducing medicine such as sleeping pills or cold medicine
Horn
To sound the horn, press the

mark on the steering wheel.
To change the angle or length of the steering wheel: Stop the vehicle, and then pull down the lock release lever under the steering column. Tilt the steering wheel and/or adjust the steering column length to the desired positions, then push the lever up to lock the column...
Other information:
DESCRIPTION The waste gate valve is built into the turbine housing and is operated by the vacuum regulating valve assembly. The ECM uses duty control to open and close the vacuum regulating valve assembly. The amount of opening is controlled according to the operation status...
This vehicle is equipped with an emission control system (the catalytic converter is part of this system) that enables the vehicle to comply with existing exhaust emissions requirements. Under U.S. federal law, any modification to the original-equipment emission control system before the first sale and registration of a vehicle is subject to penalties...
Categories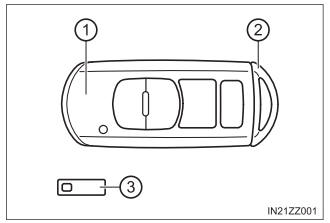 Smart key Auxiliary key Key code number plate
To use the auxiliary key, press the knob and pull out the auxiliary key from the smart key.