Toyota Yaris: Axle And Differential / Differential Mount Cushion
PROBLEM SYMPTOMS TABLE HINT: Use the table below to help determine the cause of problem symptoms. If multiple suspected areas are listed, the potential causes of the symptoms are listed in order of probability in the "Suspected Area" column of the table...
Other information:
If any warning light turns on/flashes, take appropriate action for each light. There is no problem if the light turns off, however if the light does not turn off or turns on/flashes again, consult your Toyota dealer. The details for some warnings can be viewed on the center display...
MONITOR DESCRIPTION The ECM continuously monitors its main CPU and monitor IC. This self-check ensures that the ECM is functioning properly. If outputs from main CPU and monitor IC are different and deviate from the standard, the ECM will illuminate the MIL and store this DTC...
Categories
The fuel gauge shows approximately how much fuel is remaining in the tank when the ignition is switched ON. We recommend keeping the tank over 1/4 full.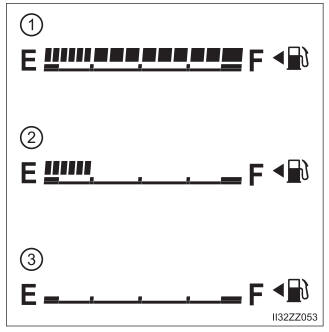 Full 1/4 Full Empty