Toyota Yaris: Differential Mount Cushion / Removal
REMOVAL
CAUTION / NOTICE / HINT
The necessary procedures (adjustment, calibration, initialization, or registration) that must be performed after parts are removed and installed, or replaced during the rear No. 1 differential mount cushion replacement are shown below.
Necessary Procedure After Parts Removed/Installed/Replaced
Replaced Part or Performed Procedure

Necessary Procedure

Effect/Inoperative Function when Necessary Procedure not Performed

Link

Gas leaks from exhaust system

Inspection after repair

Poor idle, etc.
Engine start function, etc.

Rear wheel alignment adjustment

Calibration

DTCs are stored
Slip indicator light illuminates
VSC disabled or malfunctions
CAUTION:
To prevent burns, do not touch the engine, exhaust pipe or other high temperature components while the engine is hot.
The rear differential carrier assembly is very heavy. Be sure to follow the procedure described in the repair manual, or the engine lifter may suddenly drop or the rear differential carrier assembly may fall off the engine lifter.

| | |
| --- | --- |
| *a | An Object Exceeding Weight Limit of Engine Lifter |
PROCEDURE
1. REMOVE REAR DIFFERENTIAL CARRIER ASSEMBLY
Click here

2. REMOVE REAR NO. 1 DIFFERENTIAL MOUNT CUSHION
(a) Using SST, remove the rear No. 1 differential mount cushion.
SST: 09316-20011
SST: 09570-24011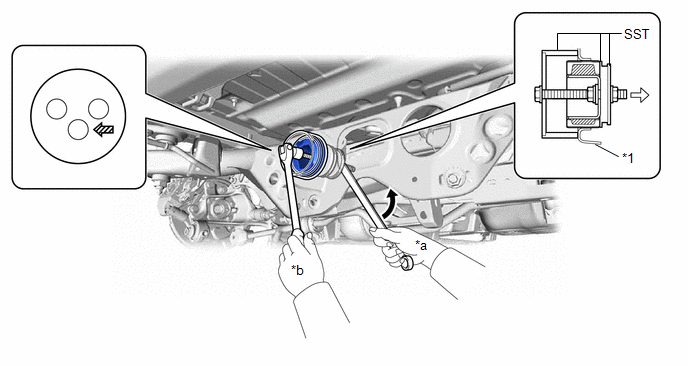 | | | | |
| --- | --- | --- | --- |
| *1 | Rear Suspension Member Sub-assembly | - | - |
| *a | Turn | *b | Hold |
| | Turning Direction | | Front of Vehicle |
| | SST Bolt Position | - | - |
NOTICE:
Do not bring SST into contact with the rear suspension member sub-assembly.
Before using SST, apply grease to SST bolt.
Set SST in the correct direction.
Do not tilt the bolt of SST.
Do not reuse the rear No. 1 differential mount cushion.
INSTALLATION PROCEDURE 1. INSTALL REAR NO. 1 DIFFERENTIAL MOUNT CUSHION (a) Using SST, install a new rear No. 1 differential mount cushion. SST: 09316-20011 SST: 09570-24011 *1 Rear Suspension Member Sub-assembly - - *a 0° +/- 3° *b 15...
Other information:
DESCRIPTION If none of the switch indicators on the air conditioning control assembly illuminate, the following factors may be the cause. Symptom Factor A/C switch indicator does not illuminate Vehicle control history (RoB) Air conditioning amplifier assembly malfunction Air conditioning control assembly malfunction A/C switch malfunction A/C switch indicator malfunction (including when indicator turned off without switch operation) Servo motor initialization (incomplete) Mechanical locking of damper and damper link Refrigerant pressure is extremely low Low detected ambient temperature (including thermistor assembly malfunction) PROCEDURE 1...
DESCRIPTION The starter inrush current reduction relay prevents the auxiliary battery voltage from becoming dropping excessively while the starter assembly is operating. If the auxiliary battery voltage drops below the threshold, stop and start control will be prohibited...
Categories
The front and side supplemental restraint systems (SRS) include different types of air bags. Please verify the different types of air bags which are equipped on your vehicle by locating the "SRS AIRBAG" location indicators. These indicators are visible in the area where the air bags are installed.
The air bags are installed in the following locations:
The steering wheel hub (driver air bag) The front passenger dashboard (front passenger air bag) The outboard sides of the front seatbacks (side air bags) The front and rear window pillars, and the roof edge along both sides (curtain air bags)