Toyota Yaris: Shift And Select Lever Shaft / Components
COMPONENTS
ILLUSTRATION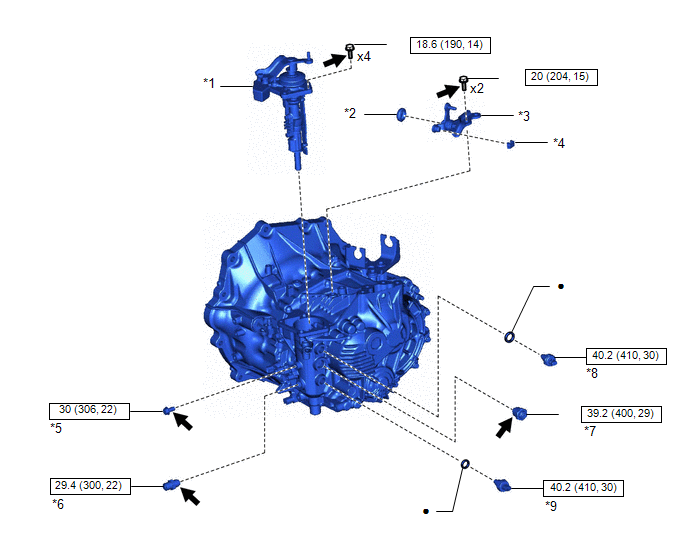 | | | | |
| --- | --- | --- | --- |
| *1 | SHIFT AND SELECT LEVER ASSEMBLY | *2 | NO. 1 SELECTING BELL CRANK DUST COVER |
| *3 | SELECTING BELL CRANK ASSEMBLY | *4 | CONTROL SHIFT LEVER BUSHING |
| *5 | SHIFT GATE PIN | *6 | NO. 2 LOCK BALL ASSEMBLY |
| *7 | NO. 1 LOCK BALL ASSEMBLY | *8 | BACK-UP LIGHT SWITCH ASSEMBLY |
| *9 | PARK/NEUTRAL POSITION SWITCH ASSEBMLY | - | - |
| | N*m (kgf*cm, ft.*lbf): Specified torque | ● | Non-reusable part |
| | Adhesive 1344 | ★ | Precoated part |
ILLUSTRATION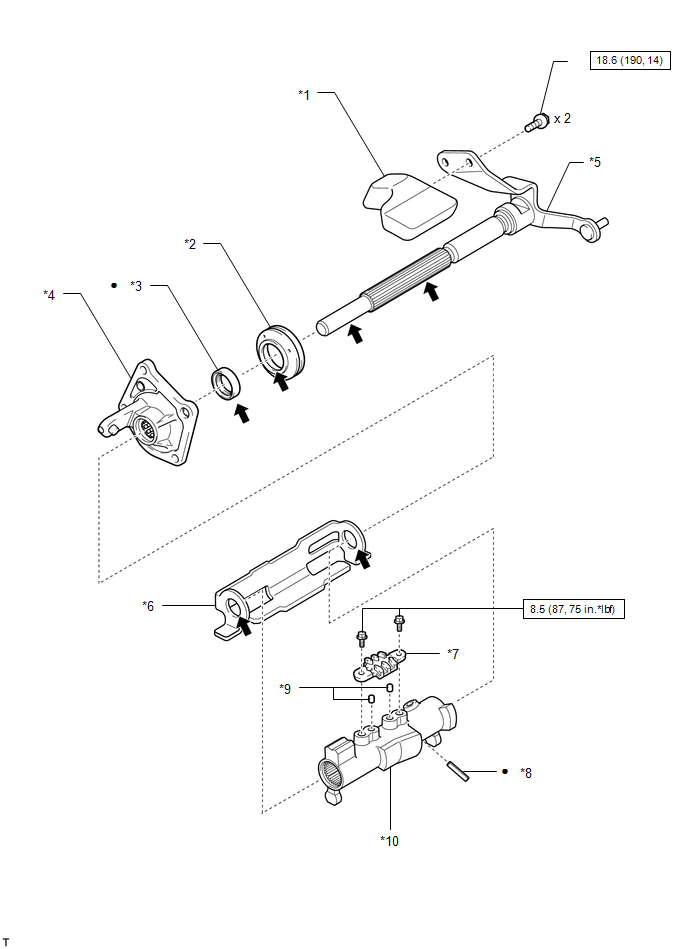 | | | | |
| --- | --- | --- | --- |
| *1 | SHIFT LEVER DAMPER | *2 | SHIFT AND SELECT LEVER BOOT |
| *3 | CONTROL SHAFT COVER OIL SEAL | *4 | CONTROL SHAFT COVER |
| *5 | SHIFT AND SELECT LEVER SHAFT | *6 | SHIFT INTERLOCK PLATE |
| *7 | SHIFT GATE PLATE | *8 | SLOTTED SPRING PIN |
| *9 | PIN | *10 | NO. 1 SHIFT LEVER INNER |
| | N*m (kgf*cm, ft.*lbf): Specified torque | ★ | Precoated part |
| ● | Non-reusable part | | MP grease |
DISASSEMBLY PROCEDURE 1. REMOVE SELECTING BELL CRANK ASSEMBLY (a) Remove the 2 bolts and selecting bell crank assembly from the manual transmission case...
Other information:
INSTALLATION PROCEDURE 1. INSTALL HOLE PLUG (a) Install the 8 hole plugs to the rear suspension member sub-assembly. 2. INSTALL REAR SUSPENSION MEMBER HOLE COVER (a) Install the 4 rear suspension member hole covers to the rear suspension member sub-assembly...
DATA LIST / ACTIVE TEST DATA LIST NOTICE: In the following table, the values listed under "Normal Condition" are reference values. Do not depend solely on these reference values when deciding whether a part is faulty or not. HINT: Using the GTS to read the Data List allows the values or states of switches, sensors, actuators and other items to be read without removing any parts...
Categories
WARNING
When removing the fuel-filler cap, loosen the cap slightly and wait for any hissing to stop, then remove it
Fuel spray is dangerous. Fuel can burn skin and eyes and cause illness if ingested. Fuel spray is released when there is pressure in the fuel tank and the fuel-filler cap is removed too quickly.