Toyota Yaris: Output Shaft / Components
COMPONENTS
ILLUSTRATION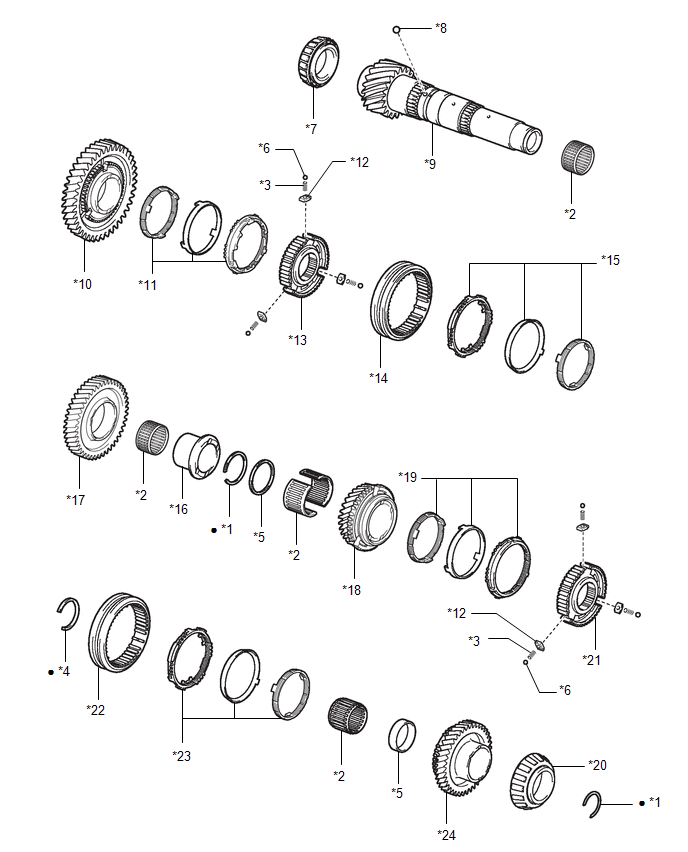 | | | | |
| --- | --- | --- | --- |
| *1 | OUTPUT SHAFT BEARING SHAFT SNAP RING | *2 | NEEDLE ROLLER BEARING |
| *3 | SYNCHRONIZER SHIFTING KEY SPRING | *4 | SHAFT SNAP RING |
| *5 | SPACER | *6 | BALL |
| *7 | OUTPUT SHAFT FRONT BEARING INNER RACE | *8 | SYNCHROMESH SHIFTING KEY BALL |
| *9 | NO. 1 OUTPUT SHAFT | *10 | 1ST DRIVEN GEAR |
| *11 | 1ST DRIVEN GEAR SYNCHRONIZER RING SET | *12 | NO. 1 SYNCHROMESH SHIFTING KEY |
| *13 | NO. 1 TRANSMISSION CLUTCH HUB | *14 | NO. 1 TRANSMISSION HUB SLEEVE |
| *15 | 2ND DRIVEN GEAR SYNCHRONIZER RING SET | *16 | 2ND DRIVEN GEAR BEARING INNER RACE |
| *17 | 2ND DRIVEN GEAR | *18 | 4TH DRIVEN GEAR |
| *19 | 4TH DRIVEN GEAR SYNCHRONIZER RING SET | *20 | OUTPUT SHAFT REAR BEARING |
| *21 | NO. 2 TRANSMISSION CLUTCH HUB | *22 | NO. 2 TRANSMISSION HUB SLEEVE |
| *23 | 3RD DRIVEN GEAR SYNCHRONIZER RING SET | *24 | 3RD DRIVEN GEAR |
| ● | Non-reusable part | - | - |
ILLUSTRATION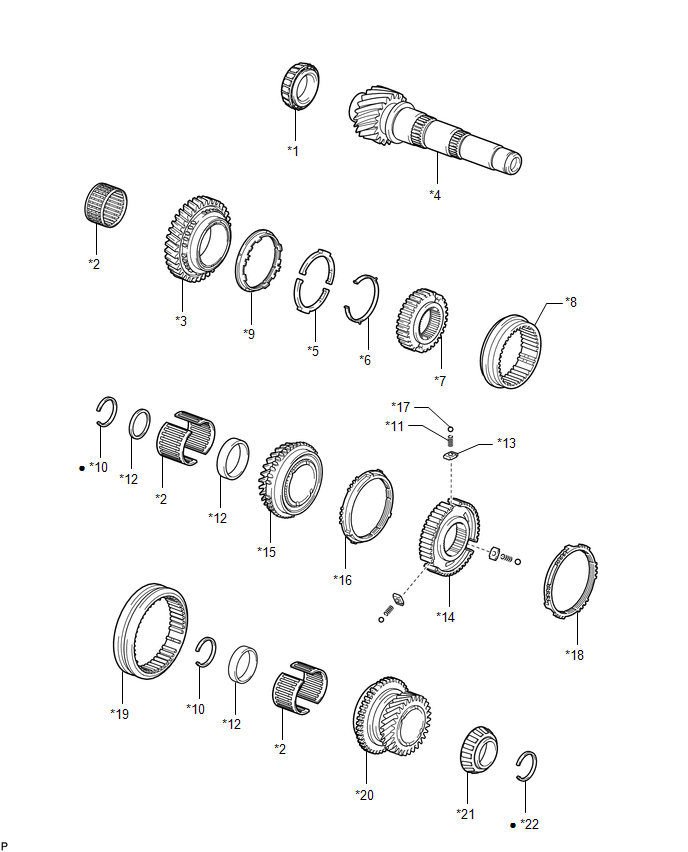 | | | | |
| --- | --- | --- | --- |
| *1 | NO. 2 OUTPUT SHAFT FRONT BEARING | *2 | NEEDLE ROLLER BEARING |
| *3 | REVERSE DRIVEN GEAR | *4 | NO. 2 OUTPUT SHAFT |
| *5 | SHIFTING KEY | *6 | KEY SPRING |
| *7 | NO. 4 TRANSMISSION CLUTCH HUB | *8 | NO. 4 TRANSMISSION HUB SLEEVE |
| *9 | REVERSE DRIVEN GEAR SYNCHRONIZER RING | *10 | SHAFT SNAP RING |
| *11 | SYNCHRONIZER SHIFTING KEY SPRING | *12 | SPACER |
| *13 | NO. 1 SYNCHROMESH SHIFTING KEY | *14 | NO. 3 TRANSMISSION CLUTCH HUB |
| *15 | 5TH DRIVEN GEAR | *16 | 5TH DRIVEN GEAR SYNCHRONIZER RING |
| *17 | BALL | *18 | 6TH DRIVEN GEAR SYNCHRONIZER RING |
| *19 | NO. 3 TRANSMISSION HUB SLEEVE | *20 | 6TH DRIVEN GEAR |
| *21 | NO. 2 OUTPUT SHAFT REAR BEARING | *22 | NO. 2 OUTPUT SHAFT BEARING SNAP RING |
| ● | Non-reusable part | - | - |
DISASSEMBLY PROCEDURE 1. INSPECT 1ST DRIVEN GEAR THRUST CLEARANCE Click here 2. INSPECT 1ST DRIVEN GEAR RADIAL CLEARANCE Click here 3. INSPECT 2ND DRIVEN GEAR THRUST CLEARANCE Click here 4...
Other information:
DESCRIPTION HINT: This circuit is used for the systems connected to terminal +S. This signal is not used for combination meter assembly operation. Combination meter assembly components such as the speedometer operate using data received via CAN communication...
DATA LIST / ACTIVE TEST DATA LIST NOTICE: Some Data List values may vary significantly due to slight measurement errors, differences in the measurement environment, and changes in the vehicle over time, making it difficult to indicate clear evaluation standards...
Categories
The front seat belt pretensioners are designed to deploy in moderate or severe frontal, near frontal collisions.
In addition, the pretensioners operate when a side collision or a rollover accident is detected. The pretensioners operate differently depending on what types of air bags are equipped. For more details about the seat belt pretensioner operation, refer to the SRS Air Bag Deployment Criteria.