Toyota Yaris: Output Shaft / Components
COMPONENTS
ILLUSTRATION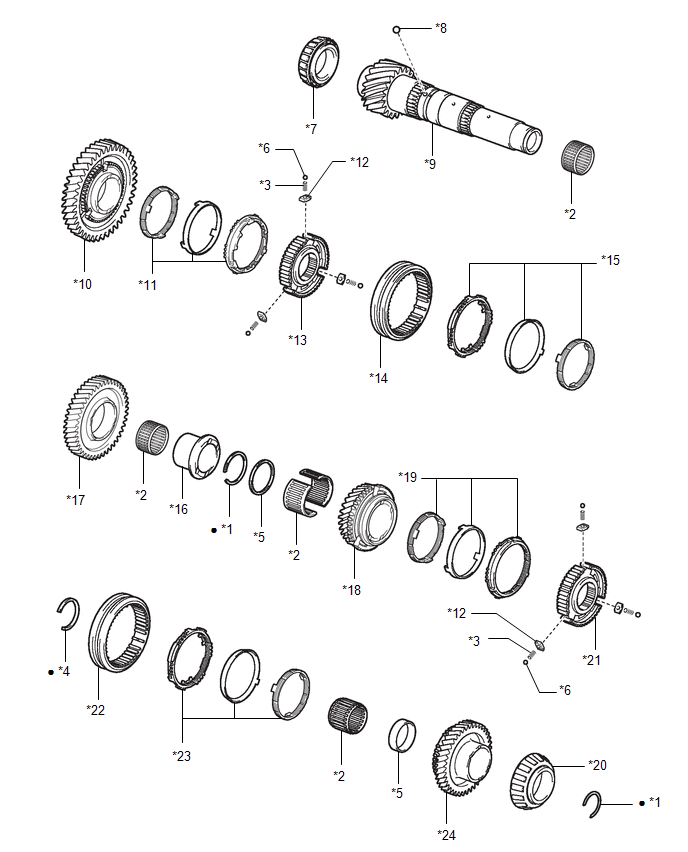 | | | | |
| --- | --- | --- | --- |
| *1 | OUTPUT SHAFT BEARING SHAFT SNAP RING | *2 | NEEDLE ROLLER BEARING |
| *3 | SYNCHRONIZER SHIFTING KEY SPRING | *4 | SHAFT SNAP RING |
| *5 | SPACER | *6 | BALL |
| *7 | OUTPUT SHAFT FRONT BEARING INNER RACE | *8 | SYNCHROMESH SHIFTING KEY BALL |
| *9 | NO. 1 OUTPUT SHAFT | *10 | 1ST DRIVEN GEAR |
| *11 | 1ST DRIVEN GEAR SYNCHRONIZER RING SET | *12 | NO. 1 SYNCHROMESH SHIFTING KEY |
| *13 | NO. 1 TRANSMISSION CLUTCH HUB | *14 | NO. 1 TRANSMISSION HUB SLEEVE |
| *15 | 2ND DRIVEN GEAR SYNCHRONIZER RING SET | *16 | 2ND DRIVEN GEAR BEARING INNER RACE |
| *17 | 2ND DRIVEN GEAR | *18 | 4TH DRIVEN GEAR |
| *19 | 4TH DRIVEN GEAR SYNCHRONIZER RING SET | *20 | OUTPUT SHAFT REAR BEARING |
| *21 | NO. 2 TRANSMISSION CLUTCH HUB | *22 | NO. 2 TRANSMISSION HUB SLEEVE |
| *23 | 3RD DRIVEN GEAR SYNCHRONIZER RING SET | *24 | 3RD DRIVEN GEAR |
| ● | Non-reusable part | - | - |
ILLUSTRATION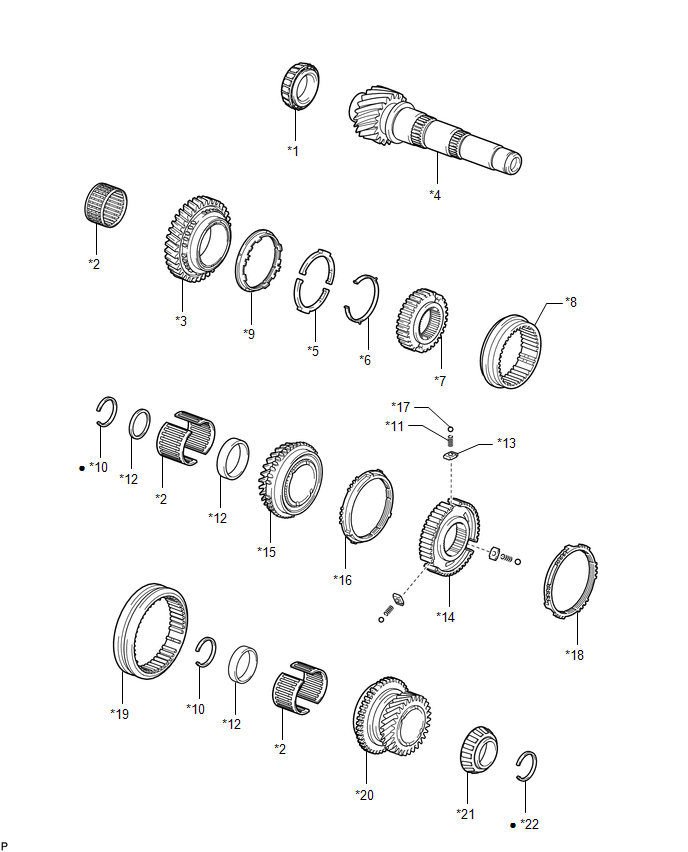 | | | | |
| --- | --- | --- | --- |
| *1 | NO. 2 OUTPUT SHAFT FRONT BEARING | *2 | NEEDLE ROLLER BEARING |
| *3 | REVERSE DRIVEN GEAR | *4 | NO. 2 OUTPUT SHAFT |
| *5 | SHIFTING KEY | *6 | KEY SPRING |
| *7 | NO. 4 TRANSMISSION CLUTCH HUB | *8 | NO. 4 TRANSMISSION HUB SLEEVE |
| *9 | REVERSE DRIVEN GEAR SYNCHRONIZER RING | *10 | SHAFT SNAP RING |
| *11 | SYNCHRONIZER SHIFTING KEY SPRING | *12 | SPACER |
| *13 | NO. 1 SYNCHROMESH SHIFTING KEY | *14 | NO. 3 TRANSMISSION CLUTCH HUB |
| *15 | 5TH DRIVEN GEAR | *16 | 5TH DRIVEN GEAR SYNCHRONIZER RING |
| *17 | BALL | *18 | 6TH DRIVEN GEAR SYNCHRONIZER RING |
| *19 | NO. 3 TRANSMISSION HUB SLEEVE | *20 | 6TH DRIVEN GEAR |
| *21 | NO. 2 OUTPUT SHAFT REAR BEARING | *22 | NO. 2 OUTPUT SHAFT BEARING SNAP RING |
| ● | Non-reusable part | - | - |
DISASSEMBLY PROCEDURE 1. INSPECT 1ST DRIVEN GEAR THRUST CLEARANCE Click here 2. INSPECT 1ST DRIVEN GEAR RADIAL CLEARANCE Click here 3. INSPECT 2ND DRIVEN GEAR THRUST CLEARANCE Click here 4...
Other information:
DIAGNOSIS SYSTEM DIAGNOSIS MODE FUNCTION (a) When a malfunction occurs in the lane tracing assist system, the LTA indicator light illuminates in yellow and a message is displayed on the multi-information display. Warning Message Details DTC/RoB LTA Indicator "LTA Malfunction Visit Your Dealer" Lane tracing assist system malfunction is detected Stored Illuminated in yellow "LTA Unavailable" Sensor other than the forward recognition camera sensor is temporary unavailable Stored Illuminated in yellow LTA Indicator Status Chart LTA Indicator Status Status *: When entering the lane departure warning under the lane departure restraint, changes to yellow blinking...
Lights-On Reminder The lights-on reminder is operable when the time setting* 1 of the auto headlight off function is off. If lights are on and the ignition is switched to ACC or the ignition is switched off, a continuous beep sound will be heard when the driver's door is opened...
Categories
The front seat belt pretensioners are designed to deploy in moderate or severe frontal, near frontal collisions.
In addition, the pretensioners operate when a side collision or a rollover accident is detected. The pretensioners operate differently depending on what types of air bags are equipped. For more details about the seat belt pretensioner operation, refer to the SRS Air Bag Deployment Criteria.